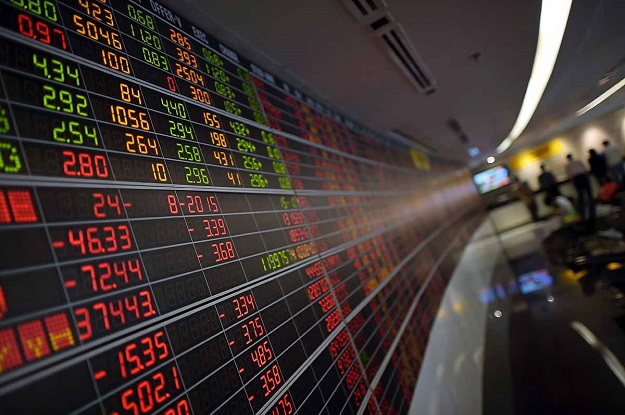 ---
KARACHI: The benchmark KSE-100 index recouped some of the previous day's losses on Tuesday as investors cherished the deposit of $2.2 billion by China in the central bank account and easing of political tensions after the Supreme Court suspended former premier Nawaz Sharif's sentence for medical treatment.

The index recovered 200 points after losing around 400 points a day ago. Following an initial fall of 89 points at the beginning of trading, the market turned positive and investors placed positive bets in the wake of Supreme Court's decision which suspended Nawaz Sharif's sentence for six weeks on medical grounds.

Investors considered it as a sign of breaking the political stalemate and diverting focus to core economic issues. A rally emerged towards the end of the session, which took the index above the 38,300-point mark.

Cement, fertiliser, automobile and exploration and production (E&P) stocks contributed the most to the upside, especially by the end of the session.

Market watch: Weak global economic outlook prompts sell-off in Pakistan's market

Stocks of oil and gas marketing companies, particularly Sui Southern Gas Company, also rose, buoyed by expectations of announcement of financial results after a request for delay was turned down by the Securities and Exchange Commission of Pakistan.

At the end of trading, the benchmark KSE 100-share Index recorded an increase of 200.47 points, or 0.53%, to settle at 38,329.13.

In a report, Topline Securities stated that the KSE-100 index recovered 200 points after a downward spiral of 1% in the previous trading session.

"Recovery was made on the back of multiple positive factors such as receipt of $2.2 billion from China, which took foreign currency reserves into double digits after a gap of eight months," it said.

"Moreover, the market's rise was aided by the arrival of IMF chief, which is expected to bring clarity on a bailout package, coupled with Supreme Court's decision granting bail to former prime minister Nawaz Sharif on medical grounds for six weeks, which is expected to lower the current political noise in the country."

The E&P sector contributed the most to the increase in the KSE-100 index by adding 101 points as investors saw a possible hydrocarbon discovery in an offshore well after an encouraging statement from Prime Minister Imran Khan.

Gains in the E&P sector were followed by automobile and fertiliser companies, which cumulatively added 42 points to the index.

Market watch: KSE-100 turns bullish as investors cherish Chinese loan

Investor participation improved compared to Monday's trading as volumes increased 53% to 86.38 million shares and traded value rose 33%, Topline said in its report.

Overall, trading volumes increased to 86.4 million shares compared with Monday's tally of 56.5 million. The value of shares traded during the day was Rs3.5 billion.

Shares of 347 companies were traded. At the end of the day, 177 stocks closed higher, 139 declined and 31 remained unchanged.

WorldCall Telecom was the volume leader with 15.4 million shares, gaining Rs0.01 to close at Rs1.09. It was followed by K-Electric with 7.2 million shares, gaining Rs0.06 to close at Rs5.45 and Oil and Gas Development Company with 3.9 million shares, gaining Rs3.91 to close at Rs147.31.

Foreign institutional investors were net buyers of Rs110.7 million worth of shares during the trading session, according to data compiled by the National Clearing Company of Pakistan.