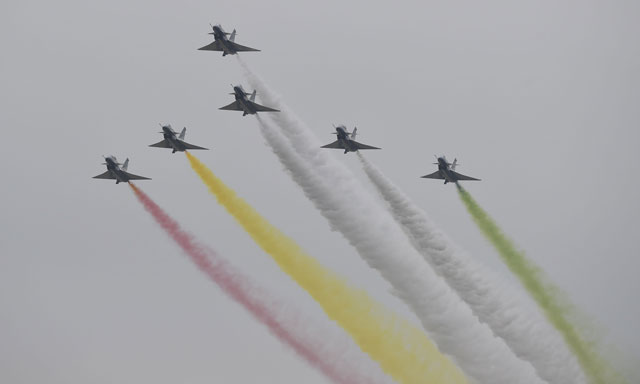 ---
KARACHI: This year's Pakistan Day was unlike others in many ways.

Less than a month before, Islamabad stared down a belligerent New Delhi in an episode that culminated in a victorious air battle for Pakistan Air Force. On the heels of that victory, one would be forgiven for expecting an extra dose of chest thumping in this year's show of military might.

But even though this year's spectacle was put on with the usual pomp and flexing of military muscle, to the surprise of many – including some of Pakistan's most seasoned former diplomats – it forewent any bluster.

Instead, this year's show, conducted with restraint and dignity, had one resounding message for Pakistan's neighbour to the east and the world at large: despite India's hopes and best efforts, we are not alone.

"The Pakistan Day parade this year was very meaningful, politically and diplomatically," said former foreign secretary Shamshad Ahmad Khan. "In the aftermath of this recent crisis with India, it was carried out in a highly dignified manner," he told The Express Tribune.




"But more importantly, it sent one loud and clear signal," Shamshad said. "The attendance of Malaysia's Prime Minister Mahathir bin Mohamad… participation of contingents and jets from China, Turkey, Saudi Arabia, Azerbaijan, Bahrain, Brunei and Sri Lanka… all of this showed that despite [Indian Premier Narendra] Modi's efforts, Pakistan is not alone in the comity of nations."

Pakistan's former high commissioner in India Abdul Basit concurred. "This definitely is the first message this year's parade conveyed," he said. "Not only is Pakistan not isolated, the international community takes due cognisance of Pakistan's importance, both in the region and at the global stage."

But that was not all, according to Shamshad. "The second most important thing I noticed was that we did not gloat," he said. "Given that our air force shot down two Indian jets for no loss of its own in this recent escalation, we were within our rights."

"But neither our government nor our military thumped their chests. They maintained the moral high ground they secured throughout these recent tensions," the ex-foreign secretary added. "Both in this parade and beyond it, the government, military and the nation have conducted themselves with dignity, responsibility and maturity."

According to Basit, the military show had a special message aimed at Modi's government and the people of India. "We conveyed that while we are strong enough, we are also ready to talk. That while there is nothing either of us can gain from escalation, we would still respond to any provocation," he said.

Pakistan's former envoy to the United Nations Munir Akram agreed. "The impressive Pakistan Day parade illustrated the capacity and will to safeguard the nation's sovereignty and territorial integrity," he said.

"It affirmed our determination to uphold the fundamental rights of the Kashmiris for self-determination and freedom… [but at the same time it] conveyed the nation's desire for peace with dignity with Pakistan's neighbors," he added.

Both Akram and Basit also agreed that the parade also had a strong message of unity for any forces that want to drive a wedge in the nation. "The parade did send a strong message that all Pakistani, all stakeholders are on the same page," said Basit. "It reflected Pakistan's unity in diversity, embracing all of Pakistan's provinces, regions and people, minorities, women and all races," said Akram.

According to Akram, the parade also "exuded the self-confidence of the Pakistani people in a bright and prosperous future."

Ex-foreign secretary Shamshad agreed with this assessment. "This was a very momentous Pakistan Day. I have not noticed this much enthusiasm among Pakistani citizens before," he said. "It highlights the change Pakistan's current leadership has brought. In fact, the international community's perception of Pakistan has changed."

"Setting aside the parade, this government witnessed the first instance of a US secretary coming to Pakistan to felicitate its new prime minister," Shamshad recalled. "Even though Imran Khan and his government have not achieved anything yet, his mere presence has changed the way the world treats and looks at Pakistan."

The underlying message of the parade was beautifully articulated by the commentators via a well written script encompassing the history of Pakistan movement, sacrifices of our forefather and armed forces, and contributions of various segments of society – including women and religious minorities. Peace with dignity and national cohesion were key take points in this year's parade.