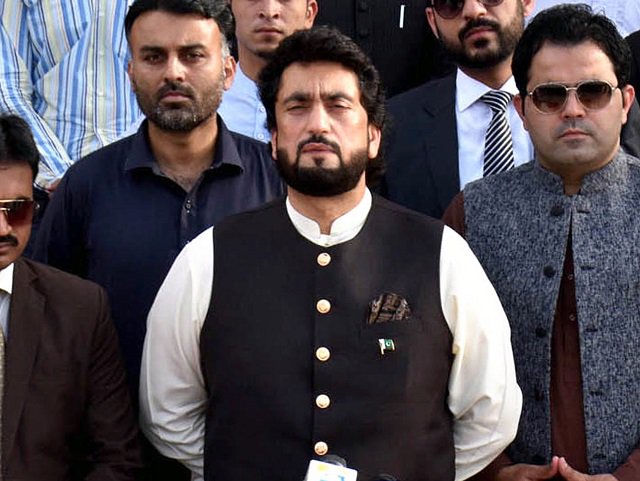 ---
ISLAMABAD: State Minister for Interior Shehryar Khan Afridi on Monday held a meeting with Pashtun Tahafuz Movement (PTM) lawmakers Mohsin Dawar and Ali Wazir and assured them that the government will strive to resolve the issues of the people of Waziristan.

Afridi said that the federal government would protect and promote the rights of people of Waziristan and all state organs and institutions would facilitate the mainstreaming of tribal people without any delay.

The minister expressed these views while chairing a meeting of Ministry of Interior held on Monday to address the issues being faced by the people of North and South Waziristan.

The meeting was exclusively held to facilitate the issues being faced by the people of South and North Waziristan. MNAs Mohsin Dawar and Ali Wazir, Additional Secretaries Ministry of Interior (MoI) Tariq Sardar and Abdul Aziz Uqaili, Director-General Passports, Chairman NADRA and other officials of the MoI were also present.

Mohsin Dawar and Ali Wazir briefed the minister on the issues being faced by the people of Waziristan. They expressed their gratitude to the minister for the compassionate hearing of the issues faced by the people of Waziristan.

Shehryar Afridi said that NADRA had cleared blocked CNICs of around 180,000 people while the cases of rest of 155,000 blocked CNICs were being looked into and the same would be decided soon.

The minister directed the officials of NADRA and passports and immigration to immediately set up mobile offices in North and South Waziristan and all recruitments should be made locally by employing the youth of Waziristan. He also directed to ensure that female employees from local tribes are recruited to register women from Waziristan.

"I want to make sure that all the ministry departments should serve the people at large and especially those people who have been ignored in past. I would not compromise or tolerate any negative attitude when it comes to the serving the masses. All misunderstandings should be redressed through our delivery rather than making rhetoric," the minister said while addressing the officials of the MoI.

The minister further said that all the issues raised by the lawmakers from Waziristan should be resolved as soon as possible. He assured both the lawmakers that all their concerns would be redressed on priority.

Congratulating the people of Waziristan on launching of 3G internet services in Bajaur and other parts of tribal areas, Afridi said that the PTI government would focus on development in Waziristan.

"We owe to the sacrifices made by the tribal people who fought all our wars on the frontline. They guarded our borders when our military was fighting wars. They took the brunt of terrorism. Now it is about time that we build the infrastructure destroyed in war against terrorism. I assure you that we will do whatever is needed to empower the people of tribal areas," the minister said.

Published in The Express Tribune, March 26th, 2019.