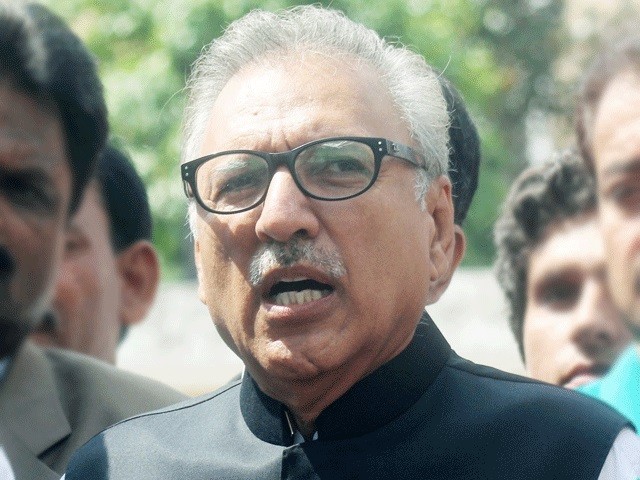 ---
ISLAMABAD: Muslim countries must constitute a collective stance against the rising trend of Islamophobia, President Dr Arif Alvi said at a colourful Nowruz festival hosted by a leading chain of hospitality industry.

"Our country remained victorious in war against terrorism and we want peace to prevail in the region," he said speaking at the occasion which marks the advent of spring heralding the birth of new life.

Malaysian President Mahatir Muhammad also raised his voice against Islamophobia during his recent visit to the country, Alvi said. Future of Central Asian and Middle Asian countries was bright and revealed that he was always impressed by the names of the central Asian states. Nowruz was a remarkable event to welcome the spring season, he added.

The president along with his wife visited stalls of different countries set up at the event hosted by Serena Hotels. Children of Central Asian countries presented tableaus and indigenous dances during the event.

The Central Asian countries embassies along with embassies of Azerbaijan, Turkey, Afghanistan and Iran joined hands to celebrate Nowruz festival at the lush green lawns of Islamabad Serena Hotel.

These countries established there stalls where they put on display various items depicting the culture of the respective country.

Besides, a variety of food stuff was also made available on these stalls. The Central Asian pilaf (pullao) available almost on all stalls of Central Asian states became a must-eat dish.

Pakistani visitors especially took a great interest in this kind of pullao and enjoyed the tasty Central Asian delicacy to the full.

Likewise, pieces of art exhibited by embassies of Azerbaijan, Kazakhstan, Uzbekistan, Kyrgyzstan and Tajikistan also attracted huge attention of the visitors. Pakistani visitors not only evinced keen interest in these items but also bought many of them.

Turkish Shawarma was perhaps the most-sought after delicacy. Albeit, price, for some, was on a higher side, even then people flocked to the stall to taste this unique Turkish delicacy.

Shawarma is a Middle Eastern meat preparation based on the döner kebab of Ottoman Turkey. Originally made of lamb or mutton, today's shawarma may also be chicken, turkey, beef, or veal, cut in thin slices and stacked in a cone-like shape on a vertical rotisserie.

Iran and Afghanistan stalls too had a lot to offer to visitors. The UN too established a stall on the venue.

International Nowruz Day was proclaimed by the United Nations General Assembly, in 2010, at the initiative of several countries that share this holiday (Afghanistan, Albania, Azerbaijan, the Former Yugoslav Republic of Macedonia, India, Iran Kazakhstan, Kyrgyzstan, Tajikistan, Turkey and Turkmenistan.

Inscribed in 2009 on the Representative List of the Intangible Cultural Heritage of Humanity as a cultural tradition observed by numerous peoples, Nowruz is an ancestral festivity marking the first day of spring and the renewal of nature.

It promotes values of peace and solidarity between generations and within families as well as reconciliation and neighborliness, thus contributing to cultural diversity and friendship among peoples and different communities.

Azerbaijan is not a Central Asian country however it also takes part in the Nowruz celebrations. In Azerbaijan Nowruz is celebrated as coming of spring season.

President Arif Aliv went to each and every stall and interacted with the people and got information about various aspects of lifestyle of the respective country.

Alvi said, he was greatly touched by cultural performances of children. "It is always a pleasure to see children clad in beautiful dresses of their respective countries and presenting some extra ordinary cultural performance. These performances in fact add true colour to Nowruz festivities".

President congratulated all the participating countries for providing people of Islamabad with an opportunity of having firsthand information about various delicacies of these countries.

resident Arif Alvi said Pakistan genuinely wants peace in the region and elsewhere adding Islamabad will continue playing its role towards this end.

Pakistan he said is on the threshold of change hoping we will have good relations with all our neighbors including Iran and Afghanistan.

He said Pakistan has successfully defeated terrorism and extremism adding it is now ideal place for foreigners to come and invest.

It may be mentioned here that people celebrate Nowruz for 13 days starting from March 21. Nowruz is also called as Noruz, Nowruz, Nowrooz, and Nawruz, meaning "New Day," because it marks the first day of the Persian New Year.

Serena Hotels South and Central Asia Aziz Boolani who also spoke on the occasion thanked the guests for taking part in this event in large numbers.

He said Serena Hotels, under its Cultural Diplomacy initiative, would continue to holding such events even in the prospect.

With additional input by DNA



Published in The Express Tribune, March 25th, 2019.
COMMENTS
Comments are moderated and generally will be posted if they are on-topic and not abusive.
For more information, please see our Comments FAQ