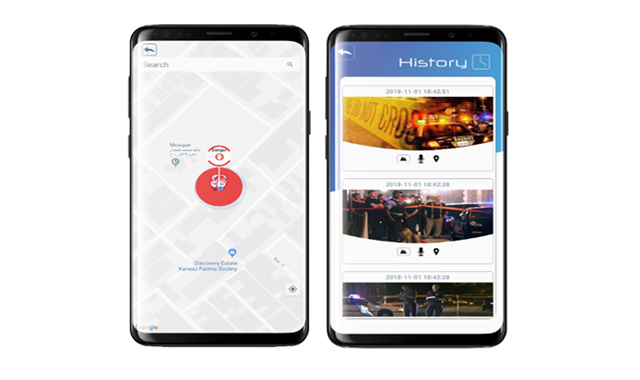 ---
KARACHI: If you have lived in Karachi and haven't been robbed at gunpoint, you may as well as buy a lottery ticket. For you are among the lucky few who have escaped the inevitable experience of living in the port city.

For the unfortunate majority, the experience can be nerve-wracking. What is even more disturbing is that the lost valuables, which often include a mobile phone, are never seen again.

But one Karachi teenager has come up with an ingenious mobile application that has the potential to at least reduce street crimes, if not eliminate them. This innovator is Faizullah Arain, a resident of Kaneez Fatima Society in Karachi. Arain has built an Android application that can be downloaded to your smartphone and will send alerts to your designated number in case of an emergency. Not only this, Arain's app, which he has named Crighter, will also use data gleaned from users' alerts to warn you of crime hotspots which you can use to plan your journey across the city.

What's in a game? A devoted coach has high hopes for football in Pakistan

How it works
The application can be downloaded free onto your Android device from the Google Play Store. Once it is installed on your device, you must sign up to the service by entering your own details and one designated number, whom you want to be alerted in case of an emergency.

Henceforth, if you find yourself in a threatening situation, you would press the device's power button thrice. This would in turn start a chain of events to gather information that would later assist in apprehending the culprit. When the power button is pressed thrice, the device would click five pictures in quick succession, start an audio recording and note your location. It would then transmit all this information to your designated number. In case your device does not have Internet connectivity, the information will be relayed to your designated number via a text message.

The app doesn't only come in handy at the time of an emergency. In fact, Arain has built in a smart map feature, which allows users to check if the area they are travelling to 'safe, normal or dangerous' so that they may plan their journey accordingly.

The child prodigy

Arain, who turned 18 last December, has had no formal education in computer sciences. "Mostly, I am self-taught," he says, referring to his knowledge of web development and application softwares gleaned from Youtube tutorials and other platforms.

The interest, he says, started at young age, when he used to play video games on the family's desktop computer. "We got our first computer when I was in class 3," he tells The Express Tribune. At the time, it was love at first sight.

By the time Arain was in class 8, he had developed a keen interest in web development. "Everyone meets that one person who acts as a catalyst," says Arain, in a preachy voice. For him, the catalyst was his computer instructor at the Army Public School in grade 8. "Sir Ansari used to say that in this world, there is only one field where you can make money with a little bit of focus - and that is computer sciences." Arain took his words to heart and started thinking seriously about making a career in the IT sector.

In the summer vacations after his Grade 8 exams, Arain got enrolled in a short course in Aptech - a computer training centre. There, he built on his rather rudimentary knowledge of web and game development. Over the next few months, he built his first game, Jump and Catch, which is also available on Android.

Trouble in paradise

Mid-way through grade 9, Arain's parents got a call from his teacher, complaining that he wasn't paying enough attention to his studies. "The teacher suggested that he stop going to Aptech for a while and focus instead on his academics," says Arain's mother, Reshma Khan.
His parents thus decided to stop his classes at Aptech and limit his time on the computer.

Arain, however, was not to be deterred. Though he couldn't go to a formal training centre anymore, Arain used all his spare time to continue learning new skills on Youtube and from online courses.

The road to success

When he talks about his journey, Arain's words belie his true age. "What people don't realise is that success can only be achieved if you never stop trying," says the young boy, who recently turned 18. Speaking about his first success, he says that he had designed and built over 200 websites, out of which only one got selected. He made his first real money - $600 - at this point. Over time, he has built a name for himself and has made over scores of websites for clients, ranging from small businesses to larger corporate ventures.

"Sure, it got frustrating at times. I would participate in competitions and would lose in the final round," he reminisces. "Those were the toughest moments and I would literally decide to just give up." The next morning, however, he would get up and start at it again. "With a little luck and hard work, anything is possible," he says.

Sialkot – the great home of bagpipes

Looking ahead

For now, Arain is planning to focus on his education and build on the success of Crighter. The app, which was launched at the start of this year, has already been downloaded by over 5,000 users from the Google Play Store and has received raving reviews from its users. Sometime in the future, he would like to partner with a business or the law enforcement agencies to market the application and add more features to it. "However, the business would have to be willing to put up money without seeking immediate returns," he says.

On the academics front, Arain will appear for his Intermediate exams in April. He then plans to apply to the Lahore University of Management Sciences or the National University of Science and Technology. "With formal training from either of these prestigious institutes, I would be able to use my skills and passion to provide solutions to so many of our society's problems," he says. "That is the dream."