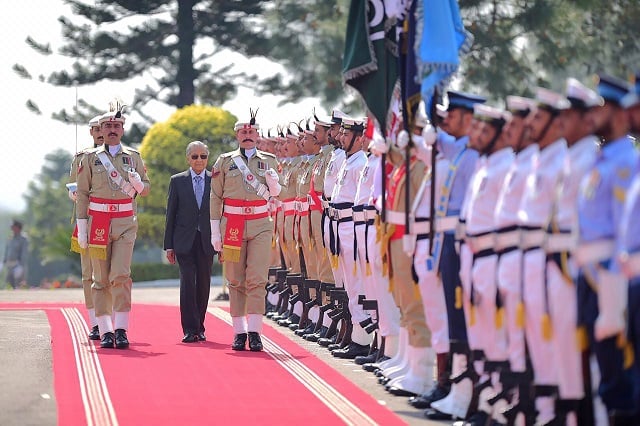 ---
ISLAMABAD: Pakistan and Malaysia have said dialogue is the only way forward to ensure peace and stability in the region and to resolve outstanding issues, said a press release issued by the Foreign Office at the conclusion of Malaysian Prime Minister Dr Mahathir Mohamad's visit.

The Malaysian prime minister was given a warm send-off at the conclusion of his three-day official visit to Pakistan. Prime Minister Imran Khan saw off the Malaysian leader at the Nur Khan Airbase.

During the visit, "Both sides expressed deep concern over the growing wave of Islamophobia and condemned the atrocities and human rights violations being committed against Muslims around the world," the press release added.

Dr Mohamad and Prime Minister Imran discussed the prospects of enhanced trade and economic relations. PM Imran also briefed his Malaysian counterpart about the gross human rights violations in Indian Occupied Kashmir.

"The two sides exchanged official notes regarding ratification of the Agreement on Partial Abolition of Visa Requirement for Diplomatic and Official Passport Holders recently signed between the two countries," the Foreign Office said.

The two countries also signed various memorandums of understanding (MoU) and agreements for bilateral cooperation in diverse areas. The MoUs were related to the "telecommunication, technology, automobiles, and halal food" sectors.

Earlier, in an interview with Pakistan Television, Dr Mohamad emphasised the need for promoting people-to-people contacts and encouraging tourism between Pakistan and Malaysia to bolster the friendship and knowledge between the two countries.

"Both the countries have greater trade and investment potential" and there is a need "to identify the factors to improve the trade relations in areas where investment can be made," a Radio Pakistan report quoted the Malaysian prime minister as saying.

"Pakistan has successfully eliminated the menace of terrorism and is now heading towards stability," he said. "Peace and stability within the country is absolutely essential for the promotion of tourism and attracting investment. Islam is a religion of peace and teaches us not to fight or kill each other and to avoid any kind of violence. We have to convey these teachings of Islam to the entire world."

Before the departure, the Malaysian prime minister was given a briefing about the light weight, all-weather and multi-role JF-17 Thunder fighter aircraft at the Nur Khan Airbase. He evinced keen interest in its various qualities.

Dr Mohamad, who was also presented a flying jacket on the occasion, inspected the cockpit of a JF-17 Thunder and received a briefing on its technical details from officers of Pakistan Air Force (PAF). Malaysia along with some other countries has shown interest in procuring the fighter aircraft.

On Friday, President Dr Arif Alvi conferred the country's top civil award—Nishan-e-Pakistan—on Dr Mahathir Mohamad. On Saturday, he attended the Pakistan Day Parade as the guest of honour, where the JF-17 Thunder also displayed its maneuvering power, tactics, and flying capabilities.