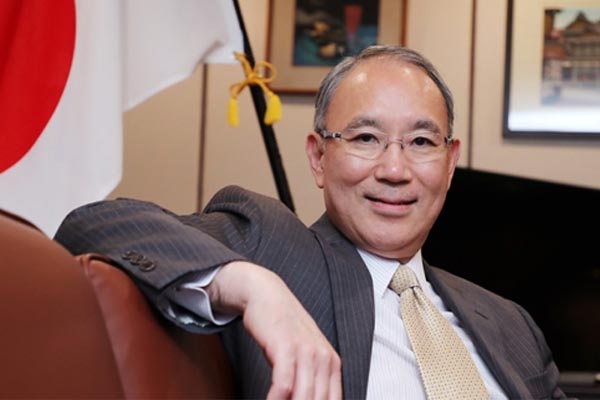 ---
ISLAMABAD: Japan Ambassador to Pakistan Kuninori Matsuda has said he desires stronger economic relationship between the two countries and is keen to help build Pakistan's export base to meet challenges.

"I wish to upgrade our economic relations with greater involvement of the public and private sector for the mutual benefit of both the countries," said Ambassador Matsuda while addressing a reception hosted in honour of 10 Pakistani students on Saturday.

The students were awarded the coveted MEXT scholarship by the government of Japan to help them pursue higher education in their respective fields.

Matsuda said he came to Pakistan with three goals, the first of which was the strengthening of economic ties.

He expressed his desire to further increase the quantum of trade between the two countries by involving public and private sectors for sustained commercial ties and for this purpose Japan was willing to work with Pakistan to boost its export competitiveness and diversification, besides strengthening its manufacturing base.

The ambassador; however, pointed to the several challenges, saying there is a need to work together to make Pakistan's export sectors strong, particularly its agriculture, textiles and auto industry.

He observed that Pakistan, owing to its large population and location at the crossroads of Central Asia and Middle East, was a lucrative market for foreign investors and he desired to bring more Japanese investors to the country.

"We need to improve the domestic market and industries to make Pakistan a big export base," the ambassador said.

Matsuda, who has recently arrived in Pakistan, said Japan would like to have a more robust political dialogue with Pakistan and would like to see a stronger relationship in academia between the two countries.

The ambassador reiterated that Pakistan was an important country of the region and he was looking forward to the visit of Foreign Minister Shah Mehmood Qureshi to Japan in the near future.

FM Qureshi was scheduled to pay a four-day visit to Japan from February 24. But the tour was postponed due to the ongoing tensions with India. A new date was being worked out with mutual consultations, the foreign office said.

Ambassador Matsuda maintained that his country was keen to enhance ties with Pakistan in sports, culture and education. He pointed to the hosting of 2020 Olympic and Paralympics games and said his country was looking forward to seeing Pakistani athletes in Japan, particularly the Pakistan's hockey team.

On the recent hosting of Pakistan Super League in Pakistan, Matsuda said cricket was getting popular in Japan.

"There are several cricket teams in Japan and in June 2019, we will host ICC Under-19 Cricket World Cup Qualifier," the ambassador said.

Ambassador Matsuda, with a 37-year career in foreign services, has been assigned to Pakistan for the first time, and is determined to further strengthen the relationship between the two countries, which dates back to the establishment of diplomatic ties in 1952.
COMMENTS
Comments are moderated and generally will be posted if they are on-topic and not abusive.
For more information, please see our Comments FAQ