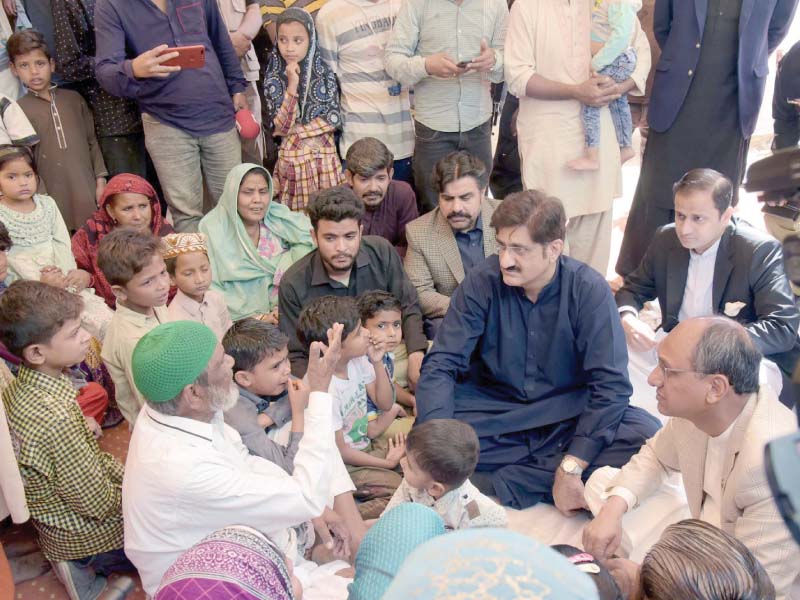 ---
KARACHI: The funeral prayers of Constable Muhammad Farooq, who got martyred in the terrorist attack on Mufti Taqi Usmani were offered at Garden Police Headquarters. Police troops saluted and laid floral wreaths on the body of the martyred.

The funeral prayers were attended by the Sindh Governor Imran Ismail, Local Government Minister Saeed Ghani, Sindh Inspector-General (IG) of Police Dr Syed Kaleem Imam, Additional IGs, Special Branch Additional IG, counter-terrorism department officials, zonal DIGs, district SSPs, other officials and policemen, Pak Army officials, Rangers officers, friends and family of the martyred police constable.

The Sindh IG paid his condolences to the family members of the martyred constable on his funeral and said that the murderers will be under the custody of law soon. He added that all families of martyred police officers will be given justice and investigation against the accused will be conducted. Paying homage to the services of the martyred, he said that the police was ever ready and alert for such sacrifices. "Such coward terrorist attacks and actions cannot bring the valour and courage of police down". He made an announcement for all customary allowances for the family members of Farooq and also ordered the police officials present there to complete all legal and departmental processes as soon as possible.

The martyr's family

The 39-year-old martyr, Muhammad Farooq, was the only guardian of his family. All those present at the house cried when his eldest daughter, Anamta, called out for her father to come back.

Farooq's mother, talking to The Express Tribune, said that Farooq was watching his wedding movie continuously for the last three days. "He also brought his siblings to his house to watch the movie together. He met me before leaving on Friday and I blessed him for his safe return." She further said that Farooq always wanted and wished to embrace martyrdom but we didn't know that he would become a martyr so soon. "I'm ready to sacrifice all my children on this country after his martyrdom. Farooq's blood wouldn't go in vain," she said.

Farooq's wife said that he told her he would come home after Friday prayers but she didn't imagine that she would receive such news. "The terrorists have taken my shield and support away from me. My children have become orphans, I don't know how I would look after our old parents and little kids," she sobbed. She said that they had gotten married in 2006 and their anniversary was next month. Farooq joined the police force after the birth of his eldest daughter. He was the sole guardian of his parents, widowed sister and her six children, wife and his seven children.

Three of Farooq's seven children were visually-impaired since birth. He was the only guardian of the family and used to run a tyre puncture shop after his duty to meet his expenses.

CM visit

The Sindh Chief Minister (CM) Syed Murad Ali Shah visited the family of Farooq in Bagh-e-Korangi, Korangi Industrial Area on Saturday and offered condolences to the family members.

Police claim finding 'important leads' in Mufti Taqi Usmani assassination attempt

Shah met all the seven children of Farooq, of them three, including a girl, were visually-impaired. Shah consoled them and committed to enrol the visually-impaired children in special schools. "I will provide proper education and treatment to the visually-impaired children wherever it is possible," he announced.

Shah also said that there was no substitute of a father for his children but "we will try our best to provide you good education, financial support, proper care and a good future."

Shah added, "Farooq was a brave policeman who laid his life to save the lives of others," he said and assured that the killer of Farooq would be arrested soon.

CM meets Mufti Usmani

Meanwhile, Shah also visited Mufti Taqi Usmani at Darul Uloom, Korangi Indutrial Area and expressed solidarity with him.

Religious leader narrowly escapes brazen gun attack

Murad told Mufti Usmani that the attack on him was actually an attack on peace of Karachi. "They don't want to see Karachi developing, flourishing and emerging as a peaceful society, therefore they decided to create a wave of terror by attacking a humble, non-political, widely respected and renowned scholar like you," he said and added "but thankfully, the Almighty saved you and your children."

Shah assured Mufti Usmani that the terrorist who had attacked him would be arrested soon. "Police have started a combing operation to arrest the terrorists who attacked you."

Mufti Usmani informed Shah that his car was attacked with ballots squarely. "A bullet crossing me from the back side of the rear seat hit my police guard, Farooq, who was sitting on the front seat. Similar fires hit my car from different angles but the Almighty saved me and my two grandchildren who were with me but both my guard and driver could not survive," he said.

He also said, "We are a purely non-political entity and even then terrorists attacked me. This was beyond my comprehension."

Published in The Express Tribune, March 24th, 2019.