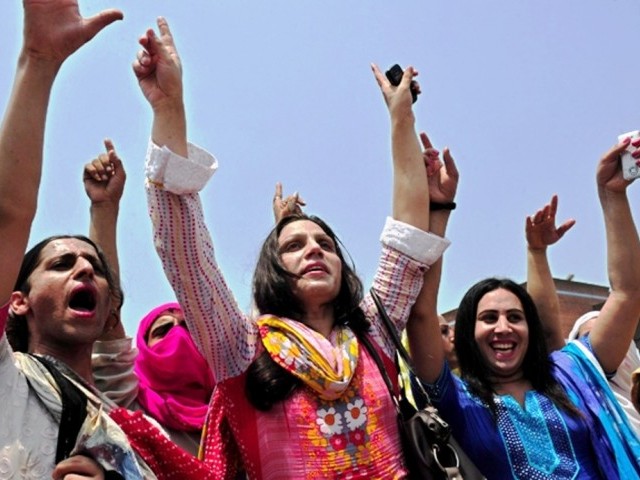 ---
PESHAWAR: "Why would anyone treat us with respect when even our own parents don't?!" This is the lament of Farzana, the president of the Shemale Association's Khyber-Pakhtunkwa chapter.

Some 63 transgender individuals have been murdered in the province over the last four years, a recent report by a transgender activist group has revealed.

This is, however, only the most extreme aspect of a broader pattern of violence against transgender individuals. As many as 1,440 incidents of violence against the community members were reported across all eight districts of K-P over the same period, reported a document released by the TransAction Alliance, an NGO working for transgender and intersex rights in K-P and FATA.

This year began on a tragic note for the transgender community with the killing of one transgender individual in Karak, the report highlighted. Overall, however, murders do appear of have gone down since 2015 – 26 transgender individuals were killed that year as opposed to 22 in 2016 and eight each in both 2017 and 2018.

Likewise, incidents of violence do appear to have decreased although there was a slight increase in 2018 as compared to the preceding year. As many 605 incidents of violence against transgender individuals were reported in 2015 as opposed to 318 in 2016, 208 in 2017 and 298 in 2018. Another nine incidents of violence have been reported this year so far.




"We face the worst sexual and gender-based violence in K-P," lamented Farzana. "We face not only domestic violence but sexual abuse… even gang-rape," she said.

However, the plight of the transgender community does not end there. "We are abandoned by both our family and society at large. Our only support comes from our gurus and other members of the transgender community," said Farzana.

"Lack of employment opportunities means transgender individuals mainly earn through dance performances at private events," she explained. "But this too has become increasingly difficult due to growing Taliban influence in K-P and many of us have no option but to beg for money."

Man arrested for 'killing, harassing' transgender persons in Peshawar

But if even that was not enough, it appears that the K-P transgender community is sometimes not even allowed to celebrate and express their happiness. In 2018, police attempted to expel several transgenders from Mardan district after they were banned from organising any functions. In February this year, a transgender person named Sheeba was prevented from celebrating her own birthday, leading to a protest by the community in Peshawar.

Although transgender individuals have been able to win some reprieve and recognition – the Supreme Court recently allowed separate identity cards for transgender individuals – the community still struggles on other fronts.

"Whenever we visit hospitals, staff members, doctors even treat us in a derogatory manner," Farzana complained. "If we have to visit the police station, officers refuse to register FIRs on our request. We are only heard when we take to the streets," she said.

Failure to get justice

Talking to The Express Tribune, Blue Vein coordinator Qamar Naseem said no suspect was ever sentenced to capital punishment, life imprisonment or received any other harsh sentence in any of the 63 murders of transgender individuals.

"When a transgender individual is murdered, the police operations team arrests suspects immediately, but an investigation officer later declares the case 'weak'," he complained. "Suspects are let off easy because some statements are changed or removed entirely."

According to Naseem, transgender individuals are very active when it comes to filing cases whenever they experience an untoward incident. "But due to poor investigation and lack of interest on the police's part, the cases often never even reach the court," he said.

"This means that transgender individuals are often to disheartened to follow up on cases they file. In many instances, they have no option but to accept blood money and forgive the killers of their fellow transgender community members," he added.

This was the case when Sufaid was gang-raped and murdered by a group of 10 to 12 men in Peshawar. Even though an FIR was promptly filed, police released the suspects early following a poorly-conducted investigation. In the end Sufaid's family pardoned her killers after accepting Rs3 million in compensation.


A similar process occurred following the murder of Naazo in Peshawar. "A suspect named Asif was arrested but the main accused, the one suspected of murdering Naazo and mutilating her body, was released by the high court because of a shoddy investigation," said Shemale Association General Secretary Aarzoo.

"Asif was arrested because he was caught red-handed with a bag containing Naazo's remains. But even though he accused his accomplice of carrying out the actual killing and confessed only to helping dispose of Naazo's remains, further investigation was not carried out and the real killer possibly was let of scot free," Aarzoo added.

Transgender person 'gang-raped, videotaped' in Peshawar

Eventually, Naazo's family too accepted Rs1 million in blood money.

Contradicting Naseem, Peshawar High Court advocate Gul Rehman claimed transgender individuals did not take active interest in legal matters and as such lost cases despite having ample evidence. "They choose to avoid courts which ultimately benefits perpetrators of crimes against them," said Rehman, who frequently takes up transgender cases.

Providing an example of the system assisting transgender individuals, he cited the case of Alisha, who was killed by Fazal Gujjar in May 2016. "Because the transgender community fully cooperated in the case, Alisha's killer was put behind bars and is serving his sentence to this day," Rehman said.

"If the transgender community extends assists police with investigations and attends court hearings, suspects will definitely be apprehended and convicted," the PHC lawyer added. He claimed transgender individuals missed court hearings because of late-night functions.

Danger lurks at home

Between 60 to 70 per cent of transgender individuals murdered in K-P were murdered by friends or intimate partners, according to the TransAction Alliance report.

"Things go smoothly as long as transgender individuals maintain relationships with one partner," said TransAction Alliance coordinator Taimoor Kamal. "But if they choose a new partner and leave an old one, the latter often react violently," he said.

"Six transgender individuals in K-P were murdered reportedly after they declined intimate relationships with close friends," said Kamal. "Three others were killed by their own family members."

According to Kamal, the families of deceased transgender individuals did not tolerate their gender identity and sexual orientation as well as their involvement in music and dance.

"To add fuel to the fire, authorities' failure to register FIRs and poor investigations contribute toward an increase in violent crime against transgender individuals," he added.

Lacklustre efforts

Fed up with violence and crime against them, members of the transgender community recently met SSP Peshawar to register their fear and grievances. A top police official assured the community that a coordination committee would be formed to deal with crimes against transgender individuals. No tangible development, however, seems to have occurred so far despite repeated calls.

Highlighting the negligence displayed towards the transgender community, Naseem pointed out that neither of the two committees Peshawar police formed four months ago to tackle transgender issues has so far convened a single meeting.

Police representatives, on the other hand, insisted that all possible support was being extended to the community.

"Police take immediate notice of any violent incident against any member of the transgender community and an FIR is immediately registered," said Peshawar SSP Operations Zahoor Babar Afridi. He expressed concern, however, over the release of the suspects and their unlikely appearances in the court.


COMMENTS (1)
Comments are moderated and generally will be posted if they are on-topic and not abusive.
For more information, please see our Comments FAQ