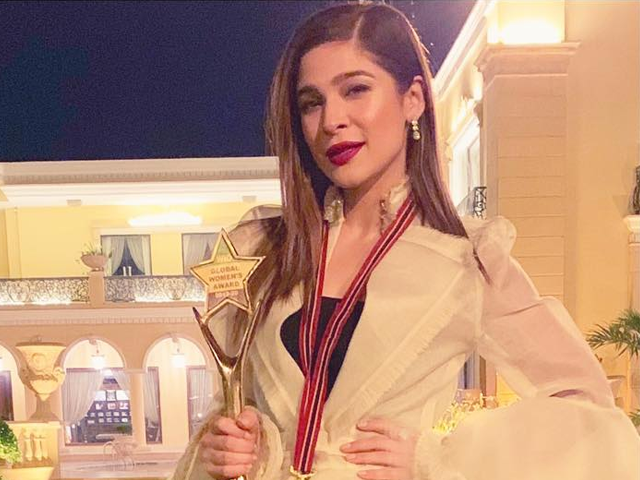 ---
After Mehwish Hayat, singer-cum-actor Ayesha Omar is now being targeted by social media trolls for being given the "Pride of Pakistan" award.

An international foundation had recently conferred the"Global Woman" and "Pride of Pakistan" awards to Omar for 10 years in the showbiz industry.

https://www.instagram.com/p/BvL64vhDBQ9/

The Karachi Se Lahore star, while sharing the news with her fans, thanked the management of the foundation and vowed to continue being a source of pride for Pakistan.

"Receiving my Tamgha-e-Fakhr-e-Pakistan and the Global Women's Award from the Warsi International Foundation," Omar wrote on Instagram. "Thank you for awarding me with this recognition of my hard work and efforts over the past 10 years, for the progress of the Pakistani television/media/film industry and for using/lending my voice and services to support social causes and issues that I feel strongly about."

She continued, "I hope I can continue to do my country proud, internally and internationally. My heartiest congratulations to the amazing, inspiring and hard working fellow awardees and recipients. I cannot thank you all enough. I have learnt so much from each and every one of you over the years and you have inspired me to carry on and keep believing in myself even when it was tough to do so. I could not be more grateful for all of you in my life and for the award/medal."

https://www.instagram.com/p/BvGw-otjdET/

The actor added, "Sending out love and gratitude back to all of you, my Instagram family and friends for supporting and appreciating me and helping me stand where I am today. I love you all so much."

But many claim that Omar doesn't deserve the award.




People called the decision shameful, questioning what makes her a deserving candidate for the award. They also criticised Mehwish Hayat receiving the Tamgha-e-Imtiaz earlier this week.

https://www.instagram.com/p/BvGwLD5jy2-/

Interestingly, it wasn't just the award some had issues with. It was also the dressing of the model. One user said, "She could have donned a Pakistani outfit for receiving the award. But these people have embraced western-ism."

While few criticised, others congratulated Omar and believed her to be a well-deserving candidate for the award.

Have something to add to the story? Share it in the comments below. 
COMMENTS
Comments are moderated and generally will be posted if they are on-topic and not abusive.
For more information, please see our Comments FAQ