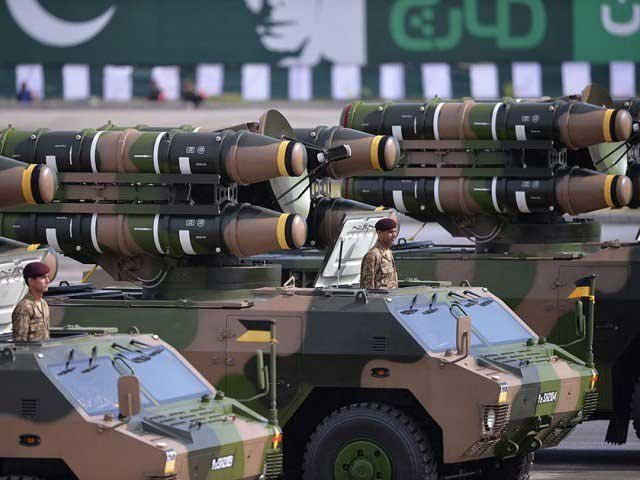 ---
[fbvideo link="https://www.facebook.com/etribune/videos/318992548814404/?notif_id=1553254448496130&notif_t=live_video_explicit"]

Pakistan on Saturday displayed in a grand manner its military prowess at a traditional parade in Islamabad to commemorate the passage of historic Pakistan Resolution as President Dr Arif Alivi called for peace with archrival India.

The day dawned with 31-gun salute in the federal capital and 21-gun salute each in provincial capitals. Special prayers were offered in mosques for progress and prosperity of the country.

The main feature of the day was a spectacular military parade at the Parade Avenue in Islamabad where three wings of the armed forces demonstrated their professionalism and prowess.

President Dr Arif Alvi, Prime Minister Imran Khan, Defence Minister Pervez Khattak, Chairman Joint Chiefs of Staff Committee General Zubair Mehmood Hayat and services chiefs witnessed the parade, whose guest of honour was Malaysian Prime Minister Mahathir Mohamad.

Pakistan's desire for peace should not be misinterpreted as weakness: President Alvi

Keeping the tradition of his predecessors, Air Chief Marshal Mujahid Anwar Khan flew over the venue in an F-16 Block 52 aircraft performing a magnificent vertical roll over the parade square. The fascinated audience fervently watched and went ecstatic to see the aircraft of the air chief disappear in the sky.

While crossing the dais, the air chief using the radio communication from the aircraft saluted the resilience of Pakistani nation in his words, "Make no mistake; we will always safeguard Pakistan."

Turkish and Chinese pilots also demonstrated aerial maneuvers, which were applauded by the audience. A formation of the Chinese Air Force presenting excellent aerobatics spread spiral of red and green smoke symbolising Pakistan-China time-tested friendship.

The parade also featured troops from Azerbaijan, China, Saudi Arabia, Turkey, Bahrain and Sri Lanka.

Mechanised columns including tanks, armoured personnel carriers, rocket launchers, air defence system, tactical communication system, indigenously built UAVs, short and long ranged missiles Ra'ad, Nasr, Ghauri and Shaheen were showcased on the occasion.

Paratroopers from the Pakistan Army, the Pakistan Air Force and the Pakistan Navy demonstrated marvelous free fall. There was also similar demonstration by the paratroopers from Saudi Arabia, Azerbaijan, Sri Lanka, Bahrain and Brunei.

Floats depicting culture of Azad Kashmir, Gilgit Baltistan and the four provinces added colour to the celebrations.  Azerbaijan's Minister of Defence Colonel General Zakir Hasanov, Bahrain's Commander National Guard Sheikh Mohamed bin Isa bin Salman Al-Khalifa, foreign diplomats, a large number of people from all walks of life, including artists, sportsmen, women and children witnessed the parade.

The parade culminated with presentation of a special song with the theme of 'Pakistan Zindabad."

Malaysian PM Mahathir departs after attending Pakistan Day parade

Addressing the military, President Dr Alvi said Pakistan believes in peaceful co-existence but its desire for peace should not be misconstrued as weakness. "Pakistan is a responsible nuclear state and it wants peace and development, not war. Pakistan respects integrity and sovereignty of other states," he said.

He said India's irresponsible attitude had jeopardised peace in the region. India would have to accept Pakistan as a reality, and it must come to the conclusion that dialogue was the only way to resolve issues.

"We are a peaceful nation, but are not oblivious to our defence, and the same has been proved in the recent demonstration of Pakistan's defence capability. Pakistan has the right to respond to any aggression," he said.

The president said Pakistan's armed forces, which were always ready to defend the motherland, had befittingly responded to the Indian strike after the Pulwama incident, for which the entire nation paid tribute to its valiant armed forces.

"Today, Pakistan is a strong military force and an emerging economy," he added.

Terming terrorism as a threat to the world peace, the president said, "Pakistan has successfully overcome the challenge of terrorism by carrying out effective military operations."

He said, "The country is safe and now moving on the path of progress and development."

He; however, pointed out that the country was dealing with the challenges of poverty, unemployment and extremist mindset.

"Peace in Afghanistan is imperative for durable peace and stability in Pakistan.  Pakistan has no interest in Afghanistan except for peace, and it fully supports political reconciliation in Afghanistan," he added.

"Participation of the representatives of Pakistan's friendly countries, including Saudi Arabia, China, Turkey, Azerbaijan, Bahrain and Sri Lanka, added valour to today's military parade and this signifies Pakistan's friendship with these countries."

"We should be focusing not on wars, but rather on health, education and employment. Our real fight should be against poverty and unemployment."

A team of commentators led by led by Lt Col Muhammad Shafiq of the Inter-Services Public Relations (ISPR) provided running commentary during the parade. The commentators – using a powerful script with important messages – also placed emphasis on peace and harmony rather than war and conflict.

An investiture ceremony also took place at Aiwan-e-Sadr in the evening, where the president conferred civil awards on individuals demonstrating feats in different fields of science and arts.

One hundred and seventy-one personalities, including some foreigners, were selected for this year's awards.

Flag hoisting ceremony in UAE

The 79th National Day of Pakistan was also celebrated with traditional zeal and patriotic spirit by Pakistanis living in the UAE.

A special ceremony was held at the premises of the Embassy of Pakistan in Abu Dhabi in this connection. The ceremony was inaugurated with flag hoisting by Ambassador Moazzam Ahmad Khan.

National Day messages of the president and the prime minister were read out with students from Pakistani schools sang national songs. The event was attended by a large number of Pakistani community.




Ambassador, in his message on this occasion, congratulated the Pakistani community living in the UAE.

While appreciating the unity and maturity displayed by Pakistani nation during the recent unprovoked Indian aggression, the ambassador reiterated the readiness of Pakistan to play its part in winning lasting peace in the region.

He thanked friends of Pakistan in particular the UAE who always stood by it in difficult times and contributed to its development. He paid special tribute to the founder of the UAE His Highness Sheikh Zayed bin Sultan Al Nahyan (Alarehma) who planted the sapling of friendship along with Pakistani leadership which has grown into a tall tree.

He said that the successive meetings between the leadership of two countries in the recent months have yielded in transforming these bilateral relations into strategic partnership.

Ambassador Khan also appreciated the role of overseas Pakistanis in the economic development of the country. He assured the community of full support and cooperation of the Embassy during their stay away from home.

Flag-hoisting ceremony in New Delhi

Pakistan's High Commission in New Delhi  celebrated Pakistan Day with a flag-hoisting ceremony. High Commissioner Sohail Mahmood hoisted the national flag with messages of the president and prime minister read out on the occasion.

Mahmood underscored Islamabad's desire for peaceful relations with New Delhi. He said that Pakistan had taken steps to de-escalate recent tensions between the nuclear armed neighbours.


COMMENTS (1)
Comments are moderated and generally will be posted if they are on-topic and not abusive.
For more information, please see our Comments FAQ