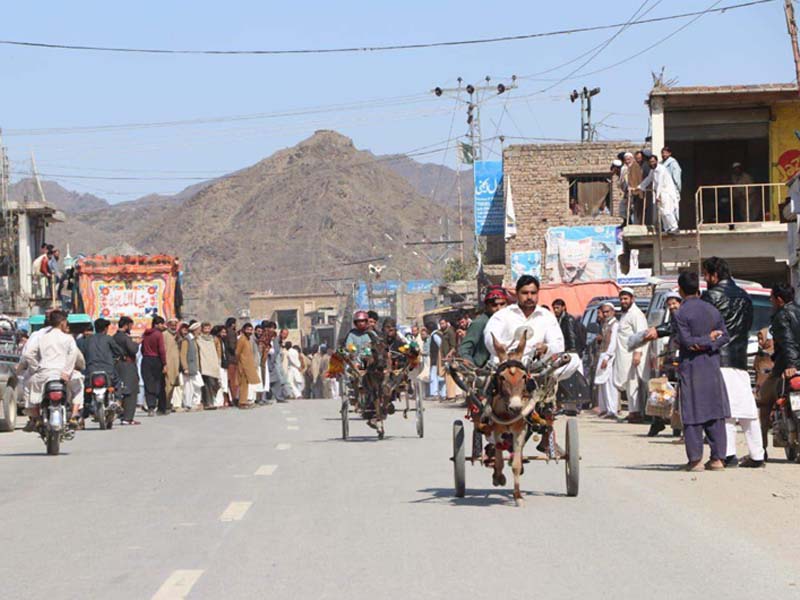 ---
SHABQADAR: Four donkey-cart enthusiasts made a guest appearance for the Pakistan Day cycle race held at Mohmand tribal district.

People of the tribal district came out in sizeable number to enjoy the race on a sunny day.

The race, made part of annual development programme in 2014 by the district administration, started from Nahqi Tunnel and culminated at Capt Ruhullah Shaheed Stadium.

More than 50 cyclists from various parts of K-P participated in the race according to District Sports and Culture Officer Mohmand Saeed Akhatar.

Four donkey cart riders also took part in the race.

In the past roads used to be closed for the security of participant, however, this year there was no dicersion or road closure and many people were riding along the bikers ini their cars cheering the sportsmen.

Saeed added that this was fourth consecutive race which was held peacefully in Mohmand. In the first one it was held from Ghallanai head quarter to Ekka Ghund where cyclist from across the country have participated, and was held at strict security. The second time it was held at Pak Afghan border area of Khwaizai, and then from last year it is held from Nahqi to Ghallanai, where most local cyclists or cyclist from adjacent Charsadda district participating. He added that this year it was held at District Mohmand instead Mohmand agency with peacefull way and shows that peace have come back to the area where ten years ago no one think about such event.

The award giving ceremony was held at Capt Ruhullah Shaheed Stadium, where the winner was awarded Rs10,000 cash prize while the runner up got Rs5,000 and the third received Rs3,000.

Donkey cart riders too got prizes acknowledging participation in the race, the district sports department also organised fireworks on the eve of Pakistan Day at Ghallanai Stadium.

Published in The Express Tribune, March 23rd, 2019.