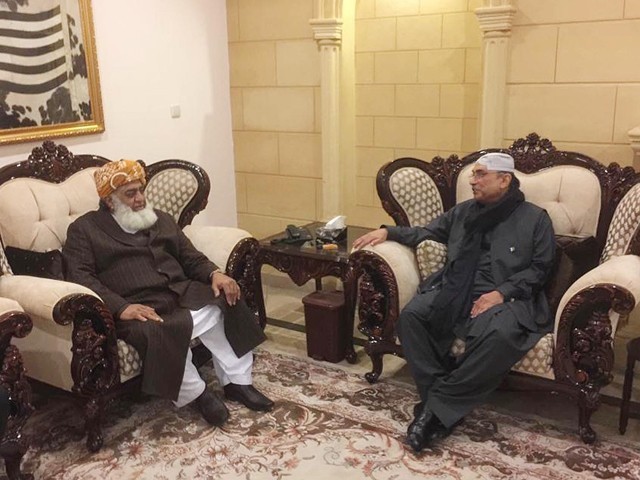 ---
ISLAMABAD: Former president Asif Ali Zardari and Jamiat Ulema-e-Islam-Fazl (JUI-F) President Maulana Fazlur Rehman expressed dissatisfaction over the government's performance during a meeting on Thursday in which they discussed the overall political situation of the country.

Rehman criticised the arrests and baton-charge of Pakistan Peoples Party (PPP) workers, while also questioning the activities of the National Accountability Bureau which he said reflected political vendetta.

"The rulers do not have the competence to administrate even a street or a neighbourhood and they are definitely not capable of running the government. The government is not serious over the implementation of National Action Plan (NAP)," Rehman said.

The PPP co-chairman, meanwhile, maintained that the government has completely failed to provide relief to the people and remains busy in political vendetta against the opposition.

The meeting also discussed the government's invitation for a meeting of the parliamentary leaders to discuss the National Action Plan, with the JUI-F chief conveying his decision to boycott the NAP meeting to Zardari.

Senate Deputy Chairman Saleem Mandviwla also attended the meeting.