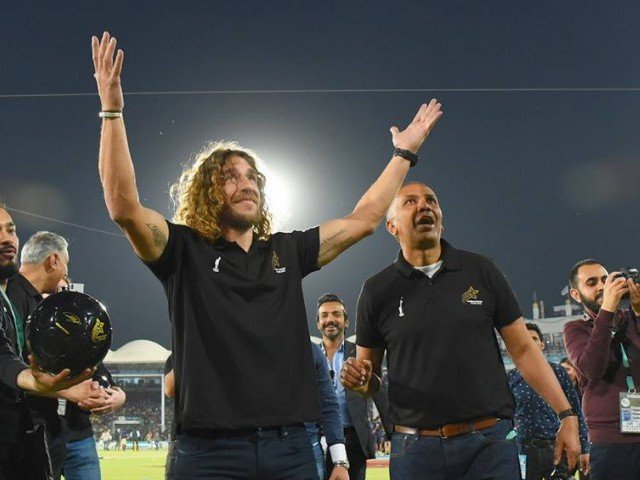 ---
KARACHI: Life is unexpected and so was my one-on-one meeting with Carles Puyol, a legend, a phenom, a defender whose contribution at the back for Spanish giants Barcelona is at par with the likes of Messi, and those 10-15 minutes of my life are unexplainable.

But what is to lose if I try? However, for perspective, to describe the emotions when you are standing a few feet away from a World Cup winner, thrice Champions League winner, six times La Liga champion, twice Copa del Rey winner, six-time Spanish Super Cup winner, twice European Super Cup champion and also twice Club World Cup winner, is near impossible, but what is to lose if I try?

Puyol, hope and Pakistan football

The moment the Barcelona star walked into the room, my mind went blank. The experience was surreal and dreamlike. For more perspective, this guy has been one of the most integral parts of some of the greatest football teams in the world, Barcelona and the Spanish national team.

The Wall, as Puyol is famously known, allowed the likes Andreas Iniesta, Xavi Hernandez and even Lionel Messi to shine bright while leading the defence at the back. His heroics elevated Barcelona's status to one of the most difficult teams to beat at one point in time.

Puyol was in Karachi to promote TSG's World Soccer Star event and he officially kicked-off the ticket sales for the event. He never got the chance to watch any of the Pakistani kids play football or guide them which puts under question the contribution this event will make at the grassroots level.

However, the event itself is a massive deal and the biggest positive for Pakistan football, since even the arrival of such legendary footballers can help revive hope that this global sport can make a small space for itself in a cricket-obsessed country.

Consistency will key in helping football blossom in Pakistan and such events should be used to eventually devise a long-term plan for the promotion of the sport in the country.

Puyol heads to PSL final for WSS kickoff

Coming back to Puyol, the one thing which stood out for me was the Barca legend's humbleness. The manner in which the World Cup winner met a fan like me, the way he acknowledged and respected my presence was surprising. Stars are supposed to be arrogant I had heard or believed, but he wasn't that kind of a star.

Some may have opposing views that he wasn't the greatest defender the world saw, but when it comes to his nature, he surely had a heart of gold, something which was inspiring.

Also, never have I ever felt such goose bumps when he signed the Barca shirt that I was wearing, but I didn't walk out with just that, there were also lessons that I learned: Work hard, respect everyone and most importantly stay humble even if you are a name the world recognises.

I was so immersed in watching Puyol, listening to him speak words which sounded alien to me but the smile which accompanied his Spanish made it sound like poetry, however when I was saying goodbyes and leaving, it was at that point that I realised that I just met a World Cup winner. I just met a legend!


COMMENTS
Comments are moderated and generally will be posted if they are on-topic and not abusive.
For more information, please see our Comments FAQ