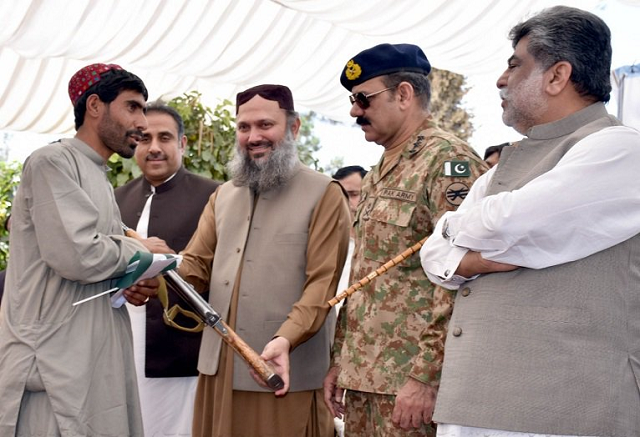 ---
ISLAMABAD: The Pakistan Tehreek-e-Insaf (PTI) government has decided to continue with the policy adopted by the last government regarding mainstreaming of militants in Balochistan.

This is in response to address security concerns of the countries planning to make investment in the province.

China and the UAE are expected to invest over US$40 billion in Pakistan and major portion of it would be invested in Balochistan. Saudi Arabia has already unveiled US$21 billion investment plan during a visit of Crown Prince Mohammed Bin Salman and the UAE also wants to invest US$20 billion.

Both the countries want to invest in oil and gas sectors. China is already investing multibillion dollars under the China-Pak Economic Corridor (CPEC).  Officials told The Express Tribune that these countries are concerned about Balochistan security situation and want Pakistan to address these concerns.

In November last year, three heavily armed militants attempted to enter the Chinese consulate in the 'high security zone' of Karachi but were killed by law enforcement agencies in an encounter. The banned Balochistan Liberation Army (BLA) had claimed credit for the attack.

In this backdrop, officials said, the federal government has decided to continue contributing 50 per cent share in the money that is used in rehabilitation and settlement of Baloch militants who surrender.

In a recent meeting of the Economic Coordination Committee (ECC), it was decided to release Rs200 million supplementary grant to Balochistan in this regard.
Officials said the former prime minister Nawaz Sharif during his visit to Quetta on August 5, 2015 launched 'Pur Aman Balochistan' plan aimed at encouraging misguided Baloch militants (Ferraris) to surrender and mainstream them for the development and prosperity of the province. Reportedly, the campaign has been a success as 2,232 Ferraris have surrendered so far.

Being an incentive based effort, the prime minister had announced Rs5 billion for rehabilitation and settlement of Ferraris who surrendered to the state. The said amount was to be equally shared by the federal government and the government of Balochistan.

Sharif had directed the Finance Division to release Rs250 million through supplementary grants on account of 50 per cent share of the federal government.

It was also directed that any further payments by Balochistan to militants shall subsequently be settled upon the request. Accordingly, the Finance Division released Rs250 million to the government of Balochistan on March 16, 2018.

The Finance Division informed the ECC that the PM Office has now advised it to initiate and place a summary for allocation and release of Rs200.075 million to the government of Balochistan as supplementary grant on account of 50 per cent share of the federal government.

The Finance Division sought approval of the ECC for placing the summary before the cabinet as federal government's share in 'Pur Aman Balochistan Policy'.  The ECC approved the supplementary grant.