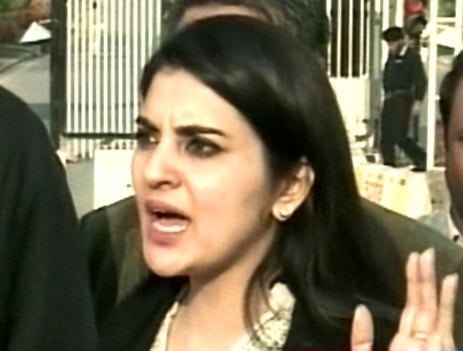 ---
RAWALPINDI: Federal Ombudsperson for Protection against Harassment of Women at Workplace Kashmala Tariq said that sending unwanted and unnecessary "good morning" and "best wishes" messages to women amounts to harassment.

She made the statement while addressing a ceremony on women's day celebration at chamber of commerce in Rawalpindi on Tuesday.

Later taking to micro-blogging website Twitter, she clarified her statement saying stalking on social media and unwanted messages tantamount to harassment and urged the media not to interpret her example out of the context  which she quoted during the event.


I said unwelcoming n unwanted text messages n stalking on social media is also harassment. And then I gave examples. Media shall not take just one line out of context pls.

— KashmalaKhanOfficial (@kashmalamna) March 19, 2019


In another tweet, she said that people in power should not exploit their positions to ask female workers to go for lunch which, according to her, also fall within the ambit of harassment.


At Women's Day Celebrations at Rawalpindi Chamber of Commerce today I said that people shall not use their position of power to exploit women n ask them out for lunches n teas. That tantamounts to harassment too.

— KashmalaKhanOfficial (@kashmalamna) March 19, 2019


The anti-harassment cell does not only act on complaints filed by women but also entertains complaints of men and transgender persons, Kashmala remarked during the ceremony.

Sexual harassment is intolerable: UN Women executive director

She told the participants that the harassment was not limited to sexual assault but it also takes place in other forms, urging that the women should report the case of harassment immediately, adding that the anti-harassment body will serve justice within two months.

The presence of CCTV cameras in offices where a female staffer is working is mandatory and the camera footage of harassment would be accepted as the evidence, she added.

"The working women who also look after their homes are superwomen," remarked the ombudsperson.

Kashmala further said organisations where anti-harassment committees  are not established would be fined with Rs100,000.

Registering a complaint is not a difficult task, FOSPAH official pages are available on every social media forum where a complaint could be lodged easily, she added.
COMMENTS (1)
Comments are moderated and generally will be posted if they are on-topic and not abusive.
For more information, please see our Comments FAQ