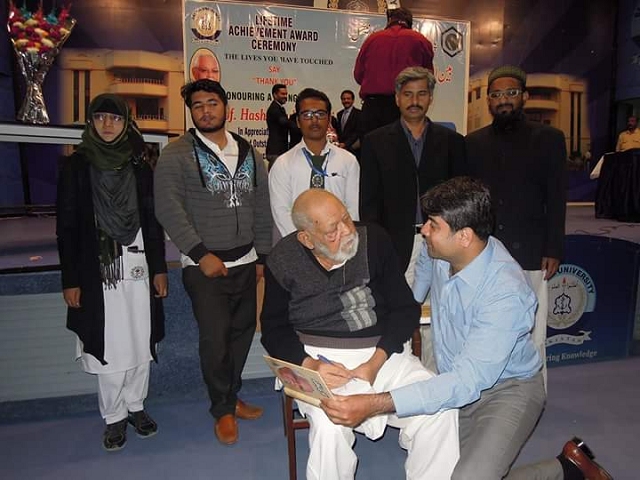 ---
KARACHI: Former education additional secretary and renowned educationist, Professor Hashmatullah Khan Lodhi, passed away on Monday, succumbing to a protracted illness at the age of 90. Prof Lodhi, who authored several books, gave 47 years of his life to the education sector while also being accomplished in the world of sports. He is survived by his son, NED University of Engineering and Technology Vice Chancellor Dr Sarosh Lodhi, four other sons, and two daughters.

Prof Lodhi was born on July 2, 1929 in Lucknow, Uttar Pradesh. He migrated to Karachi after partition and acquired an MS degree in Botany. He served as the principal at MS Government College from 1986 to 1972, and later at Government Islamia College, Karachi. After retiring from this post he served as an additional secretary in the Sindh education department.

Prof Lodhi authored several books during his lifetime, including, 'Textbook of Botany', Khazeena  [on scientific information], Manzil by Manzil, stories on great inventors, a children's book, 'Koel Ka Intiqam' [Cuckoo's Revenge], another titled 'Step Ahead Science' and a biography 'Ata Hai Yaad Mujhko'.

He began informative radio programmes for children, entitled 'Science Pakistan', 'Sukhan Gastrana' and 'Do you know Pakistan'. He also featured in several educational television programmes. In 2017, he received an achievement award from the Pakistan Quiz Society.

The veteran educationist was also the president of Karachi Botanical Society, served as vice president of the Arts Council of Pakistan, was a member of the Sindh Sports Board and the University of Karachi (KU) syndicate.

Educationists demand amendment in schools act 2015

Prof Lodhi was also renowned in the world of sports. In his youth, he played for Uttar Pradesh's hockey team and later he played for Karachi and Sindh's hockey teams as well.

Aggrieved friends

KU Vice Chancellor Prof Muhammad Ajmal Khan expressed his condolences at the demise of Prof Lodhi and prayed for the departed soul and strength for Prof Lodhi's family.

Meanwhile, education expert, Pirzada Qasim, while speaking to The Express Tribune said that Prof Lodhi was a brave soul who was never afraid or intimidated by someone. Qasim said he became associated with Prof Lodhi in 1996 when Qasim began teaching at KU. He said that Prof Lodhi was quite fond of sports and his educational services will be remembered by many. 

Published in The Express Tribune, March 19th, 2019.