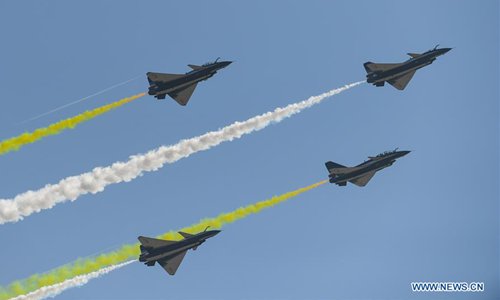 ---
The J-10 fighter jets of China's People's Liberation Army Air Force's Bayi Aerobatic Team arrived in Pakistan on Saturday to participate in the Pakistan Day parade to be held on March 23, Global Times reported.

According to China Central Television, the Chinese pilots received a warm welcome from the Pakistani side as children greeted them with bouquets on their arrival.

Hu Zhiyong, a research fellow at the Shanghai Academy of Social Sciences' Institute of International Relations, told the Global Times that the participation of Chinese fighter jets in the Pakistan Day parade is a symbol of friendship between the two countries, noting that Pakistan is an all-weather friend of China.

Pakistan Day parade: Malaysian PM to be chief guest

This is not the first time the Bayi Aerobatic Team will be performing in Pakistan. On November 19, 2017, the team staged a 'wonderful' aerobatic flight with J-10 fighter jets in Quetta, China Military Online reported.

Hu noted that China has contributed to Pakistan's military development, as China has been helping Islamabad with its national defence industry for decades.

According to analysts, China is likely to have more joint development projects and arms sales in Pakistan in the future.

A third and more advanced batch of the JF-17 fighter jet, the JF-17 Block 3, is currently under development and production, China Aviation News reported.

Airspace to remain suspended for several hours in twin cities till March 23

Apart from the Chinese jets, the parade will also include flypasts from Turkish F-16s and paratroop contingents from Azerbaijan, Bahrain, Kingdom of Saudi Arabia (KSA) and Sri Lankan armed forces. Foreign marching contingents from Azerbaijan and KSA will also participate.

During the Pakistan Day parade in 2018, senior Indian military officials and diplomats posted in Islamabad attended the military parade.

Pakistan Day is celebrated on March 23 throughout the country to mark the signing of the Pakistan Resolution by the All India Muslim League in 1940 at Lahore's Minto Park. The resolution demanded a separate homeland for the subcontinent's Muslims.
COMMENTS (1)
Comments are moderated and generally will be posted if they are on-topic and not abusive.
For more information, please see our Comments FAQ