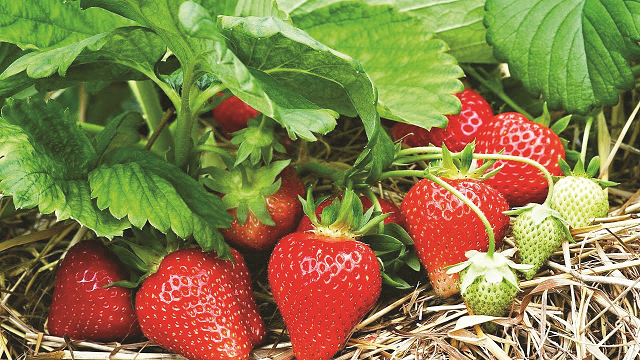 ---
LAHORE: Strawberry cultivation has increased across province. Agricultural experts estimate that strawberry cultivation has increased by 22% in the past few years and is expected to rise in the coming years.

Strawberries are loved by citizens of all ages. Apart from tantalising taste buds, strawberries are also an excellent source of vitamin C; 100 grammes of strawberries contain 52 milligrammes of vitamin C which is higher when compared with other fruits.

Officials urged to introduce modern agri technology

Strawberries can also be used to make various jams, jellies and preserves. The increase in production will not only increase exports but will also have a positive impact on businesses selling jams, jellies and preserves. All 36 districts in the province are suitable for cultivating strawberries. However, districts such as Sialkot, Gujranwala, Lahore, Khushab, Sargodha, Faisalabad, Jhang, Sahiwal, Multan, Bahawalpur, Rahim Yar Khan and their adjoining areas are ideal for cultivating the crop.

Chaudhry Ejaz, who was the first person to start cultivating strawberries at Lahore's borders on five acres of land around four years ago, says that he started by asking his friend to bring saplings from Khyber-Pakhtunkhwa (K-P). Two farmers were also brought to cultivate the crop.

During the first year, the harvest was larger than Ejaz expected. As a result, he started to expand the cultivatable land. Now, Ejaz is cultivating strawberries on around 25 acres of land.

"Following my example, many farmers have now started cultivating strawberries as opposed to traditional crops and vegetables," says Ejaz. Border areas are ideal for cultivating strawberries because wide open expanses of land are easily available and the temperature is lower compared to the main city, he reveals.

Rana Mubashir Hasan, another farmer, says that strawberries are cultivated in October but the crop starts to bear fruit around January. Currently, strawberry production is at its peak, he says.

Approximately 8,000 small packs of strawberries are obtained from a single acre while cultivation can cost up to Rs0.2 million which includes the cost of seeds, fertiliser, water and labour," he explains.

Promoting strawberry cultivation can help in developing our rural economy, he says. He reveals that a single plant provides 0.5 kilogrammes of fruit. Similarly, approximately 800 maunds of produce are obtained from one acre. However, some farmers are able to boost production and are able to harvest 1,200 maunds per acre, he says.

Punjab Agriculture Department Fruit and Vegetable Director Mohammad Sajid says that in order to cultivate strawberries, the land should not be waterlogged. When prepping the land, add five trollies of animal fertiliser per acre, explains.

Second phase of Plant for Punjab Campaign starts

Chandler strawberries are very successful in Pakistan. Some people also call them shander, he states. If an adequate amount of fertilizer is given to the plant, the harvest will be sweet, he says.

Even though strawberries have been successfully cultivated in Punjab and Singh, the saplings can only be found in specific areas in K-P province which include Swat, Dir and Gilgit.

Published in The Express Tribune, March 18th, 2019.
COMMENTS
Comments are moderated and generally will be posted if they are on-topic and not abusive.
For more information, please see our Comments FAQ