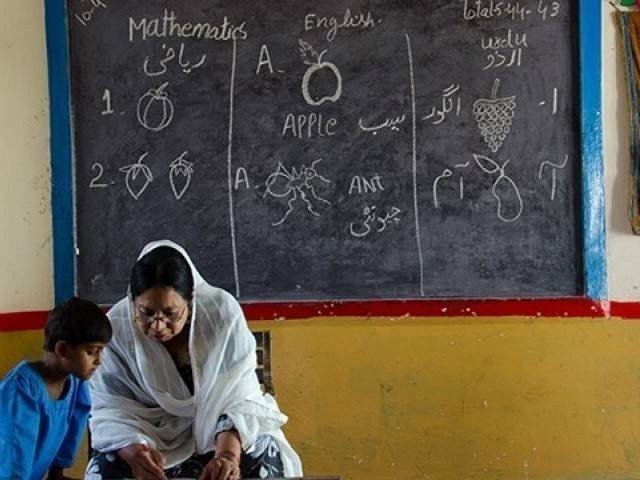 ---
ISLAMABAD: The Federal Public Service Commission (FPSC) has approved a new set of service rules for the appointment and promotion of teachers in the federal capital, resolving at least one long-standing demand.

According to the new rules, the restriction of Primary Teaching Certificate (PTC) and Certificate of Teaching (CT) have been replaced with having a Masters of Arts (MA) or a Masters of Science (MSc) degree with a Bachelors in Education (Bed) and Masters in Education (MEd) degrees.

The Federal Directorate of Education (FDE) had sent an amended draft in 2011 to the government for amendments in the 1993 appointment rules. Despite the passage of eight years, the amendments were not approved due to a host of reasons.

The FPSC, though, has now approved the draft after all stay orders and cases in court on the subject were cleared.

Previously, around 85% of teachers in the federal capital hailed from an arts background while only 15% were from a science background. But according to the newly approved rules, these numbers will be now revised.

Further, the appointments of Secondary School Teachers (SSTs) on basic pay scale (BPS) grade-18 and SET on BPS-16 will be carried out while following a formula of 50% promotion and 50% new recruitment.

A master's degree with a second class or grade-c, or a four-year Bachelors of Studies (BS) degree with grade –c in second class along with BEd and MEd degrees will be required for promotion to BPS-20.

Further, it will also be mandatory for candidates to have 17-years-of-service in BPS-17, 12-years-of-service in BPS-18 and at least five-years-of-service in BPS-19 for their promotion into BPS-20.

In this way, around 1,000 teachers will be promoted while as many as 1,800 new teachers, who will be subject specialists, will be recruited as per the new rules.

Moreover, some 75% of principals in BPS-19 will be appointed through promotion from lower cadres while the rest will be recruited afresh from the market.

The same formula will be applied while recruiting vice principals in BPS-18 due to which the quota of exclusive appointments will also be increased.

FDE Director Saqib Shahab said that this will prove to be a stepping stone in the educational reforms pursued by the federal government.

He added that training for teachers' certification will start in the second phase while the teachers' administration will be split into the administrative training which will be linked with a modern system of monitoring and evaluation.

New syllabus

The federal education ministry has decided to introduce a new syllabus in government educational institutions.

The new syllabus will be for classes nursery to Grade-VI and will be introduced from the new educational calendar of 2019-20.

An upgraded syllabus for grades VII and VIII have also been approved whereas the syllabus for all classes up to Grade XII will be upgraded by 2020-2021.

Further, as per the notification, the curriculum review committee has been tasked with forming a new syllabus as per the modern requirements on an immediate basis.

Sources disclosed that upgraded books made per the new syllabus for nursery up to Grade-V have been dispatched for printing and are expected to be delivered to schools in the first week of April.

Meanwhile, the government was trying to supply the revamped books for Grade-VI by the last week of April.

Joint Educational Advisor Rafiq Tahir said that the education ministry has instructed them to complete revising books on an emergency basis after which the new syllabus up to Grade- VI will be released by the committee.

Afternoon schools

In a bid to bring out-of-school children back to school, the Punjab government has decided to launch a new educational programme titled "Insaf Afternoon School".

The programme will ensure the admission of out-of-school children from five-years-of-age to 16-years-of-age.

In the first phase, some 1,085 schools of 22 districts in the province including the Rawalpindi, Attock and Jhelum, have been selected for this programme.

All schools under this program will run a second shift in the afternoon. Students attending this session will be provided with free books, copies and uniforms. Moreover, boys will receive free bicycles for conveyance while girls will receive Rs15,000 as transport vouchers annually.

At the time of admission, parents of enrolled children will be required to take an oath that their children will continue their education in these schools until matriculation.

Teachers who will teach in the programme will be given special incentives apart from their regular job.

Selected schools for this purpose will accommodate around 3.134 million students. In the selected schools, there are some 119,530 students in 350 middle schools while 193,888 students are in 735 primary schools. Moreover, the areas chosen for this programme are those where there is no government school within a two-kilometre radius.

Classes in these schools will start from April 1.

WITH ADDITIONAL INPUT FROM QAISER SHERAZI IN RAWALPINDI



Published in The Express Tribune, March 18th, 2019.
COMMENTS
Comments are moderated and generally will be posted if they are on-topic and not abusive.
For more information, please see our Comments FAQ