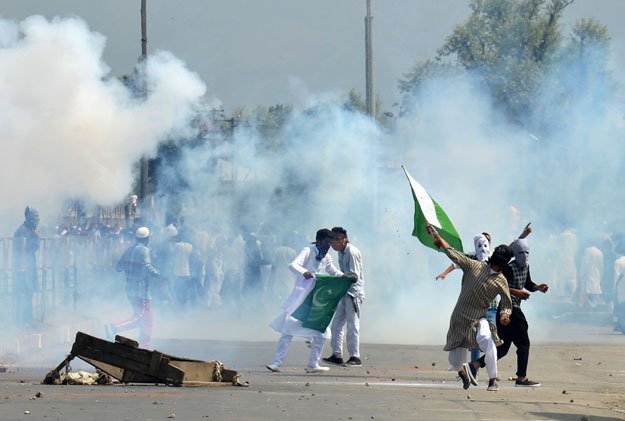 ---
MUZAFFARABAD: In a bid to intimidate and harass the Kashmiri leadership, the Indian National Investigation Agency (NIA) on Sunday summoned them once again to appear before its New Delhi headquarters for questioning in fake cases.

Chairman of Hurriyat forum Mirwaiz Umar Farooq, Naseem Gilani, the son of All Parties Hurriyat Coference (APHC) chairman Syed Ali Gilani and Jammu and Kashmir Salvation Movement (JKSM) chairman Zaffar Akbar Bhat were among those who received the summon.

This is the second time in a week that the Kashmiri leadership was summoned for questioning. The APHC has termed the move an attempt to intimidate and harass the Kashmiri leadership. However, Hurriyat leaders can never be forced into submission by such Indian tactics, they added.

UK protesters demand an end to Indian atrocities in IoK

Meanwhile, hate crimes against Kashmiris continued unabated throughout India, according to Kashmir Media Service.

In one such incident, a Kashmiri shawl seller was attacked with a sword and deprived of almost Rs200,000 by a gang of Hindu extremists in Kolkata. The victim, Shakoor Ahmad Shah who was taken to a hospital in critical condition, belonged to Budgam district of occupied Kashmir.

These developments came a day after the US State Department, in its annual report released in Washington on Saturday, cited widespread human rights violations by Indian forces in occupied Kashmir and called for an international probe into the rights abuses in the territory.

The report noted that the draconian Indian Public Safety Act, which applies only in occupied Jammu and Kashmir, permits the authorities to detain persons without charge or judicial review for up to two years.


COMMENTS
Comments are moderated and generally will be posted if they are on-topic and not abusive.
For more information, please see our Comments FAQ