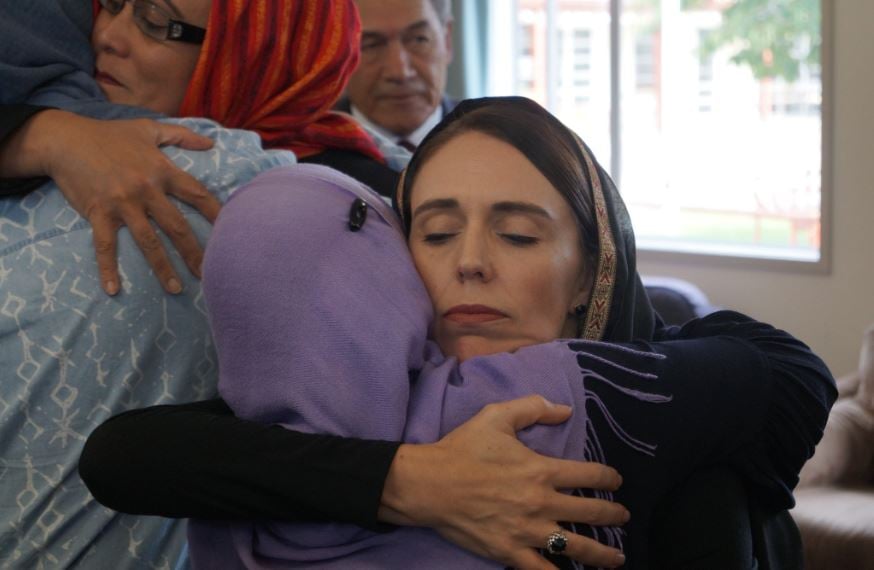 ---
As the world reels itself to the shocking attacks at two mosques in New Zealand, social media users send a clear message of peace and love to condemn the senseless attacks against the Muslim community.

Social media can be used to spread hate with many sharing the manifesto of the Christchurch attacks online, and one of the attackers live streamed the gruesome shooting on Facebook.

However, there are many users who're actively rejecting Islamophobia, bigotry and hatred online with messages of tolerance, inclusivity and love.

Following are some of the heartening tweets that express love, solidarity and peace in light of the gruesome attacks:


A stunning portrayal of solidarity where many have gathered outside the Islamic Center of NYU wishing worshipers words of support and love. Many Muslims are walking in with tears, overwhelmed by the kindness. pic.twitter.com/Lfrmi9hZ2m

— Rowaida Abdelaziz (@Rowaida_Abdel) March 15, 2019
Jewish New Yorkers stand with Muslims. pic.twitter.com/1DjHp3KeMI

— LIBERTY (@malkhalil1) March 16, 2019
I live in country Australia and stand with #Muslims around the world. As I thought about #ChristchurchAttack I wanted to play the call to prayer at home at sunset. I'm not religious so hope that is not disrespectful. It is my gesture of solidarity. pic.twitter.com/cBmfjWKW0q

— Lach Drummond (@lachdrummond) March 15, 2019
Wonderful to see the solidarity shown by the people of Manchester with the Muslim community on this sad day. Thank you showing that we are stronger together pic.twitter.com/oiCryMXJ27

— Afzal Khan MP (@Afzal4Gorton) March 15, 2019


Others used hashtag #TheyAreUs on Twitter after New Zealand's Prime Minister Jacinda Arden used the words in a press conference to condemn the attacks:


What has happened in Christchurch is an extraordinary act of unprecedented violence. It has no place in New Zealand. Many of those affected will be members of our migrant communities – New Zealand is their home – they are us.

— Jacinda Ardern (@jacindaardern) March 15, 2019
"Though we may come from different countries and speak in different tongues, our hearts beat as one." -Albus Dumbledore.

This violence has no place in the world. We are whānau, we must remember that. #KiaKahaChristchurch #NewZealandStrong #ChristchurchMosqueAttack #TheyAreUs pic.twitter.com/Lc02Whu8Zg

— Koncept Kiwi ✨ (@Koncept_Kiwi) March 16, 2019


https://twitter.com/paulusthebrit/status/1106774870694592512


I am relieved that we have a leader at this time who is full of compassion, empathy, concern and aroha. To see that captured on her face shows how real and honest she is. #SheismyPM #TheyAreUs pic.twitter.com/OH3jDzxHvJ

— Michael Bain 🏳️‍⚧️🏳️‍🌈 ally (@mikejbain) March 16, 2019


https://twitter.com/kissykendra/status/1106463945932435456

Meanwhile, flowers have appeared outside mosques in New Zealand, many of which are now guarded.


Meghan Stewart-Ward says she brought flowers to Dunedin's mosque to show her love and support for the Muslim community . "The majority of people in New Zealand are here to support you and respect your right to worship freely." #Christchurch @rnz_news @CheckpointRNZ pic.twitter.com/UzSYSj8D0V

— Tess Brunton (@TessBrunton489) March 15, 2019
Flowers arriving at the cordon a few hundred metres from the Al Noor mosque in #christchurchnz pic.twitter.com/4noy9cOk8b

— Bill Code (@billcode) March 15, 2019


https://twitter.com/jade_soffe/status/1106693898666074112
COMMENTS
Comments are moderated and generally will be posted if they are on-topic and not abusive.
For more information, please see our Comments FAQ