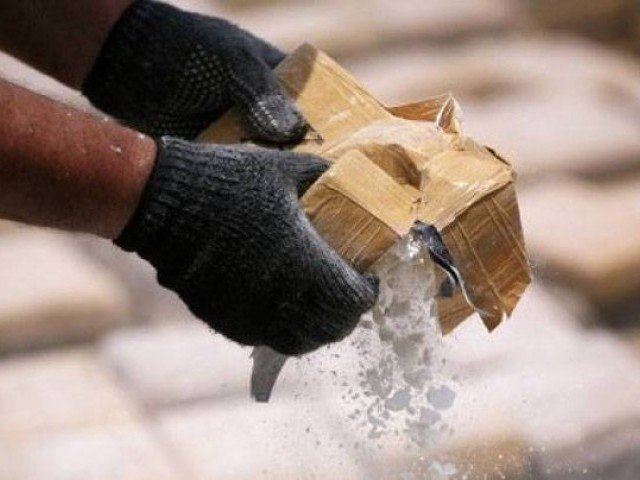 ---
KARACHI: In a recent revelation, it has been found that college girls are more involved in the consumption of crystal methamphetamine, commonly known as Ice drug. The Karachi Police Chief AIG Amir Sheikh, in a media briefing on Thursday, said that addiction of the Ice drug is commonly observed amongst university and college students as it is available for a mere Rs700-2,000 per gram.

Sheikh, talking about the crackdown against drug suppliers to education institutions, said that more than 300 drug stations have been completely torn down. Most of these were in areas of Pak Colony, Jahanabad, Lyari, Sher Shah, Lasi Goth, Mehmoodabad, Shanti Nagar, Dalmia and Malir.

Police, education dept sensitise students on drugs
Most of these drugs are imported to Karachi through Balochistan and Hub, said Sheikh, adding that since the drug is sold in lesser amounts, such as a few grams, the peddlers, even if tried, easily get bails from the court. "The laws need to be amended, for which we conducted a meeting with the anti-narcotics department," said Sheikh.

Karachi Additional Inspector-General said that around 350 complaints were received during the course of one month from Korangi district, 17 of which were against policemen and officials involved in the supply of drugs to education institutions. "An inquiry is being conducted over them and departmental action would be taken against those involved," he said.

Sheikh further informed that Korangi SSP Ali Raza had found solid evidence against policemen and officials involved in drug peddling, against whom inquiries were under way. Sheikh assured that such officers will face strict departmental action and might even lose their jobs if proven guilty. He also said that action will be taken against those who misbehave with citizens or harass them in any way.

The police chief awarded cash prizes to the police officials posted in the complaint cell for their remarkable performance. When asked about a viral video in which policemen are harassing citizens, Sheikh said that the video was two years old and action had already been taken against those seen in the video.

He also mentioned that a crackdown against beggary in Karachi was undergoing, in which around 3,500 beggars were already taken in custody. "We have appealed to the government for a shelter home to be made for beggars so that they could be kept there. They had previously been living in camps at 50 locations. These camps have also been removed," said Sheikh.