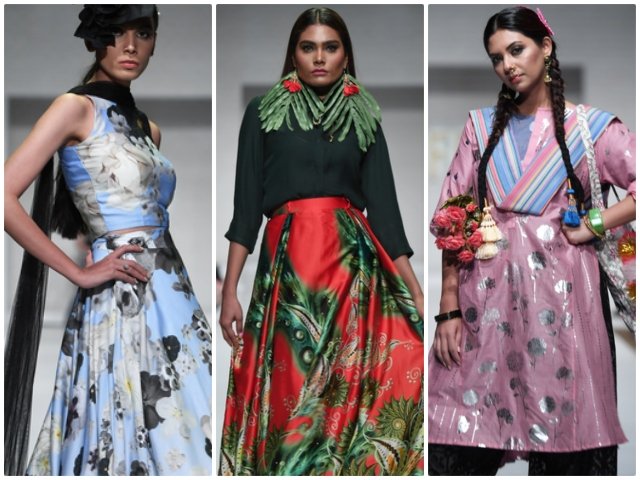 ---
KARACHI: Fashion Pakistan Week Spring/Summer'19 sprung like a flower in full bloom on day two. With the eccentric and heavily detailed Sana Safinaz solo show on the first day, expectations were high for brands to step up their game. And, they did. With eight designers putting forward their own concepts, cuts and inspirations, here is a lowdown of what went down on the evening.

Generation

Collection: #NoNonsenseNighat




Generation received mixed reviews on the concept behind its new collection. In a bid to dispel 'internalised racism' where 'everything in the West is better', #NoNonenseNighat aimed to change the narrative of desi fashion and remind the audience that desi is not the opposite of chic.

From the school girl who had her hair tied in an oiled choti, to the woman whose chooris were so golden that they contrasted with her saanwli wrists, the design house's creations were all about soaking up Pakistan's rich and rather outré history. Now, that is a vibe that oozed all the way through their opening act. Their easy breezy silhouettes and comfortable yet modish looks were a sure way to head into the summer. And, let's not forget the models: The flowers, the hair, the runners. An outfit that stood out from afar was the revamped sari. Generation showcased a line that was an admirable attempt of reinventing, yet still totally owning the desi look.

Yasmin Zaman

Collection: Zéke 




Yes, there was colour. Yes, there were bespoke ensembles catered to destination weddings and yes this collection screamed resort wear. But somehow, there were very few pieces in this collection that impressed.

Whether it was the flamboyant cuts or the ordinary looks we have seen time and again, the wow factor seemed to be missing. However, the mustard and burnt orange dresses are definitely a way to make a style statement on a summer soiree. Needless to say, the offerings did make us crave a beach holiday! One could almost imagine being on a cruise ship in the Bahamas with the sun on our faces and the rays shimmering through the fabric in the tropical breeze.

On another note, the statement jewellery by Haya Lutfullah uplifted the whole mood. Gold abstract bangles, earrings and collars contrasted brilliantly on the outfits, adding to the oomph factor.

Nauman Arfeen

Collection: 'Har Shakht Pe Ullu Betha Hai'




Denim is classic, everyone's casual go-to piece of clothing and never goes out of fashion. Meaning 'An owl on every branch' in English, Arfeen's collection feautured uber-modern cuts and funky owl-embroidered motifs. The designer dared to be different with his dark denim co-ord line. But it almost seemed like he was trying too hard to be quirky. While the concept was unique and stayed in tune throughout his showcase, nothing seemed to really stand out. Modern takes on sherwani and ghararas were softened by feminine floral stitch work.

Ideas Pret

Collection: The Floral Raj




The revolution into the night began as the label surprised everyone with its show-stopping collection. The offerings feautured soft shades, flowy ensembles and intricate embroidery. The outfits truly encapsulated spring trends with gorgeous sleeve detailing, elegant capes and kimono-inspired dusty mauve pieces. Simple yet magnificently crafted lehengas were also spotted on the ramp.

An exquisite fusion of Victorian Glasshouses and Mughal Art added a personal touch to the collection. The designs were wearable for almost every woman and a sure shot way to turn heads this season. Needless to say, the audience couldn't get enough of the graceful frills, ruffles and asymmetrical cuts. Sandy pink off-the-shoulder blouses captured a truly bespoken feminine presence. On a whole, it was undoubtedly a great attempt on the retail brand's part, with simple yet elegant ensembles leading the pack.

Alkaram

Collection: MAK O Keeffe




Alkaram emerged on the stage with a bang. The fashion-forward collection was all about noisy patterns and casual pieces. Inspired by the rebellious artist, modernist and lionhearted visionary Georgia O' Keeffe, Alkaram made a creditable effort to represent the ideals of the late American illustrator.

Best known for her paintings of enlarged flowers, New York skyscrapers and New Mexico landscapes, O'Keeffe has been recognised as the 'Mother of American modernism'. Loud blossoms were definitely a constant in the collection, with models donning loose, smock-like dresses that may not be the most flattering, yet in line with the theme. Balloon sleeve blouses and jumpsuits made an edgy appearance, as well as a whimsical sky blue and ombré floral ensembles.

Obaid Sheikh

Collection: Lost in the Forest




Green dominated the runway in Sheikh's collection, certainly taking the audience through a journey in the forest. It was almost like a fairy tale, a touch of Disney's portrayal of Sleeping Beauty wandering through the woods. That's the way the collection attempted to envision, actually.

On a spiritual discovery, a hint of innocence yet a touch of sexiness were showcased – where a girl is growing into a woman. While this is a perfectly enchanting concept, the fern accessories stuck in heels and painted black masks really took away the beauty of some of the ensembles.

Contrasting greens were a little over-the top and while we understand the collection was meant to highlight shades of the forest, far too many hues were shown. Perhaps, the colour palette could have been softened through the use of pastels such as lilac, mint and summer lemon. However, a real stunner was the full-length silky red skirt with a painted fern and floral design on it. The flowy ensemble was a definite statement piece for the warmer months, perfect for a formal evening or holiday wear.

Boheme by Kanwal

Collection: 'Kun Faya Kun'




It was an absolute pleasure to witness this collection. Think ethnic, summer, simple, linen and statement embroidery. Think all good things about eastern culture and then think of Boheme by Kanwal.

The collection took us on a mystical experience by incorporating Sufi legend Rumi in almost all of their pieces. Whether it was the crescent moon, elephants, Taj Mahal or kamanche (traditional Persian instrument), each ensemble included something special and meaningful. The traditional shalwar kameez was simply but exquisitely represented in navy blues and gold embroidery, as well as simple floral saris matching menswear.

Sania Maskatiya

Collection: Luxe Evening Wear




Everything about this collection screamed luxe. Ending the night on a high note, with beautiful classic shades, Maskatiya's display stole the spotlight, quite literally. Beginning the showcase with a model clad in a black ruffled dress, everything just seemed to get better as the showcase went on. Black and ivories were the only colours but there didn't need to be anymore because every cut and design was just simply on point and a statement in itself.

It was magically high on craft with sleek silhouettes and the designer's signature flair. The collection debuted at New York Fashion Week last month, which is a testament to the brands unparalleled rise to fame. Bravo!

Have something to add to the story? Share it in the comments below.
COMMENTS
Comments are moderated and generally will be posted if they are on-topic and not abusive.
For more information, please see our Comments FAQ