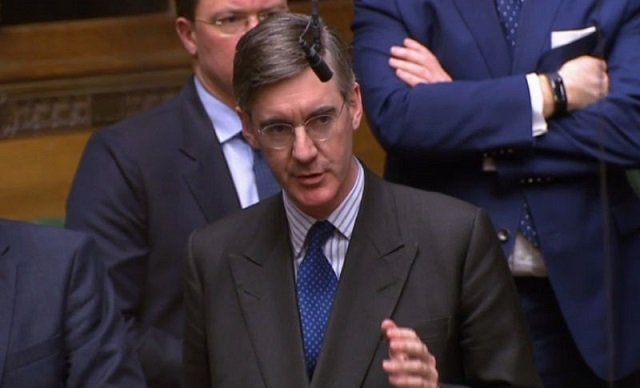 ---
LONDON: In voting against Prime Minister Theresa May's divorce deal this week, hardline supporters of Brexit risked helping those who want to undermine the whole process.

The so-called Brexiteers declared victory on Tuesday when the House of Commons rejected May's EU withdrawal agreement for a second time.

It was an "embarrassment" that "sets us on a path to a subordinate relationship with the EU" and should be "put to bed", declared former foreign minister Boris Johnson.

Brexit in peril?

But the defeat led the way to another vote on Wednesday when MPs rejected leaving the EU without a deal -- which has now opened the door to a long Brexit delay.

"The failure to pass Mrs May's deal means Brexiteers have now cleared the way for Remainers to do their worst," said Asa Bennett, a commentator in the Daily Telegraph newspaper.

"They plan to keep no-deal Brexit at bay, and then to target Brexit itself."

The main group calling for a second referendum to reverse Brexit, the People's Vote, said after the rejection that "the case for putting it to the people is getting clearer by the day".

Some Brexit supporters acknowledged the danger and urged their colleagues to drop their opposition to May's deal.

In an article in The Guardian, Conservative MP Ben Bradley urged them to "hold their noses, to get Brexit signed and sealed".

UK PM May says she will vote against a 'no-deal' Brexit

"Parliament will vote for extension, and extension leads to further delay, further confusion, and great risk of Brexit not happening at all," he wrote.

But his position drew anger on social media, where he was dismissed as a 'traitor' and a sell-out, revealing how much Brexit still inflames passions.

In total, 39 Conservative MPs switched from voting against the deal in January to supporting it this week.

The protests outside parliament highlighted the contradictory positions over the Brexit deal, with both pro-Europeans and eurosceptics rejoicing its defeat.

"It's one step closer to stay in the EU," said Nina Hawl, an 82-year-old 'Remainer'.

British MPs vote to reject no-deal Brexit

"We won't be so restricted outside the EU," said Julie Astell, 58.
But it is not clear that either have won, noted Steve Peers, professor of law at the University of Essex.

"It remains to be seen if there are enough votes in parliament for another referendum" or to reverse Brexit, he told AFP: "So far it doesn't seem that there are."

Instead, "those who can accept a soft Brexit compromise are more likely to benefit", he said, referring to a situation where Britain leaves but stays close to the EU.

Brexit supporters may yet have another chance to change their mind -- May announced on Wednesday she intended to bring back the deal for a third time by March 20.
COMMENTS
Comments are moderated and generally will be posted if they are on-topic and not abusive.
For more information, please see our Comments FAQ