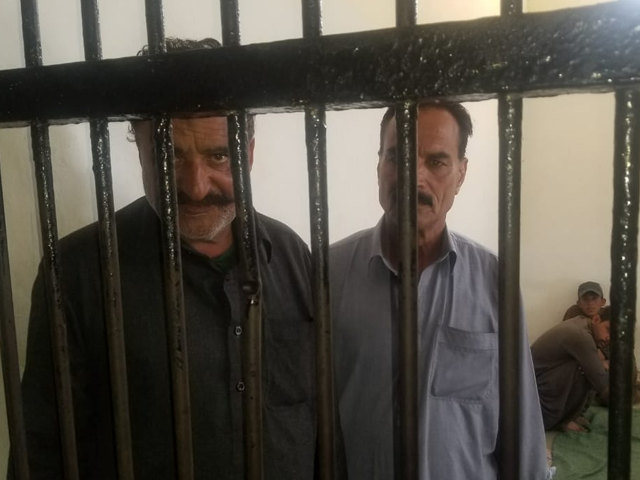 ---
KARACHI: Karachi Police have dismissed four police personnel from service for harassing and manhandling a couple at Sea View on Tuesday. Though a common occurrence at the city's most frequented beach, where couples often complain of harassment by police personnel, this was perhaps the first time that such decisive action was taken against the personnel.

The incident came to light on Monday morning, when a video went viral on social media, showing a couple engaged in an altercation with police personnel, at least one of whom was in uniform. "I was standing with my wife when they [policemen] came and demanded money while pointing guns [at us]," says the man, filming the altercation. The policeman, meanwhile, is seen manhandling a woman and trying to snatch the cell phone from the man recording the video. The incident, according to South Zone SSP Pir Muhammad Shah, occurred on Sunday morning.

Sindh Police official confesses to firing bullet that claimed minor's life

By the next day, the video had made the rounds on social media and was picked up and aired by several mainstream news channels, prompting the Karachi Police chief AIG Dr Amir Sheikh to take notice.

Black sheep

Addressing a press conference on Monday, SSP Shah, flanked by Clifton SP Suhai Aziz, shared details of what he termed as a "one-off" incident and announced that the four personnel involved in the episode had been sacked.

According to SSP Shah, three of the policemen were found to be directly involved in the incident. He lamented that a few policemen, who were "bad apples" brought a bad name to the whole department.

Speaking about the incident itself, the SSP briefed that it occurred on Sunday morning near the Dolmen Mall at Sea View, where the police personnel attempted to extort a couple. The latter, in turn, had recorded a video of the incident, which was shared widely on social media, he said.

The SSP said that one of the officials, Assistant Sub-Inspector Zulfiqar Ali., was not part of the South Police and had been transferred from Boat Basin Police Station due to an earlier complaint against him. On Sunday, ASI Zulfiqar, who was deputed on Pakistan Super League security duty, had abandoned his duty and had come to Sea View to carry out his activities. "They say old habits die hard," said the SSP.

He added that the other policemen seen with him in the video were Ahmed Khan and Zahid Ali. They too have been dismissed from service. "A fourth policeman, Qurban Ali, was not on the spot but is hand in gloves with these three," said SSP Shah, adding that the four policemen used to work as a gang to harass and extort couples. Ahmed Khan, Zahid and Qurban were deputed to the Boat Basin Police Station.

Karachi police chief warns officers against hassling couples

SSP Shah said that police constable Ahmed Khan had been assigned duty at the mausoleum of Abdullah Shah Gazi, Assistant Sub-Inspector (ASI) Zulfiqar was appointed at Security-2 [District South], while Constable Furqan was to perform his duty in Clifton Block 2, but all three policemen had abandoned their duties and had gone to Sea View.

SP Aziz later issued a notification of the dismissal of the four officials.

Citizens should come forward

Addressing the press conference, SSP Shah asked citizens who faced such "unfortunate behaviour" by the police to come forward and report their ordeal.

In December last year, AIG Sheikh had written a letter to the DIGs of all three zones, asking them to issue instructions to subordinate staff not to demand the marriage certificate from any couple and refrain from harassing them. The letter had warned that departmental action would be taken against anyone found doing the same.

Four policemen dismissed for harassing couple at Karachi's Sea View

Charges denied

Meanwhile, the dismissed police officials claimed that the incident was being portrayed in a negative light when all they had tried to do was help the couple. Ahmed Khan, one of the personnel seen in the video, told the media that he was at Sea View with his young son on Sunday morning, when he saw the couple arguing. When he tried to intervene, the woman started fighting with him. Khan claimed that he hadn't asked for any bribe, adding that he had only drawn the weapon to scare them.

Meanwhile, ASI Zulfiqar said that he was on PSL duty when he was told that the video had gone viral. He said that he had gone to Sea View with friends on Sunday when he heard some commotion as he sat on the chairs having a cold drink. He had merely tried to intervene, he said, but the husband and wife made the video. 

Published in The Express Tribune, March 13th, 2019.
COMMENTS
Comments are moderated and generally will be posted if they are on-topic and not abusive.
For more information, please see our Comments FAQ