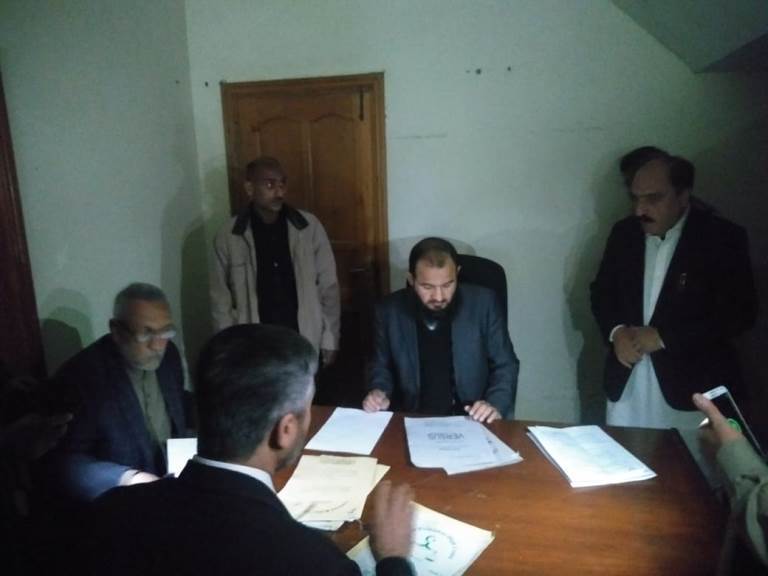 ---
The newly established courts in Khyber-Pakhtunkhwa's (K-P) tribal districts heard their first case on Monday.

Five different cases have been submitted to the courts in the Mohmand tribal district under senior civil judge Ubaid Ullah.

A lawyer, Raza Khan told the Express Tribune that he is really happy that regular courts are now functional in the area as previously the district followed the FCR – where a single person was the judge, the prosecutor and the investigation officer.

Another individual, Salman Khan also submitted an application but does not have a lawyer yet, as he is not familiar with the formal proceedings of filing a case.

He remains optimistic, however, and said that he is appealing on behalf of his brother, who has been detained on murder charges. Salman claims his brother did not commit the crime and had no knowledge of it.

Other locals are also making their way to the courts for justice while judicial officers have also started working in Mohmand. Military and civil courts are handing over relevant cases, while two session judges and two civil judges have been posted to Shabqadar District Headquarters. The staff appointed at the courts has been transferred from various departments of the province, as they belong to Charsadda.

It is pertinent to mention, that just last month the provincial government approved 907 seats for the tribal district courts. During the first phase, 14 judges were posted, which includes seven district and sessions and seven senior civil judges. All work related to infrastructure, that is renting and acquiring spaces has been completed.

Judicial system in ex-Fata: Confusion prevails over time frame

In January,  according to the Supreme Court of Pakistan's directives, laws applicable in Khyber-Pakhtunkhwa and elsewhere in the country  automatically became effective in the merged tribal districts after which terms like Khasadar and Levies too have become void and now these tribal law enforces will be known as police.

As Article 247 of the Constitution has been repealed, the Frontier Crimes Regulation too stands dissolved. Therefore, now the tribal areas will work as per the laws in the province.




COMMENTS
Comments are moderated and generally will be posted if they are on-topic and not abusive.
For more information, please see our Comments FAQ