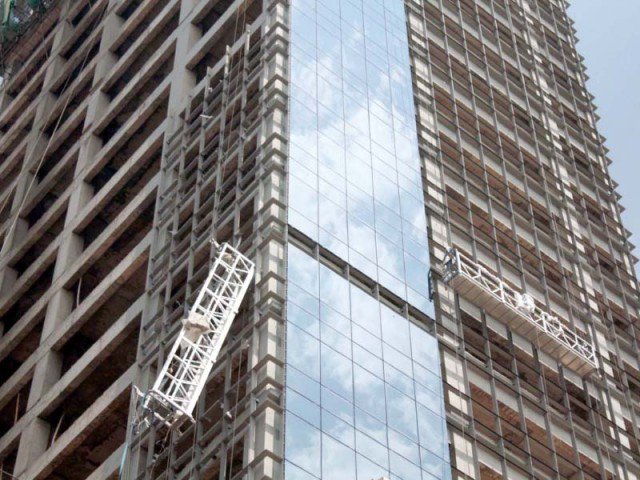 ---
KARACHI: A case against the building owner, his partners and others from the engineering company, where six labourers fell to their deaths on Saturday, has been registered in the Boat Basin Police Station on behalf of the state.

The labourers fell from the 13th floor of the 23-storey under-construction building in Clifton Block 7, when the rope of the trolley lift broke during the glass cutting and fixing of its windows, as a result of which all six of them died, according to the FIR.

The police initially waited for the families of the deceased to register the case but later when the families did not show up, the case 154/2019 under Section 322/34 of the Pakistan Penal Code was registered in the presence of sub-inspector Muhammad Riaz.

The owner of the building, Muhammad Ameen Patel, his partners and Musa Iqbal, Irfanur Rehman, and others from the engineering company have been booked in the case.

South Investigation SSP Tariq Dharejo informed The Express Tribune that the subcontractor Irfanur Rehman has been arrested while the homes of the building owner and his partners were raided for their arrest, but they managed to flee before the police reached.

Laid to rest

The funeral prayer of Asad was offered in Noorani Basti, Korangi while Musab's funeral prayer was offered at Custom Colony, Mauripur on Saturday night. Both of them were buried at a local graveyard.

Two of the deceased, Shehryar and Faisal, were cousins. Their funeral prayer was offered at Customs Colony, Mauripur on Sunday afternoon, after which they were laid to rest with heavy hearts. Their family, talking to The Express Tribune, said that Faisal was the only son of his parents while Shehryar was the second among eight siblings.

Six fall to death as ropes of a trolley lift break in Karachi's Boat Basin area

The family demanded the authorities and the government to carry out an impartial investigation of the incident and take strict action against those responsible as per law.

Initial investigation

According to the initial investigation, the labourers lacked security gear and safety belts while they were at their task. There was no extra rope tied to the trolley either.

No safety arrangements were seen alongside the under-construction building.

The police seized the wire and rope of the trolley lift, on which the labourers stood, and sent them to the laboratory to determine the weight it could carry.

The SSP said that the police has completely sealed the building and have submitted the documents in the court. Now, the under-construction building will reopen only on court orders.
COMMENTS
Comments are moderated and generally will be posted if they are on-topic and not abusive.
For more information, please see our Comments FAQ