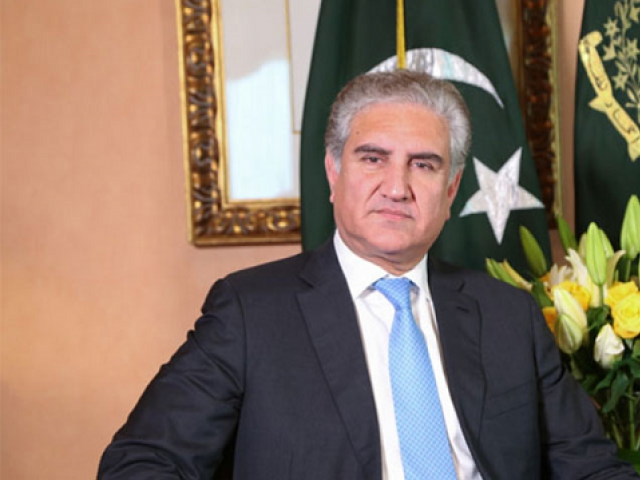 ---
Foreign Minister Shah Mehmood Qureshi said on Saturday that Prime Minister Imran Khan has sent a clear message and that the international community has lauded his desire to establish peace with India.

Addressing the media in Sukkar, FM Qureshi stated that, "People have raised questions on India's policies," adding that Modi's stance is not being accepted by his own people.

"Mehbooba Mufti has said that they [India] are losing in Kashmir. This is also being said by Yaseen Malik, Hurriyat leaders and India's former foreign minister, who said that their policy for Kashmir has failed," he added.

FM Qureshi reiterates desire for better relations with India

"The Kashmir dispute has needed a solution since 1948," the foreign minister said, adding that the international community will have to intervene to resolve the issue.

He further said that the UN has published a report on Human Rights violations being committed by Indian forces in occupied Kashmir and even the US today has barred its citizens from visiting the region.

The foreign minister also said that the government wants to improve the economy of the country and maintained that the leadership of all political parties were on the same page for the implementation of the National Action Plan (NAP).

Speaking about Afghan peace process he said that Pakistan wants peace in Afghanistan.

Return of envoys signals thaw in ties with India

In what appears to be yet another sign of de-escalation in tensions between Pakistan and India, the Indian high commissioner, who was called back after the Pulwama attack, would be returning to Islamabad on Saturday.

The move came a week after Pakistan announced a series of steps including sending its envoy back to New Delhi to defuse the crises triggered after the February 14 suicide attack in Indian-occupied Kashmir (IoK) that led to a military standoff between the two nuclear-armed neighbours.

Indian High Commissioner Ajay Bisaria, who was called back by the Indian government soon after the deadly attack, is returning on Saturday, said India's External Affairs Ministry in a statement on Friday. Pakistan's High Commissioner Sohail Mahmood will also resume his diplomatic duty in New Delhi the same day.
COMMENTS
Comments are moderated and generally will be posted if they are on-topic and not abusive.
For more information, please see our Comments FAQ