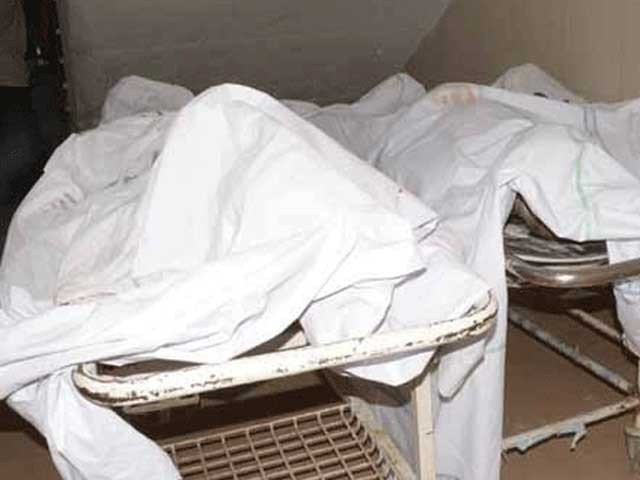 ---
HYDERABAD: In a tragic incident, carbon monoxide poisoning is believed to have claimed the lives of seven members of a family in their sleep. The bodies of a couple and their five children were found in their house in Hyderabad rural on Wednesday two days after their deaths.

The incident took place in village Haq Nawaz Junejo in Tando Jam town. The deceased have been identified as 55-year-old Ashraf Hayat Junejo, his wife 45-year-old Shahnaz Ashraf Junejo and their children, 14-year-old Faiza, 13-year-old Nisha, 12-year-old Aliza, 10-year-old Lareb and a minor, Jawad.

Ashraf's brother, Aslam Hayat Junejo, said that he grew worried when he and other family members realised that his brother and his family had not been seen or heard of in the village from the two days. "When I climbed the wall of the house on Wednesday noon and entered the room, I saw them all lying unconscious on the charpoys." The local people also shared a similar account, telling the police that the family members were last seen outside their house on Sunday.

The police was immediately called and they shifted the bodies to Liaquat University Hospital (LUH) for the postmortem. "All entrances to the house were closed from inside," Hyderabad DIG Naeem Ahmed Shaikh told the media outside LUH. "All the bodies were found in one room [on the charpoys]."

Three dacoits killed in Karachi police 'encounter'

Rahuki police station SHO, under whose jurisdiction the incident happened, Asghar Rahupoto said that an electricity generator was found in their home. "The generator's petrol tank was completely dry." He believed that carbon monoxide poisoning prima facie appeared to be the cause of their deaths. He said the village residents regarded the deceased as nice people who lived peacefully in the village.

LUH Senior Medico Legal Officer (MLO) Dr Waseem Khan said no marks of torture or bruises were found on any of the dead bodies. According to his initial assessment, the family was not murdered. "It seems carbon monoxide is the cause of deaths." However, he said the MLOs will be able to tell conclusively the cause after the postmortem report. He added that the bodies had been decaying for more than two days.

According to Aslam, Ashraf and Shahnaz were school teachers and the couple had no known enemies. The family also had a residence in Hyderabad city.

A pale of gloom gripped the village as soon as the new of the whole family's death spread. After the postmortem the dead bodies returned to the village amid scenes of sob of the family and the local residents. Sindh Chief Minister Murad Ali Shah took notice of the deaths and directed Hyderabad DIG to submit report.

Published in The Express Tribune, March 7th, 2019.