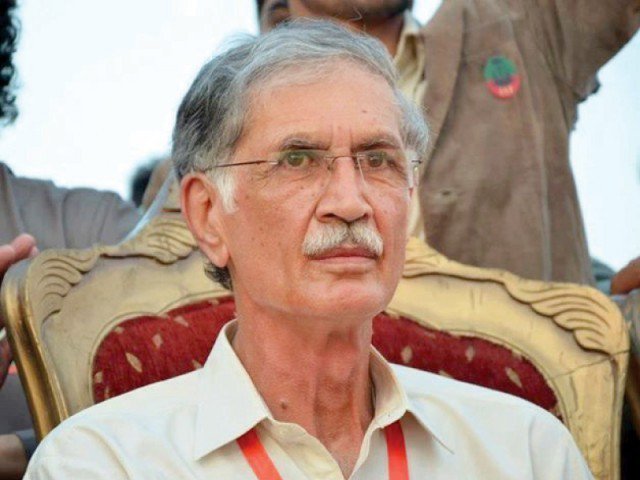 ---
ISLAMABAD: Defence Minister Pervez Khattak has said that the situation between Pakistan and India is tense and the threat of war still exists. The minister remarked that the armed forces of Pakistan are fully alert and anyone who tried¬¬ to violate the sovereignty of the country would be given a befitting response.

Addressing the senate, the defence minister said still it could not be said with affirmation that the relations between the two countries had normalized. He observed that whole nation was united and voiced hope that India would not commit the blunder of attacking Pakistan.

The defence minister lauded the response of armed forces against the recent Indian aggression.

Earlier, addressing the House, Peoples Party (PPP) leader and former senate chairman Raza Rabbani said that a well-planned strategy behind Indian aggression existed and attempts were being made to give the role of a 'policeman' to the neighbouring country.

He asked Foreign Minister Shah Mahmood Qureshi to come to the House and give a policy statement instead of passing remarks on television. He urged the foreign minister to take both the Houses into confidence and noted that there was no mention of Indian aggression in the joint communiqué of Organisation of Islamic Cooperation (OIC).

Pakistan Muslim League-Nawaz (PML-N) leader and Senator Mushahidullah said that India had not learned a lesson from the Pulwama incident. He added that Modi was boasting about attacking Pakistan by forcing his entry into the country but the Indian pilot despite getting into Pakistan's territory failed in his attempt.

Defence Minister assigned foreign portfolio, to take charge as FM

PPP leader and Senator Sherry Rehman maintained that they did not belong to any party and were united under the Pakistani flag. She stressed the need for introspection and questioned why there was not discussion on the National Action Plan.

Senators Pervaiz Rasheed, Mushtaq Ahmad and others also expressed their views on the issue and demanded that Prime Minister Imran Khan should take the Parliament into confidence on the prevailing situation in the country.

Meanwhile, taking up other issues, the senate was informed that the government had ensured uninterrupted gas and power supply to the industries, relief in taxes and clearance of refunds to enhance industrial growth.

Minister of State for Revenue Hammad Azhar said the government was preparing a five-year tariff policy to ensure competitiveness of local industry and sustainability of tariff structure.

The minister remarked that seven export processing zones had been established while three others were being set up to promote industrialization in the country.

He informed the house that 13 new vehicle manufacturers have been granted approval for establishing plants while two closed units were also being revived.

The minister said that the government was also seeking the support of an international organization which would provide free assistance in technical and non-technical issues for increasing the capability and exports of the engineering sector.

Hammad Azhar said that Small and Medium Enterprises Development Authority (Smeda) had established 118 helpdesks to provide guidance to the existing SMEs for business information, match making facilities, fund raising opportunities and counselling on legal and regulatory procedures.

Planning, Development and Reforms Minister Khusro Bakhtiar told the house that Gwadar master plan was being finalized this month and the government would ensure provision of electricity and gas¬¬ to special economic zones. He said that the government was finalizing a national framework policy on social protection for reduction in poverty.

The minister observed that steps were being taken to reduce the burden of indirect taxes by broadening the tax net and opening doors for socio-economic uplift through CPEC and signing of memorandum of understanding with China which would help in poverty alleviation.

He said that employment opportunities will also be created under Prime Minister's Naya Pakistan Housing scheme.

The minister said that a poverty alleviation council has been formed to ensure coordination among various social protection organizations like BISP, Pakistan Baitul Mal and zakat committees.

He said the council would set up a data portal which would tell the rate of poverty in every district.

Minister of State for Revenue Hammad Azhar said that more than 152,000 bank accounts of Pakistani citizens have been detected and their data was being analyzed from taxation point of view.

Responding a query about Aleema Khan's case, Azhar said she was cooperating with the authorities and recovery was being made from her.

Taking floor of the House, Minister for Human Rights Shireen Mazari said that first information report (FIR) was being registered against superintendent of Jaipur jail for the murder of Pakistani citizen Shakirullah by his inmates.

Mazari called for the revival of Joint Judicial Committee of Pakistan and India to monitor prisoners' condition in both the countries. She said that she would present the proposal before the federal cabinet.

The session was adjourned till 3pm Thursday.
COMMENTS
Comments are moderated and generally will be posted if they are on-topic and not abusive.
For more information, please see our Comments FAQ