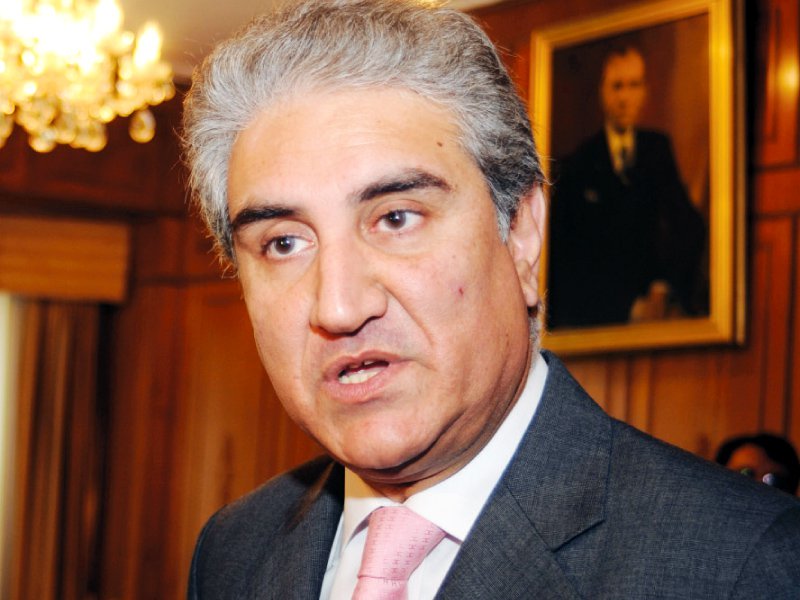 ---
ISLAMABAD: Foreign Minister Shah Mehmood Qureshi has said tensions between Pakistan and India appear to be deescalating thanks to the role played by the United States and other friendly countries.

"De-escalation of tensions between the two countries is a positive development. We have decided to resend Pakistani high commissioner to New Delhi. Our high commissioner, who had been staying in Islamabad for advice, will set off for Delhi in the next two days," he said on Wednesday.

The foreign minister was talking to media after attending a conference titled Pakistan-China Economic Cooperation held at Institute of Strategic Studies. Qureshi said a Pakistani delegation will also leave for India next week to hold talks on Kartarpur corridor. "We want to get the corridor built," he added.

The foreign minister thanked the US Secretary of State Mike Pompeo for extending support in the current situation. He said private diplomacy played an effective role in deescalating the situation.

"In addition to the US, leaders from China, Russia, Turkey, Saudi Arab, UAE, Jordan and many other countries also played a positive role," the foreign minister said, adding that the director general of military operations will also resume his weekly contact with India  counterpart.

Addressing the conference earlier, the foreign minister said the government is formulating its foreign policy in line with the wishes of the people. Prime Minister Imran Khan has shown great statesmanship after the Pulwama incident and pursued the foreign policy in a constructive manner.  "The PTI [Pakistan Tehreek-e-Insaf] government is leading the foreign policy according to wishes of the people," he added.

Grateful to US for timely intervention: Shah Mehmood Qureshi

Talking with reference to Pakistan-China ties, he said the relations between the two countries are unique. China also played a positive role after the Pulwama incident as it laid stress on dialogue and discussion between Pakistan and India.

"In recent years, CPEC [China Pakistan Economic Corridor] has strengthened the bond between Pakistan and China. The project has contributed towards development of many sectors. The CPEC plus project has kicked off after successful state visit of the prime minister," Qureshi said.

The foreign minister said in addition to CPEC, the country has also received investment from other countries. The recent visit of Saudi Crown Prince Mohammad bin Salman is the biggest example of it.

Addressing the event, Chinese Ambassador to Pakistan Yao Jing said Pakistan and China have friendly relations for decades. Chinese consider Pakistan their iron brother. The relation between Pakistan and China has reached new heights due to CPEC.

"Several projects related to CPEC are currently being executed. As of now, CPEC has led to employment of over 70,000 people. After the formation of the new government, CPEC has taken up a new direction.

"PM Imran Khan during his visit has added up social development and agriculture-related projects in CPEC. From now on, agricultural products of Pakistan will have access to Chinese markets," he added.
COMMENTS
Comments are moderated and generally will be posted if they are on-topic and not abusive.
For more information, please see our Comments FAQ