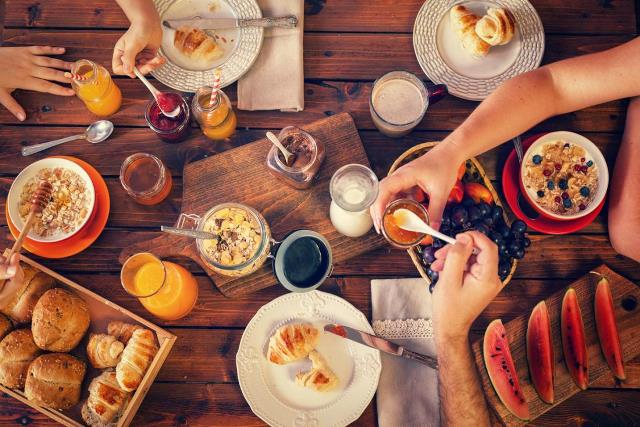 ---
We know that children need the right essentials when it comes to food for optimal growth. Well, you can solve many of these challenges with Blue Band. Blue Band helps with your child's growth and development by providing them with Vitamin A & D which are pivotal building blocks.

A happy and healthy child is one that gets the right vitamins, minerals and good fats every day. With these essential nutrients, Blue Band Margarine ensures a healthy, nutritious and tasty breakfast as it contains vitamins A and D and also contains essential fatty acids (omega 3 and 6). Making a good breakfast each day doesn't have to be difficult, it's easy with Blue Band!



Lachha Paratha 



Preparing a multi-layered Lachha Paratha is an epitome of skill and techniques. This step by step photo recipe employs an extremely easy and unique technique to make the most delicious parathas of all time. It also provides detailed instructions to help you make a perfectly layered paratha that not only you but also your children will absolutely fall in love with.

What you need:

Blue Band Margarine for frying– 2 tbsp
Maida (all-purpose flour) – 1 cup (for dough) + ½ cup (for dusting)
Warm water for kneading
Salt – ½ tsp (adjust as per taste)

Method:

Take one cup all-purpose flour, one tablespoon Blue Band Margarine, salt and mix everything in a large bowl. Then knead the dough until it gets smooth. Grease the surface of the dough with half teaspoon softened margarine, cover it with a clean muslin cloth and leave it to set at room temperature for 25 minutes. Divide dough into equal chunks and give each chunk a shape of a ball. Take the dough ball, flatten it by pressing between your palms off against the rolling board and coat it with dry wheat flour.




Roll out the dough ball in a circular shape as thin as possible. Now spread half a teaspoon softened margarine evenly over the entire surface using a brush or your hand and sprinkle one teaspoon dry wheat flour over it. Hold approximately one-third inch wide strip with your first two fingers and thumb from the top edge of rolled raw paratha, lift and fold backward such that top edge remains on top.

Lift the strip slowly away from the rolling board and slightly swing it in mid-air. Now place it horizontally on the rolling board. Coat it with dry wheat flour and roll it out gently without applying too much pressure; give it a round shape (six inches diameter).

Preheat the pan over medium flame. Place raw Lachha Paratha on it once the pan is heated. When you see tiny bubbles rise on the surface, flip it upside down. Spread one teaspoon margarine over each side with a spatula and cook until both sides get evenly spread golden-brown spots. Tada! Your scrumptious paratha is ready.




Serving Ideas: Serve them with fresh homemade lassi, tea or coffee. Don't forget to add a dash of yummy margarine to make it tastier



Whole Wheat Chicken Salad sandwiches



Let's talk chicken salad sandwiches, shall we? Whether for breakfast, lunch or supper, flavourful chicken salad sandwiches are always a hit. Packed with flavour, these savory snacks are really quick and easy to make. All you mommies out there try this recipe out because these knockout sandwiches are bound to turn your kids' breakfast from boring to spectacular.

What you need:

Blue Band Margarine – 6 tbs
Whole Wheat Bread: 1 loaf
Carrots finely sliced – 2 tbs
Cucumber finely chopped – 2 tbs
Salt – ½ tsp (adjust as per taste)
Full boiled egg– 1
Chopped Green Onion– 1 tbs
Shredded boiled chicken– ½ cup
Tomato ketchup – 2 tbs
Black pepper – 1 tsp

Method:

In a mixing bowl, combine shredded chicken, margarine, cucumber, carrots, green onion, sugar, salt, black pepper and mashed hard-boiled egg. Then generously add salad spread on the bread. Trim crusts from sandwiches and cut each into three fingers. Arrange on serving platter. Cover until ready to serve.




Serving ideas: Serve these scrumptious sandwiches with seasonal fresh juice that your kid won't be able to resist.



Hash Brown Casserole



Did someone say casserole? That too with a hash brown??! We sure can't wait to try this one out in tomorrow's breakfast. An all-time favourite dish that is adored by all ages and is perfect for every family's breakfast table.

What you need:

Blue Band Margarine – 20gms
Potatoes (grated) – 1 cup
Flour –2 tbsp
Milk – 1 cup
Cream – ½ cup
Capsicum – 1 medium
Chicken – 1 cup
Salted Biscuits –1 pack
Garlic to taste
Black Pepper – 1 tsp
White Pepper – ½ tsp

Method:

Heat Blue Band Margarine in a pan and add flour slowly. Fry it till it becomes brown. Add milk, cream, capsicum and one packet of seasoning of your choice of flavour. Next, add in the black pepper, white pepper and cook the mixture until it reaches a thick consistency. Remove the pan from heat and let it cool. Take another pan and heat two tablespoons of margarine in it. Now add and fry the garlic in it. Finally, add the chicken and leave it until the chicken is fully cooked.




Meanwhile, boil the potatoes to save time. When everything is cooked, it's time to assemble it together. First, spread the grated boiled potatoes at the bottom of your dish. Second, layer the seasoned chicken. Third, pour all of the white sauce on the top and add garnishes to it. We like to use crushed salted biscuits to give it the perfect crispy texture. Now, bake it for 10 minutes in a preheated oven. Voila, it is ready!

Serving Ideas: Serve it hot with a side of ketchup or chutney. It makes the taste buds tingle. Do try and let us know if your children loved it as much since we can't stop obsessing over it.



Mandazi: the immaculate African donut



These amazingly soft triangle-shaped donuts are very famous in East Africa and a popular item in our breakfast favorites. This scrumptious item is perfect for breakfast and surely is our cup of tea.

What you need:

Blue Band Margarine – 3 tbsp
Baking powder –2 ½ tsp
Sugar –1/3 cup
Salt –½ tsp
All-purpose flour (Mandazi) – 2 cups
Grated coconut or coconut flakes – 2-3 tbsp
Crushed cardamom spice – ½ tsp
Crushed cinnamon – ½ tsp
Evaporated milk /coconut milk – ½ cup
Egg – 1
Warm water as needed
Powdered sugar or cinnamon sugar to sprinkle
Caramel sauce
Vegetable oil to be deep fried in the pan

Method:

In a large bowl, combine all the dry ingredients, flour, cinnamon, baking salt, sugar, cardamom spice and sugar. Whisk thoroughly. In another bowl, gently add all the liquid ingredients i.e. the eggs, butter and milk. Make a well at the center of the flour, add milk and egg mixture and slowly mix to form a dough. Now gently mix in all the dry ingredients and whisk thoroughly. Combine until mixture is smooth.

Knead the dough for four minutes or until it stops sticking to the sides of the bowl and you have a smooth surface. If it is too sticky, add a little bit of flour. If it is too hard, add a little bit of water. The dough should not be too sticky, when touched, or on the side of less flour than more flour.




Cover the dough with a damp cloth and leave it to rest for 15 minutes. Roll out dough about one inch thick. Now, using a sharp small knife cut the dough into small squares. They are now to be kept aside as they are ready for deep frying. In a large saucepan, pour vegetable oil, until it is at least three inches high (too little will result in flatter Mandazi) and place on medium heat until oil is 350 degrees Fahrenheit (177 degrees Celsius).

Fry until golden brown for about four minutes, depending on its size. Remove with a slotted spoon and drain on a paper napkin. When ready, transfer to a paper towel-lined bowl and fry the remaining pieces. Allow for the Mandazi to cool down, then make a small cut at the center of each piece where you will stuff them with whipped cream or any filling you desire.




Serving ideas: Drizzle the Mandazi with some chocolate or caramel sauce if available and enjoy as a dessert. You can use granulated sugar to decorate it or delicious chocolate dips to give them the heavenly touch. Either way, you sure will love it.



Khagina



When it comes to desi breakfast, everyone is familiar with Khagina, the Pakistani version of spiced scrambled eggs. The simple recipe takes about 15 minutes to prepare and it's downright delicious.

What you need:

Blue Band Margarine – 1 tbsp
Eggs – 4
Onions – 1 large (finely chopped)
Potato – 1 small or ½ medium-sized (finely chopped in small pieces)
Tomatoes – 2 medium (finely chopped)
Green chilies – 2 medium
Cumin – ½ tsp
Salt – ½ tsp (adjust as per taste)
Chilli powder – ½ tsp
Cumin Powder – ½ tsp
Parsley – a handful for garnish (chopped)

Method:

Break the eggs in a bowl and beat them lightly. In a frying pan, heat Blue Band Margarine and add chopped onions and potatoes. Fry for 8 minutes till the onions are translucent and potatoes are almost done. Add cumin and tomatoes into the pan. Add around one-fourth cup of water to it as this will help breakdown the tomatoes.




Add green chillies, salt, chilli powder and cumin powder to the mixture and wait for the water to dry. As soon as the water has dried up, add eggs and mix. Cook the eggs and keep mixing till the eggs are done. Once the eggs are golden brown, sprinkle them with freshly chopped parsley.

Serving ideas: Serve it with piping hot homemade chapattis or toasted bread. Last but not the least if you are a foodie and not really bothered about the calories, have it with crispy Lacha Parathas.



Potato Scones



Well, potatoes are surely one's guilty pleasure and also the perfect ingredient that can be added as a side with any breakfast meal. Try this easy recipe out and we guarantee that it will be added immediately to the list of family favourites.

What you need:

Blue Band Margarine – 4 tbsps
Boiled potatoes – ½ kg
Self-rising flour – 8 tbsps
Salt – ½ a pinch

Method:

Heat a lightly greased griddle or cast iron skillet over medium-high heat. Then mix the mashed potatoes in a bowl with flour, margarine and salt until it forms a stiff dough. Put the dough out onto a lightly floured flat surface.




Knead the dough lightly and then roll it out to about half inch thick. Now cut the dough into six triangular wedges. Last step is to cook them on the griddle until golden brown. Each side may take about five minutes each.

Serving idea: You can also add onions, pepper, or any other spices to further enhance its flavour. Serve it with your favourite chutney or margarine to grease up the taste buds.



Fluffy pancakes



Pancakes are a universal symbol of deliciousness. Just about every culture around the world has its own take on a flatbread made with a batter that's been griddled until warm and crisp-edged. The thought of stuffing our face with stacks of pancakes seems like the best thing ever.

What you need:

Blue Band Margarine (Melted and cooled) –1 ½ tbsp
Milk – 1 cup
Eggs  – 2
Sugar –1/8 cup (35g)
Self-rising flour –1 cup (140g)
Blue Band Margarine for cooking

Method:

In a bowl, add milk, eggs, and sugar and beat it until mixed seamlessly. Add the flour and whisk until they are fully mixed. The batter should be smooth in consistency. Now add the melted Blue Band Margarine and mix again thoroughly. Heat your pan over medium heat and add one tablespoon of Blue Band.

When it melts and evenly spreads on the pan, pour the thick pancake mix using a ladle at the center of the pan, and allow the batter to spread evenly till the edge of the pan. Cook for about two minutes each side or until it turns brown on the edges and the top has small holes forming on it. The heat should be medium all along. Place on a plate when cooked.




Serving ideas: Serve with a drizzle of honey or maple syrup. It can also be enjoyed with whipped cream and strawberries. You can also make it more interesting by adding chocolate shavings or sauce.