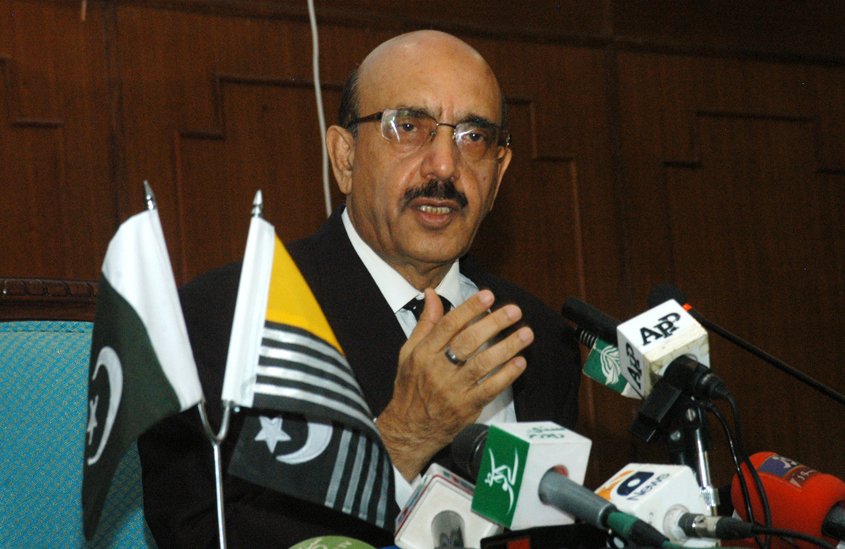 ---
MIRPUR: Azad Jammu and Kashmir (AJK) President Sardar Masood Khan has called upon the international community to help de-escalate tension between India and Pakistan and resolve the Kashmir issue, the root cause of their conflict.

Talking to a section of foreign press against the backdrop of tensions triggered by the Pulwama attack in the Indian occupied Kashmir last month, Masood suggested a war between India and Pakistan must be avoided by helping both the countries to resolve the underlying conflict of Jammu and Kashmir.

According to a press release issued by the AJK Presidential Secretariat on Sunday, he said, "The root cause of the Kashmir issue is the denial of the right to self-determination of the Kashmiri people."  War-mongering was not in the best interest of India or Pakistan, he added.

"Whenever there's a crisis such as this, we go to the United Nations Security Council (UNSC). It is routine, particularly when there are threats from India. It's the UNSC's responsibility to maintain peace. That's the first destination of any country when there's a threat to peace and security," the AJK President stated.

He said the international community should step forward, broker peace and prevent a war, it was the least they could do. Both India and Pakistan, he said, were nuclear armed and any small-scale conflicts could potentially escalate to the nuclear threshold, which had to be averted at all costs.

When asked about his views on the rising tension between India and Pakistan following the Pulwama attack, Masood said India was playing with fire. India, he said, was brutalising the people of Kashmir and the Pulwama incident was being used to demonise them and project them as violent extremists, which they were not.

The AJK President said about 6,000 innocent Kashmiris had been blinded, either partially or fully, by the use of the pellet-firing shotgun.

He said, "The problem is that India uses two laws - the Public Safety Act (PSA) and the Armed Forces Special Powers Act (AFSPA) - which empower the occupation forces and fosters a culture of impunity."

Those laws, he said, had been called lawless laws by the Amnesty International and "what we are saying is that India is a country which won its independence after a long struggle against British imperialism and now it should not treat Kashmir as a colony."

Published in The Express Tribune, March 4th, 2019.
COMMENTS
Comments are moderated and generally will be posted if they are on-topic and not abusive.
For more information, please see our Comments FAQ