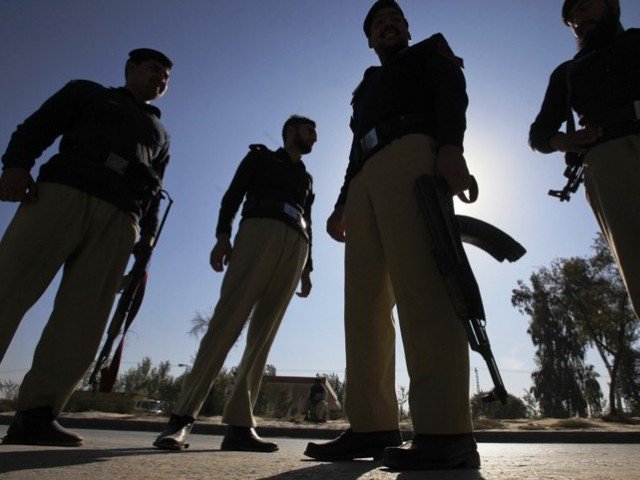 ---
KARACHI: Two mastermind and notorious terrorists of Da'esh were killed in an encounter with Shikarpur police in Sibi, Balochistan, around 3:30pm on Thursday.

Molvi Abdullah Brohi and Hafeez Brohi, the Ameer and Naib Ameer of Daesh Sindh and Balochistan chapter, respectively, were involved in plotting and carrying out several suicide attacks, remote control blasts and IED blasts in Sindh and Balochistan, SSP Shikarpur Sajjad Ameer Sadozai told media while addressing a press conference in Shikarpur.

SSP Sadozai said that the names of Molvi Abdullah Brohi and Hafeez Brohi came to limelight in 2010 when they carried out suicide attack on former MNA Dr Muhammad Ibrahim Jatoi and remote control blast on Dargah Hajjan Shah Marri Sharif in which 12 persons including the custodian of the shrine Syed Hajan Shah embraced martyrdom.

The terrorists also carried out two suicide blasts on Imambargahas of Shikarpur in which 75 innocent people lost their lives and at least 100 sustained injuries.

They were also involved in the murder of Allama Shafqat Abbas Matuhari in Khanpur and carried out suicide blasts on mourners during Muharram in Jacobabad in which 24 deaths occurred and scores were injured.

They were responsible for the blast at Masjid Ul Harram in Quetta where at least 20 persons died and suicide bombing at Sehwan Sharif in which at least 88 people lost their lives.

The SSP informed reporters that the terrorists were involved in carrying out blast on politician Siraj Ahmed Raisani in Mastung in which at least 150 people were killed and more than 200 sustained injuries.

Giving details about the criminal record of both the terrorists, police said they had attacked Police Training Centre in Quetta in which several personnel were martyred.

Police claimed to have recovered four hand grenades, two Kalashnikovs and two TT Pistol from their possession.

Sindh government had placed a bounty of Rs10 million on Hafeez Brohi while a head money of Rs5 million was announced for Molvi Abdullah Brohi.

Terming it a big achievement, SSP Sadozai said that the inspector general had announced a reward of Rs2 million for the police raiding party.