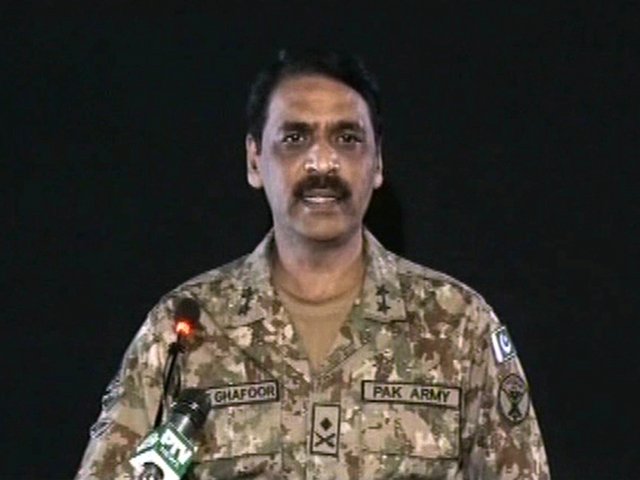 ---
ISLAMABAD: [fbvideo link="https://www.facebook.com/etribune/videos/1913622528766108/"][/fbvideo]

Pakistan on Tuesday tore to pieces a 'reckless and fictitious' Indian claim that its warplanes have launched "air strikes" against an alleged terrorist training camp deep inside Pakistani territory and inflicted heavy casualties.

The airspace violation by Indian jets capped 12 days of bitter exchanges between the two nuclear-armed hostile neighbours, triggering international alarm, with China and the European Union calling for both sides to show restraint.

Indian media started thumping chest soon after Delhi claimed that Indian Air Force (IAF) jets had struck what it called the biggest training camp of Jaish-e-Muhammad (JeM) militant group in Balakot area of Khyber-Pakhtunkhwa in a pre-dawn air strike, flattening the compound and killing 350 so-called terrorists.

India has been seething since February 14 when a young Kashmiri, believed to be associated with the JeM, drove a car full of explosives in a military convoy in the Pulwama area of Indian Occupied Kashmir (IOK), killing nearly four dozen troops in an attack described as the deadliest in the region's history.

'India attack' has laid waste to my Billion Tree Tsunami project, PM Imran quips

After days of angry rants, sabre-rattling and bullying, the Narendra Modi administration decided to douse the rising public anger at home by staging what it called "non-military preemptive strike" inside Pakistani territory. The Indian media immediately bought the official narrative and started churning out fictitious details to celebrate the "successful strike".

However, the Indian claim turned out to be a pack of lies.

Nobody in India knew about the purported strike – not even their defence ministry – until Pakistan's chief military spokesperson Major General Asif Ghafoor broke the news on his official Twitter handle on Tuesday morning.

"Indian Air Force violated [the] Line of Control (LoC). Pakistan Air Force immediately scrambled. Indian aircrafts gone back. Details to follow," he said in a tweet.

"Indian aircrafts intruded from Muzaffarabad sector. Facing timely and effective response from Pakistan Air Force released payload in haste while escaping which fell near Balakot. No casualties or damage," he said in another tweet.

Hours later India's Foreign Secretary VK Gokhale claimed at a news conference in Delhi that "the biggest training camp of JeM" was targeted in the "air strike" and that "a large number of JeM terrorists – including top commanders – were killed". He didn't present any evidence to substantiate his claim. Neither did he take questions from journalists either.

Later in the evening, Maj Gen Ghafoor called an emergency press briefing to expose the Indian claims and to give rundown of what exactly happened in the morning.

He said that combat air patrolling (CAP) had been ongoing on both sides of the border since the deadly Pulwama attack.

On Monday night, Indian jets twice flew close to the border – first at Lahore-Sialkot border, and then at Okara-Bahawalpur border, but Pakistan Air Force (PAF) CAP teams challenged them and scared them away.

Pakistan shall respond at the time and place of its choosing: NSC

Meanwhile another IAF formation – a heavy one – was detected by Pakistani radars near the LoC in Muzaffarabad Sector and a third PAF CAP team challenged it. "They intruded into Pakistani airspace and returned after being challenged from PAF CAP team," Maj Gen Ghafoor said, adding that the entire episode lasted four minutes.

"I dare Indian air force to stay in Pakistani airspace for 21 minutes," he said strongly rebutting Indian media's fictitious claim that the Indian warplanes carried out three air strikes at three locations – Balakot, Muzaffarabad and Chakoti – in 21 minutes.

The Indian aircraft did not target any position of Pakistan Army where troops were ready to deal with any challenge. "The Indians didn't want to target Pakistan Army positions because that would have resulted in military casualties – something that did not serve their purpose."

The military spokesperson said that the Indian objective was to target civilians and then project them as terrorists – something that Modi wanted to use to gain political mileage for the upcoming election.

"They [IAF formation] intruded four to five nautical miles [into Pakistan] which was timely and effectively challenged and repulsed by PAF," he added.

"They [Indian jets] went back under pressure from PAF and while returning they jettisoned their payloads – four bombs to be precise – which, given the trajectory, landed in the Jabba area [of Balakot] outside AJK, in Khyber-Pakhtunkhwa," he said.

Maj Gen Ghafoor laughed off the Indian claim that 350 terrorists have been killed and a hideout destroyed in the supposed air strike. "Had there been even 10 fatalities, let alone 350, there would have been bodies, funerals or even blood at the site – but there's nothing," he said.

The military spokesperson invited the media, foreign ambassadors and even Indians to visit the area and see for themselves the reality of the purported air strikes.

"The area is open to anybody and everybody, including all foreign ambassadors, defence attaches, and UN military observers group in Pakistan," he added. "We would even say that civilian population from India can come to Pakistan through authorised entry points, see it [the area] for yourselves, go back and ask their prime minister where is that impact."

Maj Gen Ghafoor said he had plans to fly local and foreign journalists to the area, but it had to be postponed due to inclement weather. "I would have driven you to the area, but by the time we reach there, it would be too dark to properly examine the scene."

He, however, said that some local journalists have already toured the area, while a couple of channels have even aired video footage. He said that India was in the habit of making self-serving claims as their 'surgical strike' claim of September 2016 had also been exposed as fictitious.

Referring to an earlier press briefing, the military spokesperson said that he had said that "you [India] would never be able to surprise us; we have not been surprised, but now it is time for India to wait and get ready for our surprise".

"We will shut these monkeys – but not the way they [Indians have] repeatedly done through lies. We will shut them and let the people of Pakistan and the world know," he said.

Prime Minister Imran Khan, who has already authorised the military to take on India, convened a meeting for Wednesday of the National Command Authority, which oversees command and control of the country's nuclear arsenal.

Defence analysts called the events 'dangerous'. "If such actions continue, it can escalate into major conflict, which will not serve any purpose but to plunge the region into serious crisis," Prof Hasan Askari told AFP.
COMMENTS (1)
Comments are moderated and generally will be posted if they are on-topic and not abusive.
For more information, please see our Comments FAQ