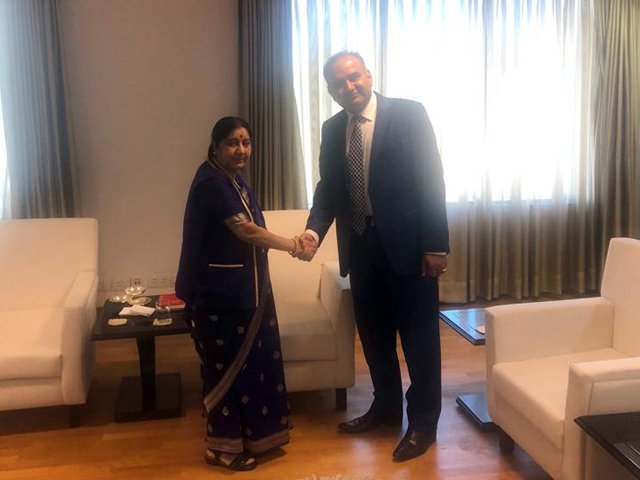 ---
LAHORE: The government has begun backdoor contacts with India and the ruling Pakistan Tehreek-e-Insaf (PTI) leader Ramesh Kumar Vankwani, who is currently in India, has met Indian Prime Minister Narendra Modi and External Affairs Minister Sushma Swaraj.

Vankwani also met Minster of State for External Affairs General VK Singh, the four-star general who has also served as the Indian army chief.

"I have communicated a positive note to the Indian leaders and I hope there will now be a change in their behaviour," Vankwani said on Saturday while talking to The Express Tribune over telephone.

The Sindh-based PTI leader, who is a lawmaker on minority seat, is in India on a religious trip amid heightened tensions between the two rival states in the wake of February 14 suicide attack that killed at least 40 India paramilitaries in occupied Kashmir's Pulwama district.

Trump alarmed by 'very dangerous situation' between Pakistan, India

Vankwani said he encountered Modi during an event and the Indian PM met him warmly. He said he told Modi that he had come with a positive message and wanted to return with a positive message. He said later on Modi's directive, Sushma Swaraj also held a 25-minute-long meeting with him.

"I told the Indian foreign minister that in Pakistan its captain's [Prime Minister Imran Khan] government now; he is a Pathan and he does what he says. We assure you that no Pakistani institution is involved in Pulwama attack. If India provides evidence, we will facilitate the investigation," Vankwani said.

According to the MNA, he told Swaraj that the two countries need to take lessons from past and not to hold on to it. "Enmity can be brought to an end by befriending the enemy," he said, adding that he himself has returned after Ganga Ashnan (ablution) and never tells lies.

FO sets up 'Crisis Management Cell' in Pulwama aftermath

"I told them that we need to get out of politics of accusations," he added.

According to Vankwani, after the meeting he felts that the atmosphere was beginning to thaw. "Indian PM during his Rajasthan rally has hinted at holding dialogue with Pakistan," he added.




He said he had come to India on invitation from the Indian Council for Cultural Relations (ICCR) for participation in Kumbh Mela. "220 people from 125 countries from all over the world have been invited to participate in this event and I am representing Pakistan," he added.




War frenzy has been sweeping across India ever since a young man from Indian Occupied Kashmir (IOK) rammed a vehicle full of explosives into a military convoy in Pulwama, killing nearly four dozen soldiers.

India airlifts thousands of paramilitary troops to occupied Kashmir

Jaish-e-Mohammad militant group, which Delhi claims operates from Pakistan, purportedly claimed credit for the deadliest attack on Indian troops in IoK. Delhi put the blame squarely on the state of Pakistan, deployed its troops menacingly close to the border, and started issuing threats.

Amid crescendoing war hysteria and relentless threats of military action from India, the Pakistan Army on Friday also issued an unambiguous warning to New Delhi: "Don't mess with Pakistan".

"We do not wish to go to war. But please be assured, should you initiate any aggression, you shall never be able to surprise us. We shall, for sure, surprise you," the chief military spokesperson, Major General Asif Ghafoor, said during an unusual media briefing.
COMMENTS (2)
Comments are moderated and generally will be posted if they are on-topic and not abusive.
For more information, please see our Comments FAQ