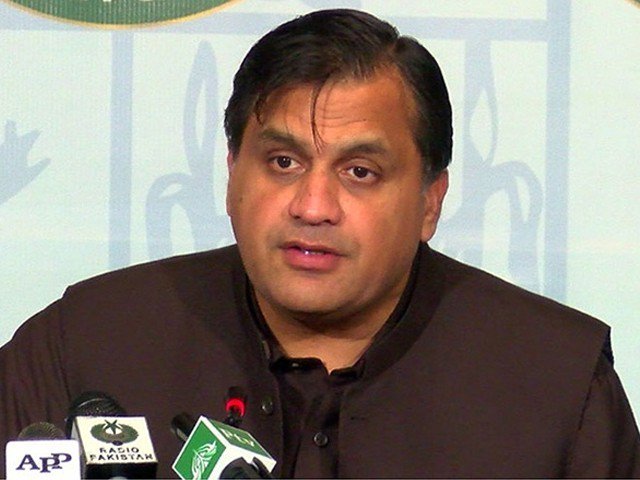 ---
ISLAMABAD: Personal Twitter account (@DrMFaisal) of Dr Muhammad Faisal, the chief spokesperson of Foreign Office has been suspended for keeping his social media followers updated regarding Indian atrocities in occupied Kashmir and ICJ hearing on Indian spy Kulbhushan Jadhav.

Dr Faisal also uses @ForeignOfficePK Twitter handle to reach out to his followers on the micro-blogging website.

The development comes while the FO spokesperson was present in The Hague, where the International Court of Justice is hearing a four-day hearing, which begun on Monday, of the case of self-confessed RAW agent Commander Jadhav, who was convicted of espionage by a Pakistani military court and sentenced to death in April 2017.

Pakistan rips apart India's contradictory claims in Jadhav case at ICJ

During Tuesday's proceedings, the Pakistani team ripped apart India's contradictory claims in the case and accused the South Asian arch rival of using the top UN court for 'political theatre'.

Khawar Qureshi, the legal adviser to Pakistan argued that since India was unable to prove the citizenship of Jadhav, hence, the principles of the Vienna Convention did not apply on the convict. He argued that by sending a spy, New Delhi violated the Vienna Convention.

Qureshi maintained that Jadhav's confessional statement in the case is very important. He asked the court what explanation the Indian government has for Jadhav's Pakistani passport bearing a Muslim name.

PM Imran offers India probe into Kashmir suicide attack

Tensions between the neighbours have soared since last Thursday's attack in which 44 Indian paramilitaries were killed.

The responsibility of the deadly attack was reportedly claimed by the banned Jaish-e-Muhammad. India, however, took no time in pointing a finger at Pakistan.

Indian Prime Minister Narendra Modi said the country would give a 'strong reply' to those behind the Kashmir attack as New Delhi withdrew the Most Favoured Nation (MFN) trade status given to Pakistan.

Islamabad has strongly rejected the Indian allegations because these were made within a short time from the attack and without carrying out any investigations.

Prime Minister Imran Khan, in a nationally televised address on Tuesday, demanded India to give "actionable evidence" and that Pakistan would retaliate if attacked.
COMMENTS
Comments are moderated and generally will be posted if they are on-topic and not abusive.
For more information, please see our Comments FAQ