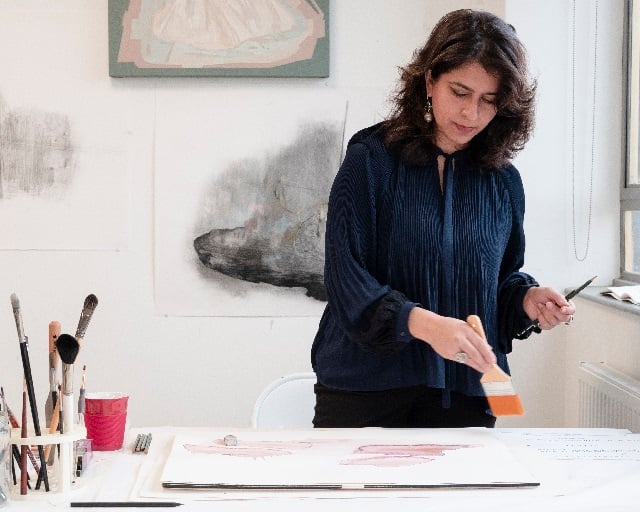 ---
A Pakistani artist is all set to participate in the upcoming Venice Biennale 2019 for the first time in the country's history.

Curated by Zahra Khan, the pavilion will feature works of Karachi- and London-based artist Naiza Khan who captures the experience of everyday life in Karachi, affected by natural disaster, urban migration and political struggle.

The exhibition will open on May 11 and runs through November 24 in Venice, Italy.




Naiza's exhibition "Manora Field Notes" seeks to immerse visitors upon life on Manora Island, which the artist has spent investigating for the past 10 years. Her work will showcase paintings, sculptures and wall drawings with detailed research of the island and its history.

Engaging people through art: Karachi's first biennale to take place in October this year

The project will engage with multiple bodies of knowledge including archival material, documentation of ruined buildings and conversations with local communities.

Organised by Foundation Art Divvy, the pavilion at the Venice Biennale is supported by the Pakistan National Council of the Arts (PNCA).




"This is not only an opportunity to display Pakistani art on such a big platform of international level, but it is also an attempt to project a soft image of the country across the world," said PNCA Director General Jamal Shah while speaking about the event.

Resilient women of Pakistan discussed at first roundtable of Karachi Biennale

"Art is a universal language that leaves a deep impact on the minds of people through soft expressions of visual and performing art," he said, adding, "Such opportunities must be utilised to tell the world about the artistic expressions being practised in this region which are contrary to extremism and terrorism."




The Venice Biennale is an arts organisation based in Venice that has been for over 120 years, one of the most prestigious cultural institutions in the world.

Established in 1895, the Biennale has an attendance today of over 500,000 visitors at the art exhibition.
COMMENTS
Comments are moderated and generally will be posted if they are on-topic and not abusive.
For more information, please see our Comments FAQ