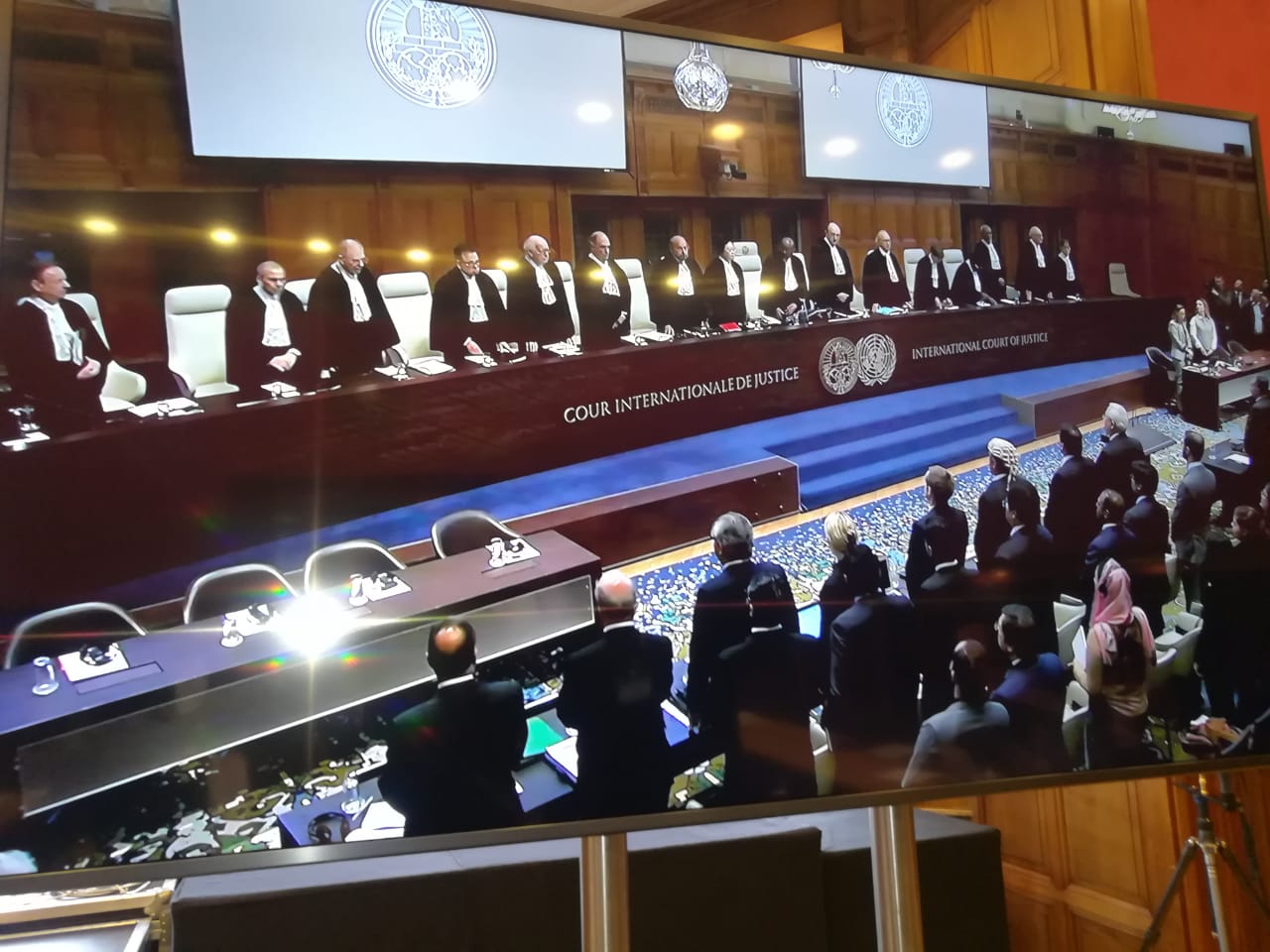 ---
THE HAGUE: Pakistan's counsel in the Kulbhushan Jadhav case at the International Court of Justice (ICJ) has expressed disappointment over India's position in Monday's proceedings, saying New Delhi had failed to answer fundamental questions raised by Islamabad.

In his brief chat with reporters outside Peace Palace, the historic building where ICJ is located, Khawar Qureshi QC, member of the English Bar who is representing Pakistan at the ICJ, said there were fundamental questions that India was yet to answer.

Indian counsel Harish Salve, who presented his arguments for three hours, mainly focused on alleged denial of consular access to Jadhav during his trial in the military court of Pakistan which awarded him death sentence.

He said that denying consular access to Jadhav, who was captured in Balochistan in March 2016 and confessed to his involvement in espionage and fomenting terrorism in Pakistan, was a violation of fundamental rights.

Salve argued that India sent requests for consular access 13 times but Pakistan declined them, breaching the Vienna Convention, which both the countries are signatories to.

He claimed that Jadhav's confessional statement was made public on March 25, 2016 while the first investigation report was registered on April 8, which was in conflict with Pakistan's legal procedures.

India also disputed Jadhav's trial by a Pakistan military court. Salve said that even the EU and other international forums have criticised military courts which were "not independent and impartial".

The Indian counsel said that an appeal against the verdict of military court would be 'farcical'. He cited a resolution passed by a bar council in Pakistan, asking lawyers not to plead Jadhav's case.

He pleaded before the ICJ that if it directed retrial into the case, it would again go to the same military court. He called upon the ICJ to order Jadhav's release and repatriation to India.

The Indian counsel, in his circumlocutory submission, however, did not address the fundamental questions Pakistan had raised in the ICJ.

On the question of genuineness of Jadhav's passport issued under the cover name of Hussain Mubarak Patel, his argument was that it should have been decided by the ICJ and not by international experts hired by Pakistan.

Pakistan has been asserting that according to India, Commander Jadhav was an innocent Indian national kidnapped from Iran to make him confess to being an agent of the spy agency, Research and Analysis Wing. However, India has failed to provide evidence to this allegation despite repeated requests.

The Indian counsel also did not mention anything during the proceedings about status of commander Jadhav as serving or retired military officer. New Delhi had been claiming he is a retired officer of the Indian Navy. It, however, failed to explain the reasons for his retirement (as he was only 47 years old when arrested).

India also refuses to explain how and why Commander Jadhav was in possession of an authentic Indian passport issued in a false 'cover' Muslim name of 'Hussein Mubarak Patel' which he had used at least 17 times to enter and exit India.

The Indian side is demanding the ICJ to order the "return" of Commander Jadhav to New Delhi. However, Pakistan says, the ICJ has repeatedly stated that it is not a criminal court of appeal. It has so far made it clear in all its decisions that, even if consular access was denied, the proper order is an effective review and reconsideration by local courts.

Commander Jadhav and his family could seek a review after April 10, 2017 in accordance with Article 199 of the Constitution of Pakistan. Instead, India launched proceedings in the ICJ 14 months after he was arrested and a month after he was convicted to seek a 'stay' order without a hearing.

The Pakistani counsel has questioned the Indian demand of an order for Jadhav's "return" in the face of the ICJ's decision and independent expert evidence confirming Pakistan has effective review and reconsideration before the High Court and Supreme Court.

According to Qureshi, India has also failed to explain why the Agreement on Consular Access between India and Pakistan dated May 21, 2008 (which India drafted), and which provides (at Article (vi)) for either State to be entitled to consider a request for consular access "on its merits" where it involves a person implicated in national security matters, does not apply in this case.

At the ICJ, a 15-judge bench including Somalian-Muslim Justice Abdulqawi Ahmed Yusuf and India's Justice Dalveer Bhandari is hearing the case. After introducing the case, President Justice Yusuf informed the audience that Pakistan's former chief justice Tassaduq Hussain Jilani, who was an ad hoc judge in this case, was unable to attend the hearing.

Dr Mohammad Faisal, spokesperson of the Foreign Office, said Jilani was unwell and was taken to a hospital.

According to sources, the federal government is considering making a request to the ICJ to replace the adhoc judge.

The Indian delegation showed egregious arrogance inside the courtroom when it declined to shake hands with Pakistan side which accosted them as a goodwill gesture.

Qureshi will be presenting his submissions today when the court resumes hearing at 10am local time.
COMMENTS
Comments are moderated and generally will be posted if they are on-topic and not abusive.
For more information, please see our Comments FAQ