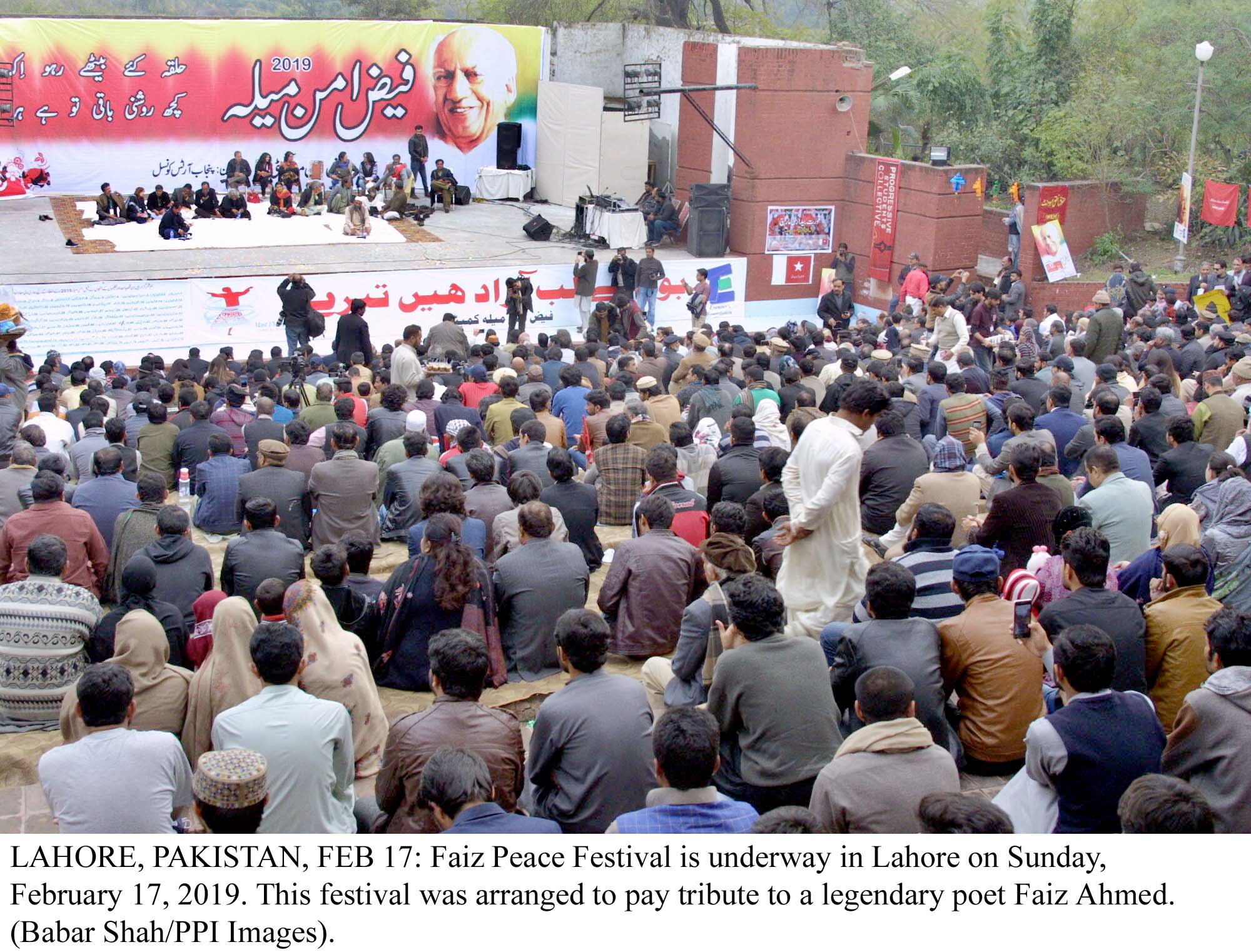 ---
LAHORE: Faiz Aman Mela, a congregation organised by the fans of the great Urdu revolutionary poet Faiz Ahmed Faiz since the times of Zia, was organised at Open Air Theatre Bagh-e-Jinnah on Sunday.

A huge number of activists and families participated in the gathering held under the aegis of Faiz Aman Mela Committee. The mela continued throughout the day. The whole-day event had different sessions of political dialogue, music, poetry recitation, theatre and dance performances.

The venue was also marked with red flags with sickle and hammer, a symbol of working-class revolution. It also resonated with intermittent slogans of revolution during the whole event. The theme slogan of the event remained, Rawal ko Riha Karo (Free Rawal). Rawal Asad is a student of Emerson College Multan. He has been in jail over sedition charges for participating in a protest against the murder of a professor, Arman Loni.

Asad was affiliated with the Progressive Youth Alliance (PYA), a student organisation fighting for their rights. A large number of PYA activists entered the gathered in form of a rally and chanting slogans demanding an immediate release of Asad. Adeel Zaidi, a participant of the rally said it was alarming that a student has been charged under sedition. "Asad has never done anything against the state. His only crime was that he talked about the need for free education and other rights of the students. He is being victimised because he would participate in the protests of labourers, peasants and students," Zaidi said.

Muhammad Usman, another participant of the rally, said the authorities were trying to even deprive people of their breathing spaces. The sane voices were being silenced through a clandestine operation.

The participants also raised slogans against privatisation, capitalism, imperialism, extremism and in favour of women liberation and socialism.

The event was marked with four sessions. First session comprised of a debate titled, "class-based education". The panellists comprising of Raza Gilani, Mohiba Ahmad, Haider Butt, Aimen Bucha and Muzzamal Khan dissected the repercussions and horrors of class-based education system. They stressed that the right to quality and easily accessible education was a fundamental right and demanded to ensure it.

In the second session, different theatre groups performed dance and theatre mainly rotating the themes of women liberation.

Afterward, Pakistan Trade Union Defence Campaign (PTUDC) International Secretary Dr Laal Khan made a speech. In his speech, he condemned the 'disastrous role' of the US imperialism in Venezuela and other third world countries. He also lambasted the capitalism for its harms and stressed for the need of a revolution that would eradicate the class system.

Reciting his famous poem, "hum jo tareek rahon main maray gai", he said he felt proud that their struggle was not going waste. A new generation was born to take up and fight for this cause, he added.

A mushaira (poetry recitation) was held in the third session in which famous poets Baba Najmi, Dr Khalid Javed Jaan, Khalid Mansoor and others participated.

The last session consisted of a musical concert. Jawad Ahmad, Laal Band, Adeel Barki, Inayat Abid, Tarannum Naz, Nida Faiz and others performed in it.