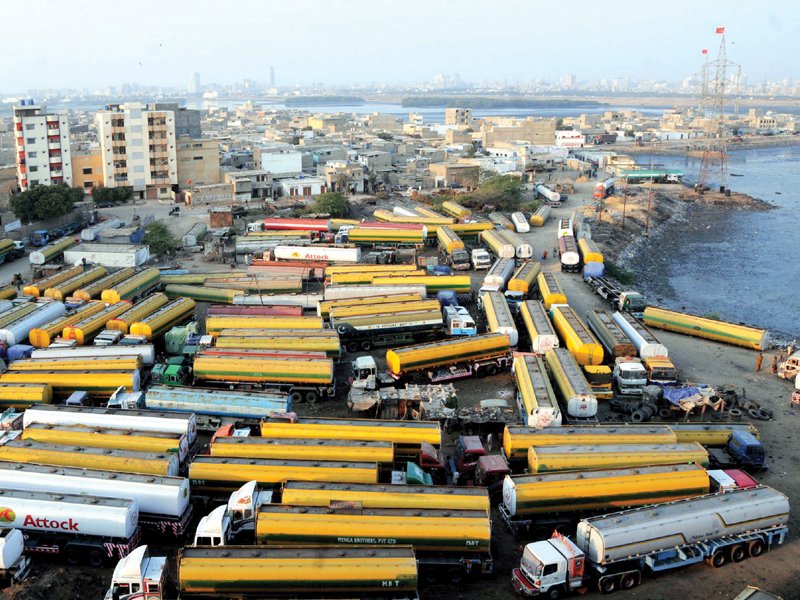 ---
KARACHI: Zulfiqarabad Oil Tanker Terminal, built at a cost of billions of rupees, has not yet been made fully operational due to the lack of interest of the district administration and provincial government.

The project was built by Karachi Metropolitan Corporation (KMC) to shift oil terminals from inside the city and to ensure the smooth flow of traffic in Karachi. It was designed to accommodate up to 1,200 tankers outside the city, but as it stands only 200 to 300 tankers are found parked in its premises. The rest of the tankers are being parked on different private lands or the National Highway.

KMC officials have sought the help of Malir deputy commissioner to take action against terminals established on private lands and shift the tankers to the terminal.

Senators irked by idle desalination plant in Balochistan

The Supreme Court (SC) had ordered the establishment of the oil terminal and also banned their parking on private land and roads.

In a meeting, headed by Karachi commissioner, all deputy commissioners were informed about the SC orders, however, the Malir district administration has failed to implement the orders. Oil tankers are still being parked on private lands, National Highway and different lands of Malir Developmental Authority.

Only 200 to 300 oil tankers can be found parked at Zulfiqarabad Terminal, where just a few months ago around 500 to 600 tankers were parked.

KMC Oil Terminal Director Raza Abbas Rizvi has sent a letter to Malir deputy commissioner to enforce the judicial orders immediately. However, no action has been taken by him as yet to address the issue.
COMMENTS
Comments are moderated and generally will be posted if they are on-topic and not abusive.
For more information, please see our Comments FAQ