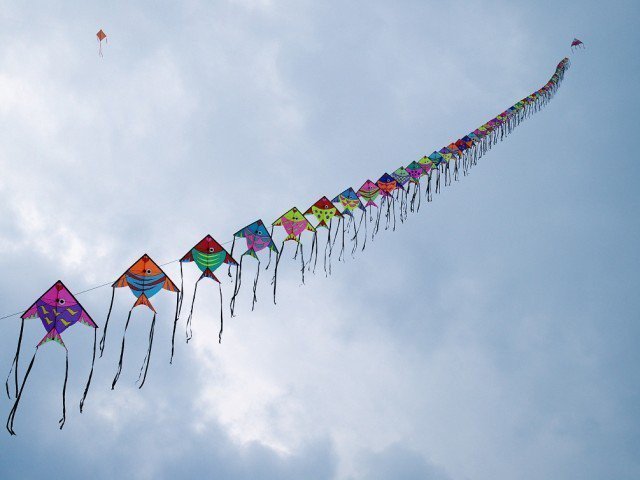 ---
ISLAMABAD: At a time when birds joyfully chirped and vernal sunshine warmed the historical city of Lahore, it is the good time for 44-year-old Malik Ramzan who used to enjoy kite flying with gentle winds in the well-known 'garden city' to say adieu to bleak winter and welcome vibrant spring.

The uncountable number of colourful kites flying over the iconic domes of the Badshahi Mosque was one of the images belonged to Lahore to impress the world in spring.

Kite flyers aim to celebrate Basant next month

"Friends, neighbours and relatives used to all get together and fly colourful kites from dawn to dusk on their rooftops, on terraces and in open places, while enjoying loud music, dancing and variety of food," said Ramzan.

For Lahoris, to embrace spring by flying kites is called 'Basant,' or welcoming spring festival. Ramzan, the owner of a transport company, recalled that he used to spend thousands of US dollars during the festival every year. To this extent, Basant was not only a carnival of kites, but also a drive for Lahore's tourism economy.




However, when zealous kite flyers indulged themselves in the excitement of cutting off strings of opponents' kites, the joyful event evolved into a lethal disaster for everyone in the city.

Chasing after the kite fight victories, some flyers managed to make their kite cords stronger and sharper by using strings made of metal or coated with glass powder. The special twines, once cut, could fall on onlookers or people outside and potentially inflict fatal injuries on them, especially for motorbike riders.

After 19 people were killed and numerous cases of injuries by the special kite strings in 2005, the Supreme Court put a ban on the kite-flying in Punjab. The provincial government thereafter introduced a law prohibiting kite sales and manufacturing, including kite-related accessories such as the sharp cords.

Those found in violation of the law are liable to imprisonment for three years or to a fine of Rs 40,000 (some 290 US dollars) or both. Local authorities also announced cash rewards for the people who provide information about the manufacturing or selling of equipment used for kite flying.

But, the ban on the Basant also left hundreds of thousands of people working in the kite-related industry unemployed. Mochi Gate area in the old part of Lahore was once the centre of the kite and string business. Now, people can hardly find a single store selling kites.

Punjab govt shelves plans to celebrate Basant

Despite the efforts made by the government, infatuated kite flyers could somehow still get the banned strings and kite-triggered tragedies continue in Lahore. Earlier this month, 13 people were arrested in violation of the kite ban in Punjab.

In December last year, Punjab's Information Minister Fayazul Hasan Chohan said that lifting the ban on kite flying in February 2019 was being considered. The announcement was welcomed by those kite lovers, but others also challenged the decision in the Lahore High Court (LHC) arguing that kite flying had turned into a blood sport which has claimed several people's lives.

Local activists believe that the onus is on the government to provide security for citizens and the ban deprives citizens of cultural recreation. However, a large number of people remain opposed over the kite flying.

"I hope no one will ever be a victim of or witness a tragedy caused by kite strings. Hospitals' emergency departments have been full of wounded people during the kite flying season in the past," said Asad Khan, who was seriously injured when a stray kite string lacerated his arm and neck.

Khan said he cannot support this festival as it stands until the government ensures there will be no use of harmful twines and the kite flyers understand that their enjoyment can potentially result in serious injury and even death.

Saad Chaudhry, a writer who ran an awareness campaign among kite flyers, said, "We really have no one to blame except ourselves for this ban," adding that it is the collective failure of the entire society which forced authorities to take action.

LHC seeks replies on lifting of Basant ban

He urged the government to devise a strategy to restart Basant instead of banning it permanently because the society has lost the essence of a great festival that once used to bring people together, spread joy and relieve tension and depression among the public.

The All Pakistan Kite Association also appealed to the government and the court to bring back Basant, suggesting the establishment of kite flying zones outside cities to mitigate the risks of injuries in urban settings.

Late last month, the LHC ruled that the government could permit kite flying only when it has prepared and taken all necessary measures to ensure that no one can use illegal kite-related accessories.
COMMENTS
Comments are moderated and generally will be posted if they are on-topic and not abusive.
For more information, please see our Comments FAQ