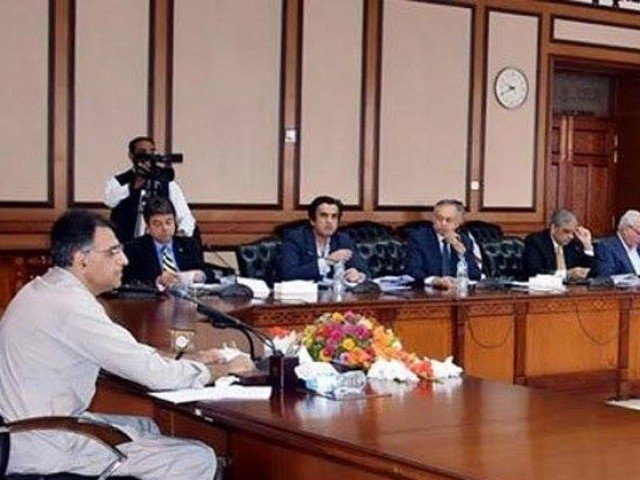 ---
ISLAMABAD: The Economic Coordination Committee (ECC) of the cabinet will approve procedure for issuing petroleum products' marketing licenses and Rs15 billion aid for Pakistan International Airlines Company Limited (PIACL) today.

The meeting presided by Minister for Finance Asad Umar will also examine a seven point agenda including approval of a plan for promoting production of cotton during the Kharif season this year and for this purpose aid price of cotton is expected to be increased.

According to copy of the agenda of the ECC available with Express, the meeting will also observe the implementation of decisions taken in its previous meeting. The panel is also expected to examine the approval of the Machike-Taru Jabba Oil Pipeline Project (MTOPP).

Similarly, the summary of the government aid required for PIACL will also be examined.

No deal reached with IMF yet, clarifies Umar

The ECC will also examine a summary sent in by the maritime division for necessary amendments and exemptions required for the Gwadar port and free zone. There are chances the federal government might grant permission to purchase duty free machineries and ships on temporary basis to make the port completely operational and connect it with the national highway network via its project East Bay Express.

Sources have said the Gwadar Port Authority, Ministry of Maritime Affairs had written a letter to the Federal Board of Revenue (FBR) stating the East Bay Expressway Project is an important project of national interest which is required for making Gwadar port completely operational by linking it with the national highways network.

The expressway project enjoys a priority importance among all the China-Pakistan Economic Corridor (CPEC) projects that are based in Gwadar. The project is included among bilateral agreements between China and Pakistan and was initiated under the supervision of the ports ministry after the approval of Executive Committee of National Economic Council (ECNEC) and its contract has been awarded to a Chinese company.

Meanwhile, sources have also said the finance ministry has expressed reservations over PIACL's repeated pleas for aid. Earlier on, the ECC had approved provision of Rs24 billion government guarantee for the company's engine, hauling and other needs. Apart from this, the ministry has allocated Rs18 billion in the current financial year for payment of loans due on the airlines.

The finance ministry has also stressed on PIACL to generate sources of income instead of relying on government guarantees for obtaining easy loan and financial aid. The PIACL has been asked to come up with a comprehensive and effective business plan so PIA's deficit can be eliminated and it is able to function on its own with an increase in resources.