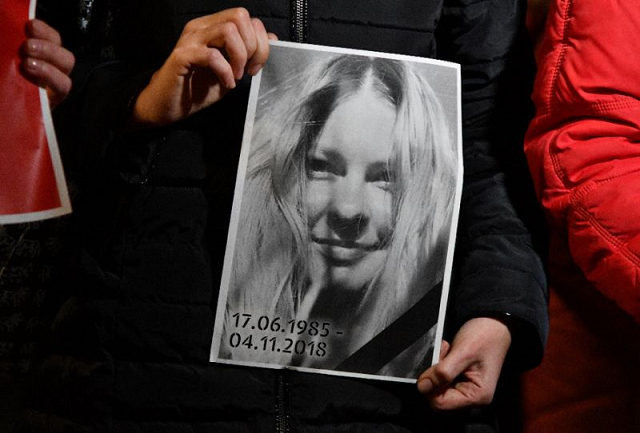 ---
KIEV: Ukrainian prosecutors said on Monday they had charged a high-ranking regional official with organising a deadly acid attack on a prominent anti-corruption activist.

Vladyslav Manger, the head of the local council in the southern region of Kherson, is accused of "organising the murder of Kateryna Gandzyuk," Ukraine's Prosecutor General Yuriy Lutsenko said on Facebook.

Lutsenko's spokesperson Larysa Sargan said Manger was accused of "intentionally and unlawfully causing the death of another person ... with special cruelty and by prior agreement with a group of individuals".

Trans activists attacked during Ukraine march

"Investigative actions, searches are under way," she said on Facebook.

Manger was a member of the Batkivshchyna political party of former Prime Minister Yulia Tymoshenko, a key rival of President Petro Poroshenko ahead of a presidential election due on March 31. He was expelled from the party last week.

Gandzyuk, who worked as an adviser to the mayor of Kherson, was an outspoken critic of corruption in law enforcement agencies.

On July 31, she had a litre of acid poured on her by an unknown attacker. She died in November after months of treatment, including more than 10 operations.

Her death sparked condemnation of the government and drew renewed attention to dozens of assaults on other anti-corruption campaigners in Ukraine over previous months.

Ukrainian female sniper wins beauty contest

Police detained five people in connection with the case in August, three of whom were placed under house arrest.

In November, a former aide to a ruling party lawmaker was arrested in suspicion of being involved in the attack.

Both the European Union and the United States have called the attacks on activists unacceptable and urged authorities to bring the perpetrators to justice.
COMMENTS
Comments are moderated and generally will be posted if they are on-topic and not abusive.
For more information, please see our Comments FAQ