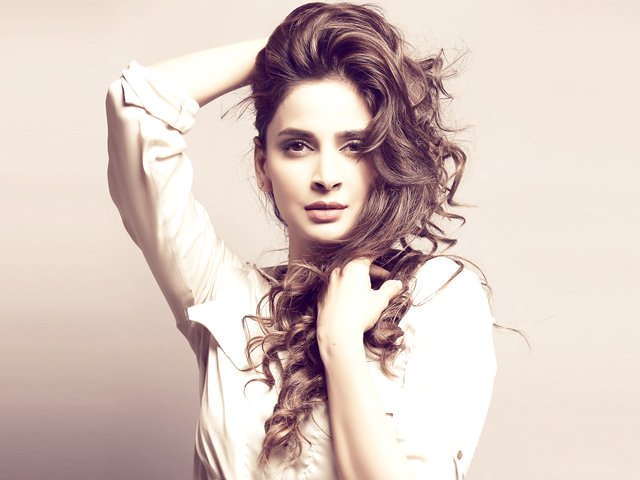 ---
KARACHI: In a scene from Madmen, Don Draper tries to charm a potential client. Rachen Menken, played by Maggi Siff, is an attractive smart woman who singlehandedly oversees her father's departmental store, The Menkens. In order to find an advertising agency that can sell her brand, she agrees to meet Don.

"That's it. So, you won't get married because you find business to be a thrill?" asks Don, while rubbing the glass with his fingers. "That, and… I've never been in love." "She won't get married because she's never been in love. I think I wrote that line to sell nylons," quips Don. "For a lot of people, love isn't just a slogan," Rachen replies sternly. "Oh, you mean love… you mean big lightning bolt to the heart when you can't eat and you can't work and you just run off and get married and make babies. The reason you haven't felt it is because it doesn't exist. What you call love was invented by guys like me to sell nylons."

The conversation with Saba Qamar about love didn't start so formally but seemed quite similar. In fact, it isn't easy to lure someone as outspoken as Saba into saying something she has kept away from the limelight. The Baaghi actor aggressively defends playing Qandeel Baloch on screen and fiercely calls out classism in the industry, and while doing so, bags the most prominent Bollywood role for a Pakistani female in recent years.




But deep down in the core of the shining star is a broken heart – a strong existential reminder that all good things come to an end and love really isn't what she'd thought it to be. "You know I am a bit crazy," Saba said, when I asked her to suggest the best way to move on from previous relationships to her fans. "You won't understand if I tell you why I have chosen to be single," she continued to pull punches over the phone.

Frankly, that riddle had no right answer. Of course, one can never completely relate to a stranger's emotional experience and baggage, particularly not a man in this case, but Saba's response gave me some hope. "Well, it depends on how you understand the concept of relationship and more importantly love," I replied in the few seconds I got to gather my thoughts. "Exactly! The notion of love and romance these days is so flawed that it isn't even worth considering. It's a shame," she exclaimed.

This triggered a rather deep conversation about the consequences of 'love', selling romance on screen and a relationship that made Saba reconsider her position on all these matters. "I have been single since 2011 but that breakup was life-changing," Saba took a deep breath. After trying different things to cope with the sense of loss and emotional urgency left by her past relationship, the Hindi Medium star turned to yoga. But it still wasn't as simple as it sounds.

SRK, Kajol to replace Irrfan, Saba as lead pair in 'Hindi Medium 2': Indian media

There were times when Saba would get so jealous of her ex being with someone else that it would get unbearable. "I envied the feeling of another woman getting the same attention so much that I eventually brought it up with my yoga instructor," Saba recalled. Her instructor came to the rescue by saying, "If you really love him then you should be happy for him."

The instructor's words hit Saba like an arrow that doesn't pass through but stays... pierced, it reminds you of the pain and the bowman. "This is not love; this is a form of attachment that is born out of lust and talking to each other so frequently that you become addicted to each other," Saba spoke like Buddha resting under the tree of knowledge while Adam and Eve devoured the fruits. "Kids these days are not able to tell between love and attachment and not being able to see that line is turning them into delusional heroes and heroines."

Contemporary philosophers consider the 19th century novel, the resurgence of the Christian values of morality and the aristocracy being the prime audience, as the major reasons for dehumanising the concept of love and introducing the notion of a 'soul mate'. That something perfect and extraordinary which can be only found around sceneries far away from the hustle and bustle of your daily grind.




Film-makers Nikhil Advani and Karan Johar gave the same question a rather filmy spin in Kal Ho Na Ho where different people are asked the million-dollar question: Pyaar Kia Hai (What is love?). And, one of the most honest and relevant answers in the South Asian context is given by Rajpal Yadav: Pyaar, pyaar Yash Chopra kay geet hain (Love, love is all the songs from a Yash Chopra film).

It isn't just Bollywood but the Urdu novel and Pakistani drama serials and films are equally effective and serious vehicles of cathartic experience. Audiences look up to such pieces of fiction for a purifying experience; a mixture of fantasy and reality that allows them to either escape from or delve further into, their own reality. "I and my work are part of the same problem and that is why I don't want my fans to take such characters seriously," Saba pointed out the elephant in the room. "It's all a big sham and life isn't really how it looks like on the screen. I am as flawed as anyone on the street outside."

Eight years have passed and not a lot has changed for Saba on the personal front. "I have been single and it has been quite a fulfilling journey," she smirked. "People have the impression that there's a cue of suitors waiting to take me away but that isn't true. I wish it was the case, but that's painting too rosy a picture of my life."




Ironically, in Madmen, Don who is already married with kids, eventually falls for or gets 'attached' to Rachen after a brief period of dating and offers to run away with her. She declines the offer and thrives at improving her father's business without Don or his company's services. Sometime later, Rachen runs into Don and introduces him to her husband.

Have something to add to the story? Share it in the comments below.