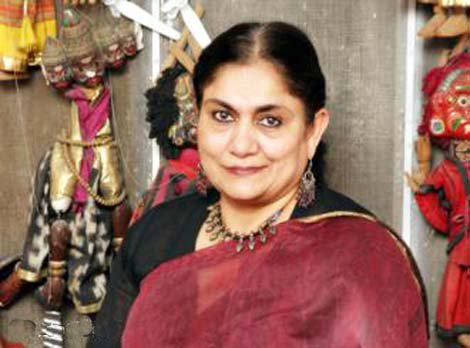 ---
LAHORE: Ajoka Theatre and the Punjabi Institute of Language and Culture (PILAC) celebrated what would have been the 63rd birthday of the late Madeeha Gohar in a befitting manner on Friday, February 8.

Gohar was an accomplished stage actor and one of the founding members of Ajoka Theatre. After paying a visit to her grave, Gohar's family joined the theatre troupe, PILAC members and scored of admirers to cut a birthday cake and pay tribute to the internationally acclaimed actor, director and peace activist.




Speaking on the occasion, veteran actor Dr Ajaz Anwar fondly remembered the fascination he and Gohar shared for the old city of Lahore and its Basant festival. As a birthday gift, he presented a collection of his paintings and drawings of these. Ajoka chairperson Zara Salman said she learned so much from Gohar but has so much more to learn, promising that Ajoka will carry on the latter's mission to do theatre that propagates peace and social change.

In honour of his late wife, Gohar's husband and eminent playwright Shahid Nadeem quoted a Tagore couplet which has also been inscribed on her gravestone. It reads, "Say not in grief that she is no more but say in thankfulness that she was."

Chinese musical concert held at PNCA

"Madeeha Gohar is a big name in the field of theatre and will always be remembered for her exceptional services to the industry. She is a symbol of bravery – a bright light in our society that struggled for the sake of others and our country," added writer and PILAC director general Dr Sugra Sadaf. "Gohar always wished for peace in the world. She represented a progressive segment of Pakistani society that wants freedom of expression and respect for everyone. It was evident in her work that she believed in equality. Therefore, I pay tribute to Gohar for raising her voice. She and her husband also worked hard to safeguard theatre in Pakistan and that will never be forgotten."

But perhaps the highlight of the evening was the rendition of Gohar's powerful play Barri, which Ajoka performed in collaboration with PILAC. Barri has been penned by Nadeem himself and was directed by Gohar before her passing last year. It depicts the story of four women sharing a prison cell during the political reign of Zia-ul-Haq. The cast of Friday night's performance included Nayyab Faiza, Eva Majid, Rukhsana and Samina Butt.




Barri highlights the respective troubles of the four inmates. These include a female activist, a mother arrested in place of her wanted son, a dervish woman charged with dancing in a shrine and a youngster who murdered her husband who was thrice her age.

But it wasn't just Lahore that observed Gohar birth anniversary. Amritsar-based theatre groups Manch Rang Manch and Sangeet Natak Academy also presented Ajoka's acclaimed play Bulha in Hoshiarpur this weekend, dedicating it to its director. Speaking on the occasion, one of the artists called Gohar the sixth river of Punjab - a river of peace and love.

Have something to add to the story? Share it in the comments below. 
COMMENTS
Comments are moderated and generally will be posted if they are on-topic and not abusive.
For more information, please see our Comments FAQ