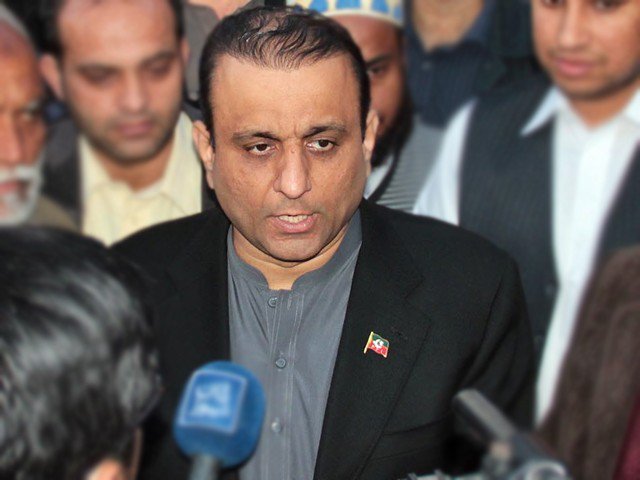 ---
LAHORE: An accountability court on Thursday handed over Pakistan Tehreek-e-Insaf (PTI) leader Aleem Khan on a nine-day physical remand to National Accountability Bureau (NAB) Lahore in an assets beyond means case.

Khan was arrested a day earlier by NAB when he appeared before an investigation team at NAB Complex Thokar Niaz Beg.

He was presented before the court amid tight security. A heavy contingent of police including Anti-Riot Force was also deployed on the occasion.

Khan was taken into the court from the side of judge complex (gate). The administrative judge has issued a show-cause notice to NAB officers for presenting him without prior intimation and permission from the gate used by judges. He has asked the officers to appear in person and submit a reply.

A large number of PTI supporters had gathered outside the court in support of their detained leader, who also stepped down as Punjab senior minister. Skirmishes between police and the supporters were also reported. A large number of protestors also gathered outside the judges' chambers and chanted slogans.

NAB prosecutor presented a report consisting of allegations against Aleem Khan and sought 15-day physical remand. In his arguments, the NAB prosecutor said that the Khan had set up Hexam Investment Overseas Ltd in UK, for which he could not present the money trail.

PTI's Aleem Khan arrested by NAB

He also told the court that Khan had also established other offshore companies like R&R International FZC in the UAE along with owning property in Middle East and other countries.

He also told that the court that Khan acquired 900 kanals of land after becoming a member of Punjab Assembly (MPA) in 2003. He also purchased a house worth Rs15 million and formed a company in the name of his wife in 2005 that was used for buying flats, he alleged.

The prosecutor said that the accused could not provide satisfactory answers to the anti-corruption watchdog about his source of income for buying the offshore companies and other assets.

Khan was represented by advocates Azhar Siddiqui and Amjad Pervaiz. The defence counsel opposed the remand and said that his client had declared assets worth Rs878 million of the company.  He added that the details of other assets had also been provided to the court.

The PTI leader, while speaking before the court, also denied the allegations. He said that he had provided all the record before the NAB and that records of his assets were mentioned in his tax returns. He said that he had received property in inheritance, too.

The court after listening arguments of both the parties handed over the accused to NAB till February 16.

Khan was arrested on Wednesday by NAB for owning assets beyond known means. Describing the grounds of his arrest, NAB had said that the accused person was facing many inquiries, including Park View Housing Society, River Age Housing Society, and Multan Road. It had also alleged that Khan acquired assets misused his authority as general secretary of the Park View Housing Society and as a past member of the provincial assembly to acquire assets.