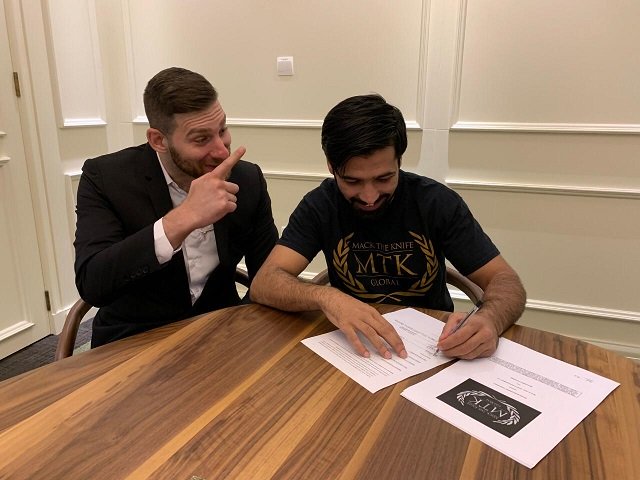 ---
KARACHI: Pakistan's former World boxing Council (WBC) champion Muhammad Waseem will be hoping to turn his fortunes this year, after losing his first professional fight in July last year.

What may have been a stain on his impeccable unbeaten career — losing for the first time in his nine professional fights — just turned into a blessing of sorts.

Possessing a quiet disposition and being one who perseveres, Waseem is not one to give up, despite non-existent support from Pakistani sponsors.

"I'm still in the top 10 ratings internationally," Waseem told The Express Tribune. "I want the world title and my eyes are on it. I'm hoping to claim it this year or the next. But I want to be a world champion. It is a dream I'm chasing, I've worked so hard for, I've been through so much to have that, and I want it more now than before."

Waseem is rated eighth in the WBC list and 10th in the IBF's.

The 2014 Asian Games bronze medallist fought his last bout against much-experienced South Africa's Moruti Mthalane in an attempt to get the International Boxing Federation's (IBF) flyweight title on the under-card fight of Manny Pacquiao in Philippines.

"I would also want a re-match against Mthalane this year. I know I made a few mistakes in that bout. I also had a lot of disturbance in my own camp, among the people who were with me at that time. I was very distracted by that. I think I performed well in it, but it is a rematch I'd like to have and probably win against Mthalane by a better margin this time," added the 2010 world Combat Games gold medallist.

Although he lost, he found a new promoter that he needed desperately as his former manager was having troubles getting him the fights he wanted.

He signed the contract with MTK Global on January 28 in Dubai. The management company is run by the former British-Irish boxer Mathew Macklin, which is a relief for Waseem.

He believes that a company that understands boxing can steer him in the right direction.

"I don't want to be bitter about the past, and how it didn't work out with my previous promoter. It did become very hard for me to survive. But I'm glad that MTK have picked me now, they have been dealing with lots of great boxers and this is an affirmation for me that people can see my talent, they can see my skill and MTK have been taking good care of me so far. They gave me respect, and for me it is about the reputation too, with this contract I know I've got support internationally and people are happy for me," said Waseem.

Earlier Waseem was with a South Korean promoter, but now he feels that he can look for a bout in Pakistan too, especially since now the Prime Minister of the country is also a former sportsperson. He believes that promotion for boxing can be a little easier than before.

"The biggest thing for me is that I want to stage one of my bouts in Pakistan too; I want boxing to get opportunities for promotion. The Prime Minister should also look into this one day. I can have a fight abroad too, but it is not just for me, but others too, just to show the youngsters that there is a future for talented boxers. But the lack of infrastructure and initiatives from the national boxing federation, and consequently the lack of scope for professional boxing is what becomes a curse for boxers," explained Waseem.

He added that he will most probably be training in the United Kingdom, but he will start training on his own shortly. The contract with MTK is of three years.

"They want me to be in the UK for the camp now, the paper work is being done," said Waseem.


COMMENTS
Comments are moderated and generally will be posted if they are on-topic and not abusive.
For more information, please see our Comments FAQ