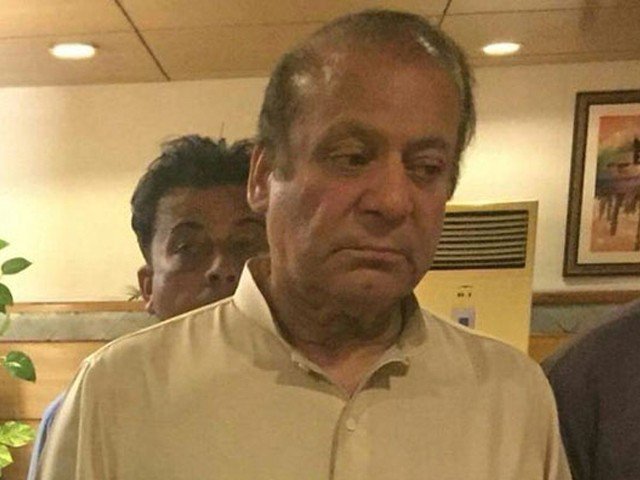 ---
A resolution was submitted in the Punjab Assembly on Wednesday seeking permission for ousted premier Nawaz Sharif to travel abroad for medical treatment, Express News reported.

Pakistan Muslim League-Nawaz (PML-N) leader Hina Pervez Butt submitted the resolution, which stated that the three-time premier is suffering from a cardiac ailment, and there are no cardio specialists in the special ward of Services Hospital Lahore.

The resolution maintained that the government has utterly failed in providing medical facilities to to the PML-N supremo.

It was further stated in the petition that Nawaz should be permitted to travel abroad as all his medical records and doctors are located outside the country.

Doctors recommend Sharif 'specialised' heart treatment

The resolution called on the government to take the measures required on humanitarian grounds and remove Nawaz's name from the Exit Control List (ECL).

In view of his medical examination and reports, a medical board had recommended cardio treatment for Nawaz, who is currently serving a seven-year jail sentence handed down by an accountability court in December last year.

Nawaz did not suffer cardiac arrest recently, reveals medical report

"After examining Sharif's medical test and reports, the board has drafted recommendations and forwarded them to Punjab Home Department. Any further decision regarding his treatment would be taken on Home Department's instruction," said the medical board head Dr Ayaz Mehmood on Tuesday.

"Much of his illnesses are treatable in Pakistan," he added.
The doctor was responding to a question regarding Nawaz's stay at the hospital.

Dr Mehmood refused to disclose specifics of the recommendations but did reveal that they have recommended a specialised treatment for the former premier.

He said on his arrival on Saturday, the first thing the board did was to conduct Sharif's medical examination. He said the board comprised the head of departments of medicines, endocrinology chest surgery, nephrology and radiology.